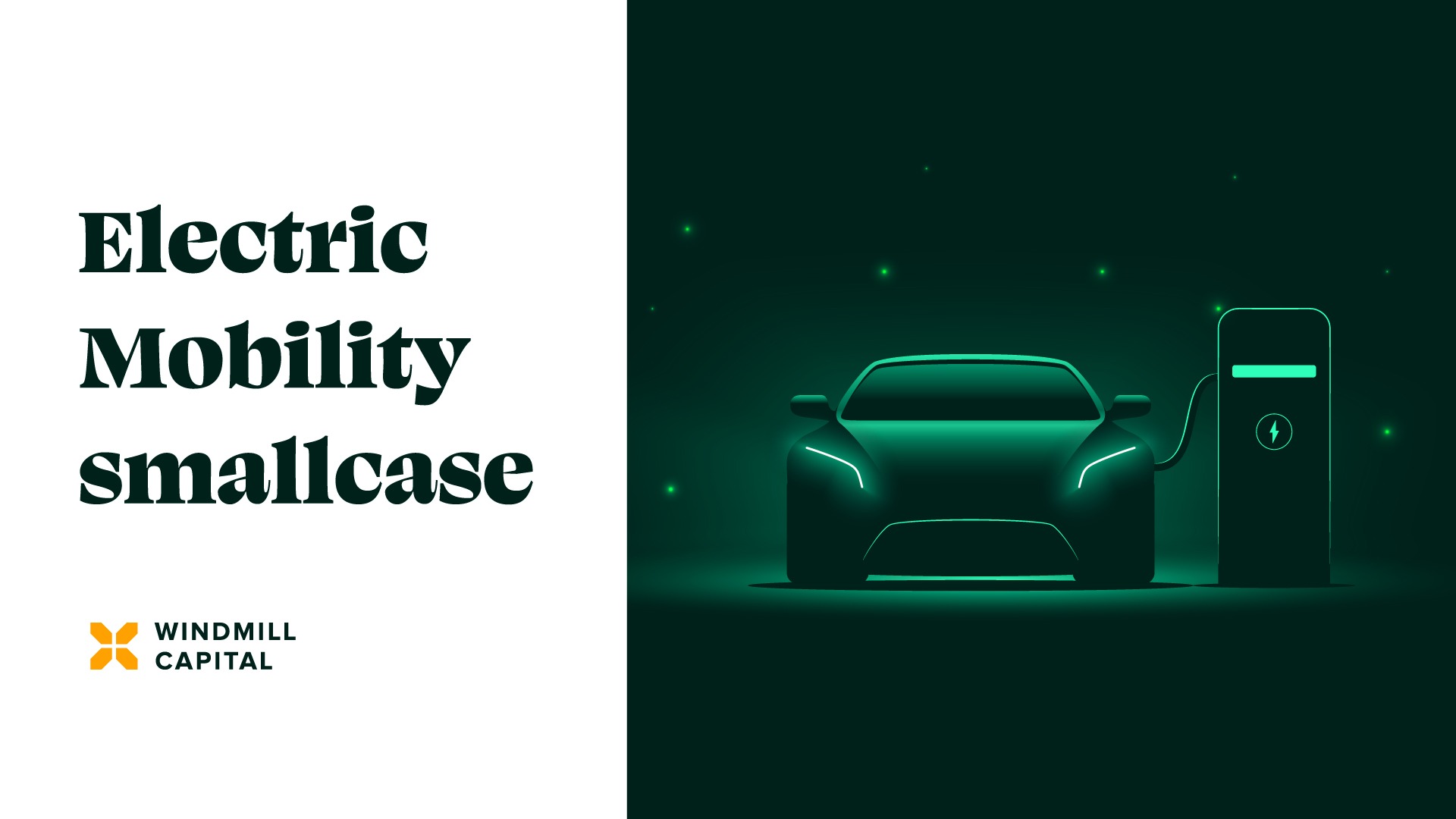 Reading Time: 5 minutes
Electric vehicles (EV) have been around since the early 19th century. In the late 2000's a small California based startup started producing a luxury electric sports car, Tesla Roadster, that could go more than 200 miles on a single charge. That is when EVs started catching consumers' fancy.
In India, Scooters India Pvt Ltd developed the first electric 3 wheeler, Vikram Safa, way back in 1996. Subsequently, other auto players like M&M Ltd, Bajaj Auto, etc. launched various EVs. Between 2008 – 2014 there were some start and stop attempts at popularizing EVs by providing subsidies. However, lack of a comprehensive policy framework hampered these efforts.
In Jan 2013, the Government launched the National Electric Mobility Mission Plan 2020 (NEMMP 2020) with an aim to achieve national fuel security by promoting hybrid vehicles and EVs. The plan aimed to achieve annual sales of 60 – 70 lakh hybrid vehicles and EVs from 2020 onwards. As part of the NEMMP 2020, the Government launched the FAME India scheme in April 2015. The scheme aims to incentivize demand for electric vehicles and establish a network of charging stations. Budget allocation for the FAME scheme was limited during the initial years and only recently started seeing an uptick.

Sales of electric 2 wheelers and passenger cars have also started picking up only in recent years: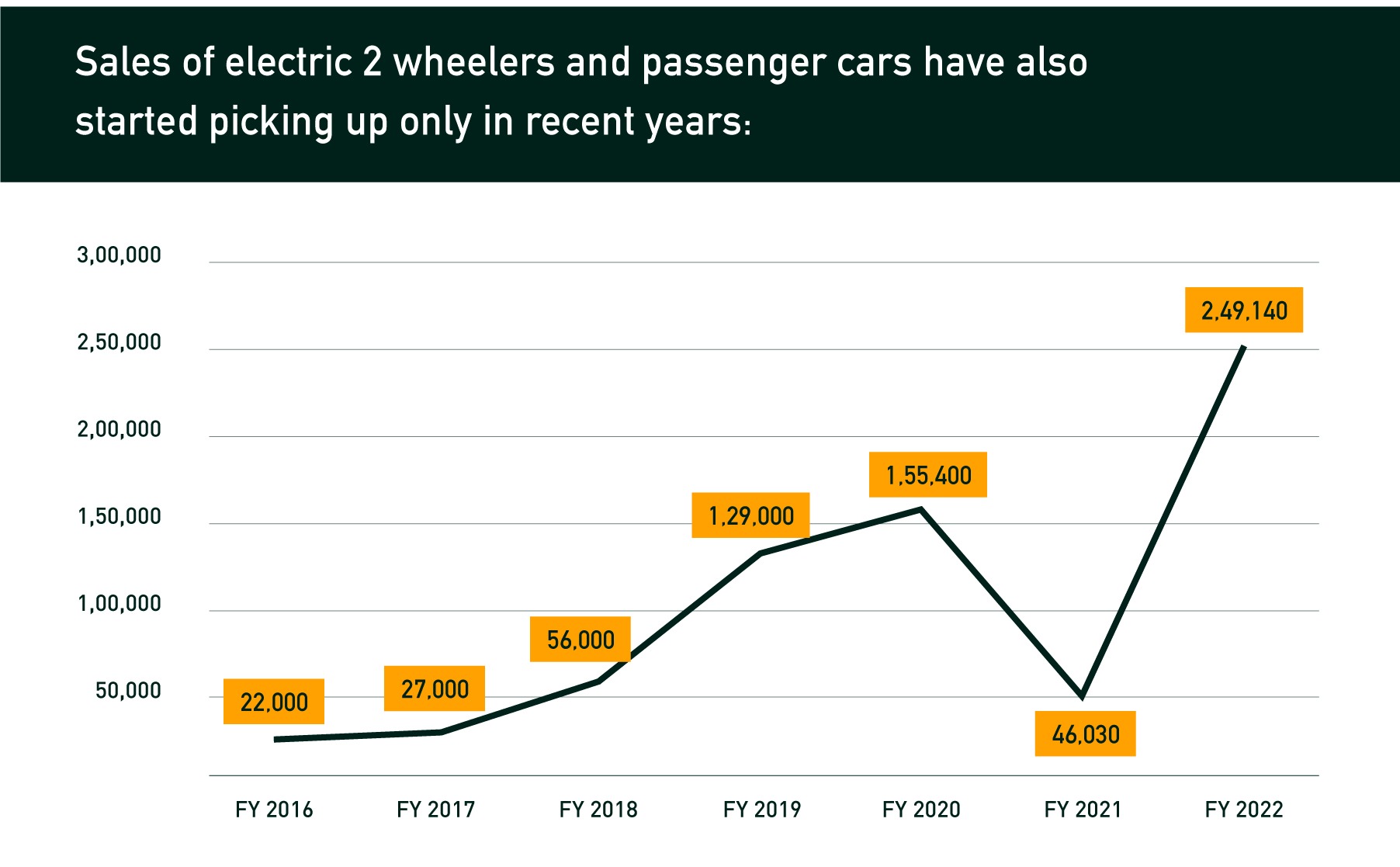 Windmill Capital jumped in early on the EV trend and launched the Electric Mobility smallcase in November, 2017. This is when both budgetary support and unit sales of EVs was low. Initially, Indian companies were also skeptical about the Government's sustained interest in assisting the creation of an EV ecosystem. These aspects negatively affected the performance of Electric Mobility smallcase during its initial years.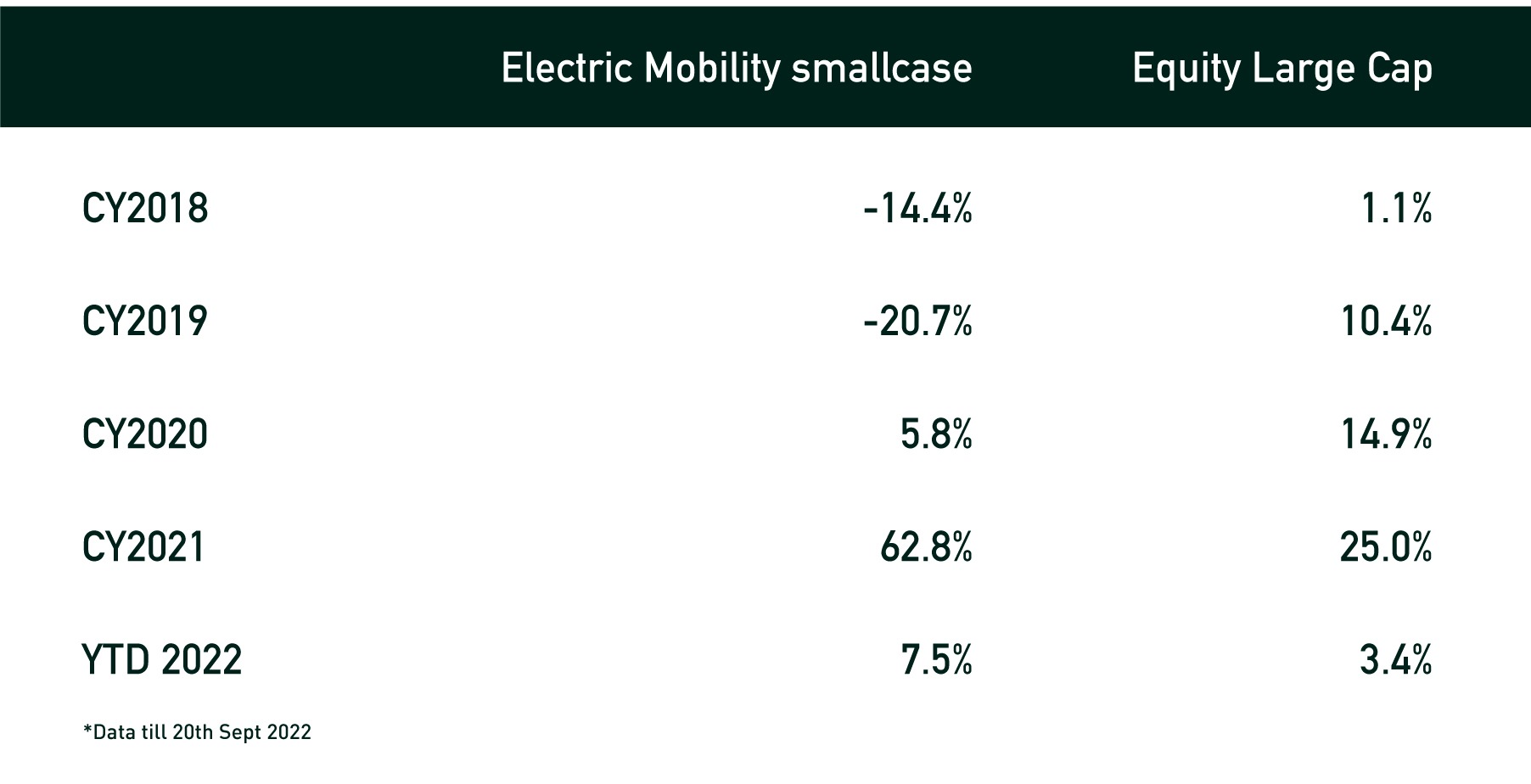 However, increased budgetary support, generous incentive schemes to generate demand for EVs and customer interest have all combined to create confidence amongst industry leaders.
Let us look at the journey of select companies that have anchored the Electric Mobility smallcase and are driving the EV revolution in India.
Mahindra & Mahindra
When we added the company to the smallcase in November 2017, the company's EV portfolio consisted of e2o+ electric car, eVerito, Supro EV cargo van and e-Alfa 3W. It had sold just over 1000 EVs during the previous financial year. Today the company has more than 70% market share in electric 3-wheeler space (e3w) and sold more than 17,000 EVs during FY22.
The company recently announced 5 new electric vehicles for the Indian markets and has made a billion-dollar commitment towards the same. 4 of these vehicles will be launched between 2024 – 26. It expects sales of 2 lakh electric vehicles or a significant 30% of its total sales to come from electric SUVs by 2027.
The stock has generated compounded returns of 13.4% since its addition to the smallcase.
Amara Raja Batteries
The company, a lead-acid batteries manufacturer, was added to the basket in Dec 2018. The company was supplying energy storage products to e2w and e3w using lithium-ion and lead-acid technology, however, revenue contribution from this segment was negligible due to low unit sales. It had also set up a pilot plant to assemble battery packs to serve EV applications.
During the quarter ending June 2022, the company generated Rs.30 cr revenue from lithium-ion-related products with EV applications. The revenue is expected to touch Rs.1000 cr by March 2023. It also plans to set up a gigafactory in the near to medium term for lithium-ion batteries and related products.
While the stock has performed poorly on the bourses since its addition, we remain positive on its growth prospects.
Endurance Technologies
Endurance Technologies, an auto ancillary company, was added to the basket in June 2019. It was one of the early movers in the EV space. The company had gained a presence in e2w and e3w business for suspension and braking products. It was focusing on being the preferred supplier of global OEMs that were gravitating towards "total electric".
During FY22, the company secured orders aggregating Rs.1,100 crore in the EV / hybrid space. It has also acquired a 51% stake in Maxwell Energy Systems Private Ltd for Rs 135 crore. Maxwell is in the business of battery management systems (BMS) for vehicles, including electric vehicles.
Since we added the stock to the basket it has generated compounded returns of 6.3%.
Tata Power
Integrated power major Tata Power, was added to the basket in June 2019. Back then, the company had identified setting up EV charging units as a growth area and was looking to scale up the growth of electric vehicle charging infrastructure. It had set up EV charging stations in 3 major cities – Mumbai, Delhi and Hyderabad.
As of June 2022, the company has installed 18,500 + home chargers and 2,300+ EV charging points across 437 Indian cities. It is the market leader in the EV charging race, by a significant margin.
Since its addition to the smallcase, the stock has generated compounded returns of a whopping 48.1%.
The Flipside
We have also dropped companies from the basket due to the limited growth of their EV business. NTPC Ltd had announced its entry into the E-mobility business, starting with EV charging infrastructure. Hence it was added to the basket in Nov 2017. By March 2020, almost 3 years later, the company had set up just 90 chargers. Hindalco Industries was added to the smallcase in Sept 2018. The company's aluminum business was expected to benefit due to growth of EV sales. The company had also started collaborating with specific customers to launch EV platforms. By 2020, the company was unclear about demand from the auto industry due to covid19 pandemic. Its EV-related business had also seen very little growth globally and found very little mention in the company's correspondence. These companies were dropped from the smallcase in June 2020.
When we conceived, created and launched the Electric Mobility smallcase in 2017, there was a lot of uncertainty around the theme, both from industry leaders and the investor community. This is now largely cleared up and there has been a rapid increase in the sale of EVs laying to rest apprehensions around lack of demand. We believe there will be a full transition to electric mobility in 2 and 3-wheeler space; the only question is the timeline. We are also seeing successful entries in the 4-wheeler space, and expect momentum to pick up in the medium term.
---
Disclaimer: Investment in securities market are subject to market risks. Read all the related documents carefully before investing. Registration granted by SEBI, membership of BASL (in case of IAs) and certification from NISM in no way guarantee performance of the intermediary or provide any assurance of returns to investors. The content in this article is for informational and educational purposes only and should not be construed as professional financial advice nor to be construed as an offer to buy /sell or the solicitation of an offer to buy/sell any security or financial products. Users must make their own investment decisions based on their specific investment objective and financial position and use such independent advisors as they believe necessary. Disclosures: bit.ly/sc-wc