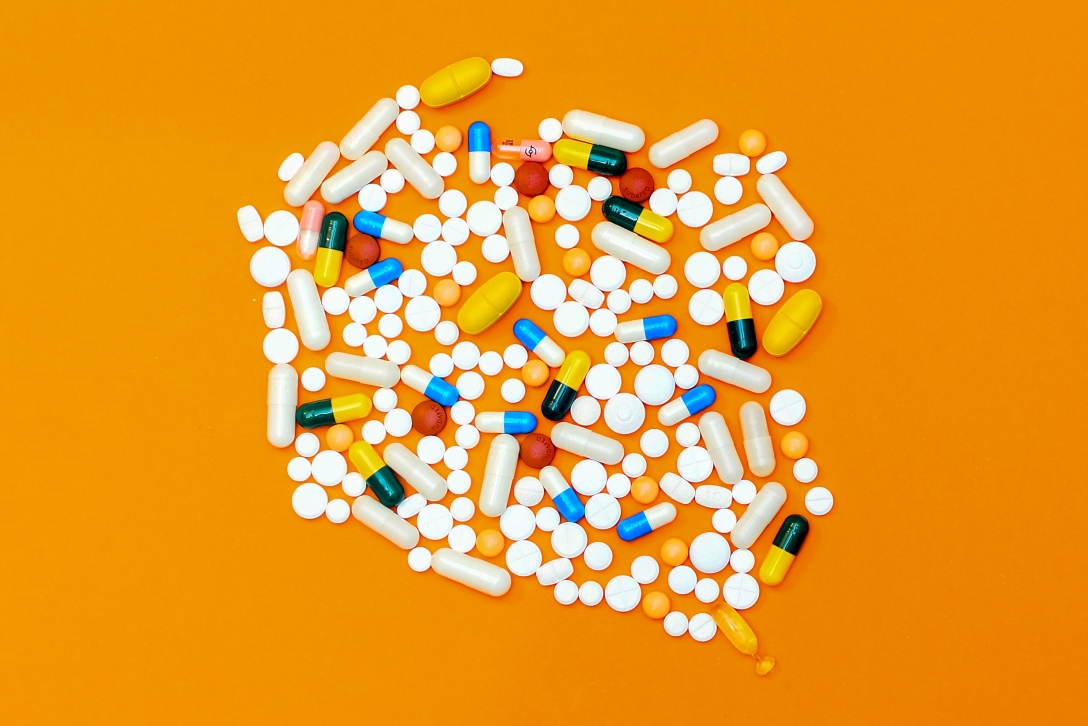 Reading Time: 5 minutes
The Indian pharma industry is the world's 3rd largest by volume. It is also the world's largest supplier of generic drugs and a leading producer of vaccines catering to about 50% of global vaccine demands.
Segments in the Indian pharma industry
Active Pharmaceutical Ingredients (API)

All pharma drugs are made up of the API, which is the central ingredient, and the excipient the substance that helps deliver the medication to the user's system. It is the API that produces the intended curing effect whereas excipient is a chemically inactive substance.

Domestic API consumption is expected to reach USD 18.8 bn by FY22.
Formulations

A pharma formulation is a process of combining different chemical substances with the active drug to create an end medicinal product. The formulation can be solid, semi-solid or liquid.
India is the largest exporter of formulations in terms of volume, with a 14% market share and 12th in terms of export value.
Biosimilar

A biosimilar is a biological product that is developed to be similar to an already regulator-approved biologic, known as the reference product. Biosimilar is usually

marketed as cheaper versions of costly name-brand drugs.

The domestic market for biosimilar is expected to reach USD 40 bn by 2030.
Contract research and manufacturing services (CRAMS)

CRAMS involves outsourcing research services or product manufacturing activity to companies that can provide the service at a low cost. CRAMS activities include contract research and contract manufacturing. 

The domestic CRAMS market is expected to reach USD 40 bn by 2030.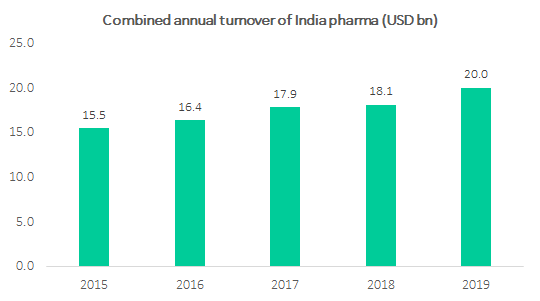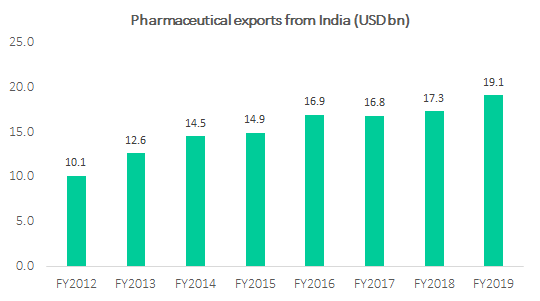 So what has been fuelling this growth of the pharma industry?
Low cost of resources has facilitated low cost of production providing Indian pharma companies with a significant cost advantage. It's speculated that India's cost of production is 33% lower than in the USA & half of that of Europe. Click To Tweet
Indian pharma companies have been trying to differentiate their offering by investing heavily in research and development activities. While R&D expenditure as a percentage of sales was just 5.3% in the financial year (FY) 2012, it has increased to 8.5% in FY2018.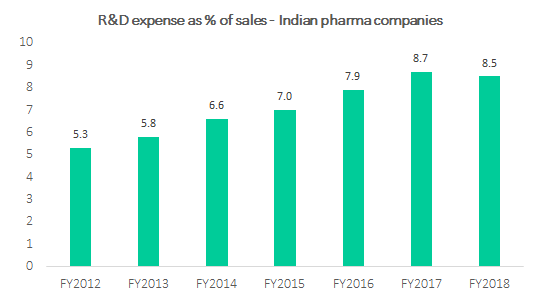 Indian pharma companies have been

focusing

on newer geographies to improve their turnover. Between FY2017 and FY2019 pharma exports from India to the Middle East have grown by 33% to USD 1,074.11 mn. During the same time, exports to Latin America and the Caribbean has grown by ~32% to USD 1,308.3 mn. While the Dollar value of exports to these regions is still low when compared to exports to North America and the EU, their share has been growing at a fast pace.


Multiple international NGOs involved in public health use generic Indian drugs for affordable treatment in African and Latin American countries. According to an appraisal by 'Doctors Without Borders', treatment of AIDS using generic Indian drugs is significantly cheaper compared to using branded drugs. 
Key developments in Indian pharma
Policy support

The "National Health Policy 2017"

seeks

to increase public health expenditure to 2.5% of the GDP from the existing 1.15% of GDP. The policy also seeks to promote setting up of infrastructure for the development of the pharma industry as well as boost research & development in the industry. The policy also specially focuses on the production of Active Pharmaceutical Ingredient (API), which is a critical aspect of the generic formulations industry.   

In July 2016, Government

amended

the FDI policy to allow 100% FDI in greenfield pharma projects and up to 74% FDI in brownfield projects via the automatic route.

In 2017, Biotechnology Industry Research Assistance Council (BIRAC)

launched

an Innovate in India program to boost the development of biopharmaceuticals

.


Role of health insurance

The health insurance industry is at a nascent stage with only about 18% of people in urban areas & 14% population in rural areas covered under any kind of health insurance scheme. Click To Tweet

The health insurance industry in India is the fastest-growing segment in the non-life insurance sector,

registering

a compounded annual growth rate of 23% between 2009-2019. It has a 27% market share in the non-life insurance sector. 
In Sept 2018, the government launched the Ayushman Bharat Yojana as part of National Health Policy. The scheme aims to provide health coverage at secondary and tertiary level to the bottom 40% of poor of India. The scheme provides coverage of ₹5 lakh per family per year for medical treatment in empanelled hospitals. 

Increased demand buoyed by the health insurance coverage will push the growth of the pharma industry.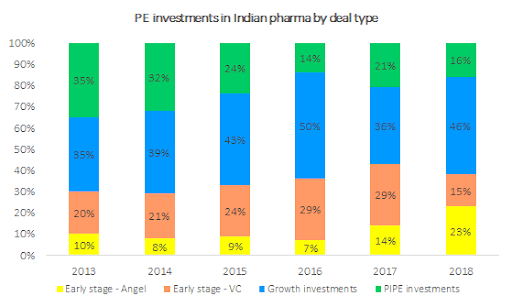 Indian pharma in post-COVID world
---
The Pharma Tracker smallcase allows you to efficiently track and invest in the pharma sector. The smallcase consists mostly of large and midcap stocks.
[button url="https://www.smallcase.com/smallcase/SCTR_0009?utm_source=smalltalk&utm_medium=button&utm_content=Anatomy-Pharma" color="blue"]See smallcase[/button]
---
[cta color="blue" title="Get the smallcase App" url="https://link.smallcase.com/aAnmi46LJ5″ button_text="Download"]Discover ideas, invest & track your portfolio on the go[/cta]