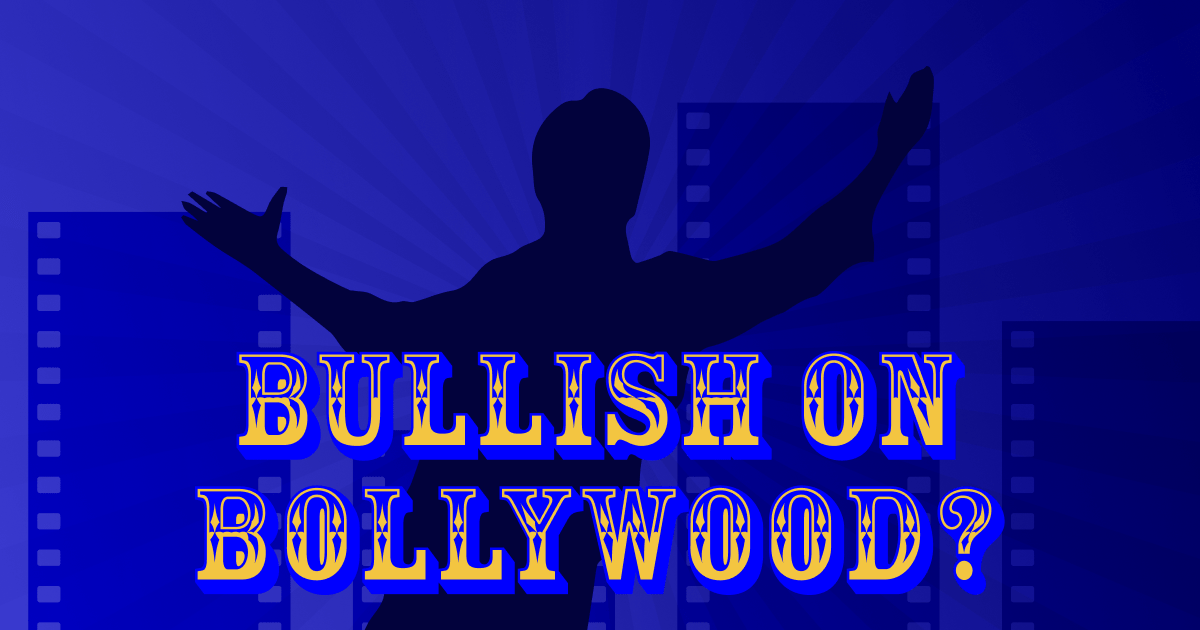 Reading Time: 3 minutes
This week, we're talking about the revival of the magic of movies as 2023 is proving to be a comeback year for the industry. But before we dive even further, let's first decode the movie business.
The movie industry is quite a complex web, involving various players like producers, writers, and distributors. Each step in making and distributing a film demands a substantial investment. And theatrical releases still are the biggest revenue source for a film.

But the pandemic hit theatres hard, turning them into ghost towns. Everyone across the value chain, from production to distribution companies, felt the pinch of the pandemic.
While Bollywood was facing challenges, South Indian films were thriving. In 2022, they claimed a remarkable 51% of the total box office collections, a significant jump from their 37% share in 2019. It marked a shift from the previous dominance of Hindi-language films at the box office.
Starting in May 2023, it seems that the fortunes of theatres, particularly multiplexes, have taken a positive turn with a string of successful movies spanning various languages, including Bollywood productions.
So, it seems like the magic of cinema wasn't dead; it just took a brief break. But who was to blame?
Act 1: The rise of OTT
Since the arrival of streaming giants like Netflix, Hotstar, and Amazon Prime Video, we've had a buffet of content. Many trade analysts believe that exposure to high-quality content from across the globe has changed consumer preferences.
Subpar content just doesn't cut it anymore. According to a study by Motilal Oswal, movies with an IMDB rating of >5 collected 90% less at the box office in FY22 compared to FY19. Many analysts cite the subpar content and rise of OTT as the reason why the occupancy in movie theatres has been lower than the pre-COVID levels.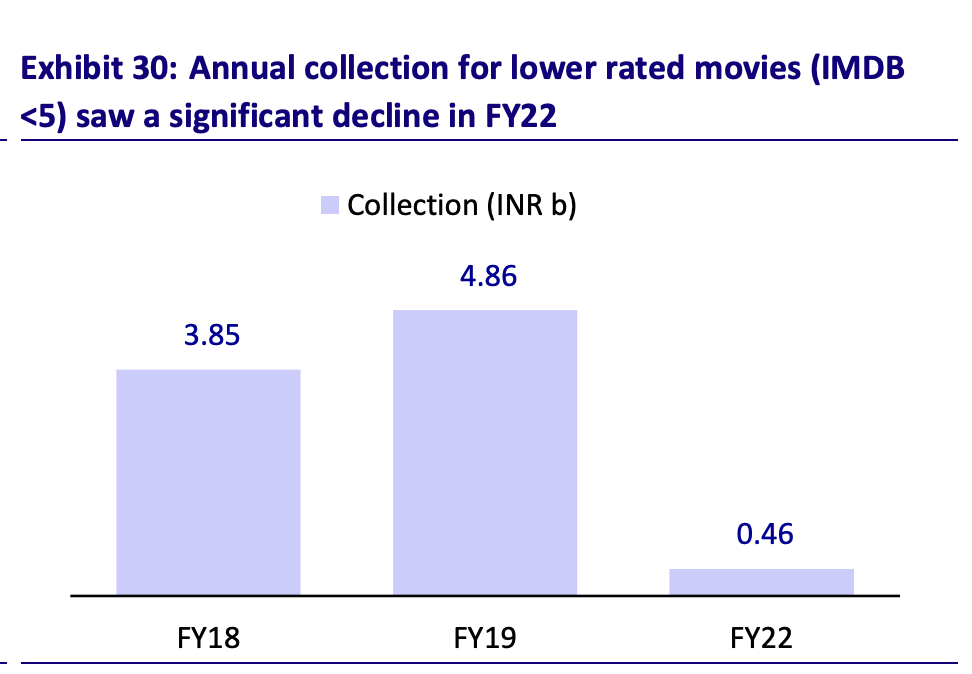 Act 2: The comeback
2023 brought a much-needed plot twist in the box office collections of all movies. Due to recent superhits like Gadar 2, Rocky aur Rani, Barbie, and Oppenheimer, the average occupancy in theatres has shot up to 60-70%, a huge jump from the gloomy 35-40% average in 2020.
During the weekend between August 11 and 13, PVR Inox welcomed around 3.36 mn viewers. On August 13 alone, they hosted a staggering 1.28 mn viewers, setting a record for their highest daily attendance ever.
The company also had its most lucrative month ever in August, raking in a massive ₹532 Cr. in box office revenue across all its theatres nationwide.
This blockbuster performance isn't just on the big screen. PVR's shares are soaring high, climbing ~15% in the past month.
Cinema's good days are expected to continue with releases like Tiger 3, Dunki, and Salaar along with the festive season being right around the corner.
Act 3: The stock (stars) align
While there hasn't been extensive research on this intriguing phenomenon, there's certainly some chatter about certain stocks that seem to have a connection with blockbuster films.
Some recent examples:
A day before Shahrukh Khan's "Jawan" hit the theatres, PVR shares surged by 3%
Since the release of the superhit "Jailer" in August, Sun TV's stock (the production house of the movie) has been on an upward trajectory, rising 13% in the past month
TL:DR
Now, while we can't say for certain that there's a direct cause-and-effect relationship between movies and stock prices, one thing is clear: when a movie becomes a hit, it tends to send ripples of success throughout the entire industry value chain. That means everyone gets a slice of the pie – from the production houses (think Zee Media, Eros, and more) to the distributors and multiplexes (think PVR, Inox, UFO, and the like).
---
Think Bollywood's winning streak will keep rolling, bringing in the bucks for these media companies? You can keep tabs on these companies and even create your very own movie-themed investment basket on smallcase – how about the name "The Popcorn Portfolio"?
But hey, if movie-themed investments aren't your cup of tea, don't sweat it. The beauty of investing is that you can choose any theme that you believe in on smallcase. 🚀