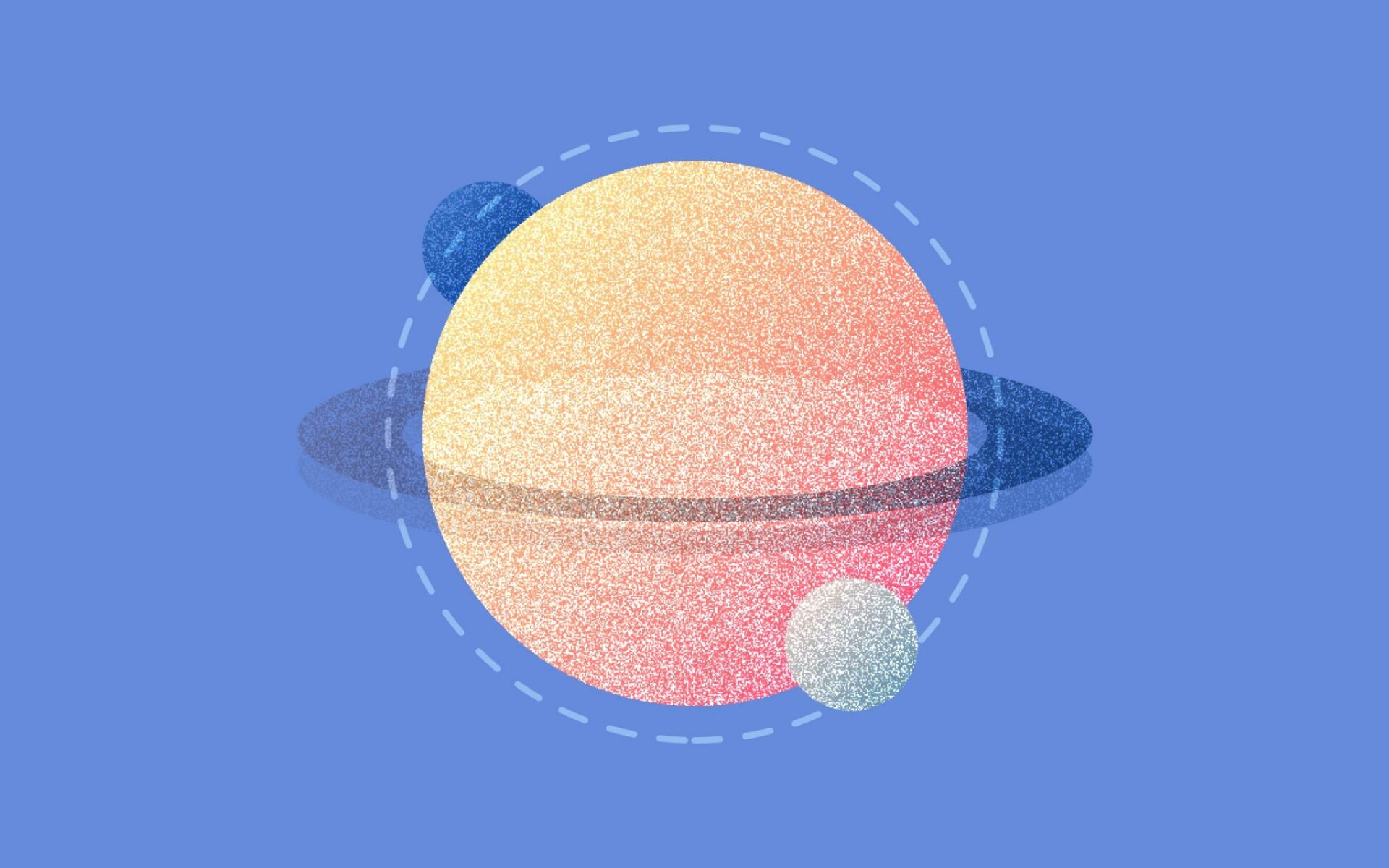 Reading Time: 3 minutes
Just like having a strong core is very important for building a healthy body, asset allocation in a diversified passive core strategy, as a part of your investment portfolio, is also very important. The smallcase platform is built to help you achieve the same. On the new platform, you can invest and track your core and satellites separately.
Building the core Satellite Investing with All Weather Investing smallcase
You can build a strong core with a foundational smallcase like the All Weather Investing smallcase. Through this you can invest into gold, equities (stock market like returns) and fixed income (bank fixed deposit type returns) as a part of one single smallcase. This smallcase is designed to provide stable long-term returns and ensures that the core of your portfolio is strong, protected and growing.
The fixed Income portion of the All Weather smallcase always generates positive returns. The equities portion moves with the market to generate high long-term returns, while the gold portion protects your investment when the markets crash. Intelligent quarterly shuffling of your money in these asset classes through a rebalance ensures that your money is always in the right place at the right time.
A majority portion of your total investment should always be in the core – All Weather Investing smallcase. It should be the first step towards starting your investment journey.
Building satellites with other smallcases
Satellites are the investments apart from the core. On the smallcase platform, satellites are the portfolios that are riskier than the core All Weather Investing smallcase, but also have the potential of offering greater returns.
You should be investing into satellite smallcases along with the core All Weather Investing smallcase to generate alpha–additional returns. These smallcases give you pure equity exposure. Satellites are also divided into two parts– slow moving satellites (moderately risk smallcases) and fast moving satellites (high risk smallcases).
Slow-moving satellites
These are the smart beta smallcases with an objective to generate more returns than the market. These smallcases only consist of large-caps, which are the top 150 market cap stocks listed on NSE. They are riskier than the core All Weather Investing smallcase and move up or down with the benchmark equity indices like Nifty. But with more risk comes more returns. These smallcases are perfect for long-term equity investing to generate market-beating returns. Two smart beta strategies are available on the platform.
Your first satellite investment should always be in one of the smart beta strategies.
Fast moving satellites
These smallcases majorly consist of mid-cap stocks and small-cap stocks. They help you take exposure to themes, ideas and sectors of your liking. You can also invest in them for the short- and medium-term. They help you take exposure to themes like speciality chemicals and affordable housing, among others. These smallcases can generate high returns, but are very volatile in nature. Thus, you should look into investing in them only after you have built your core and have also invested in the slow moving satellites.
This is how you can use the core-satellite investing approach to build an investment portfolio with smallcases to create wealth over the long-term.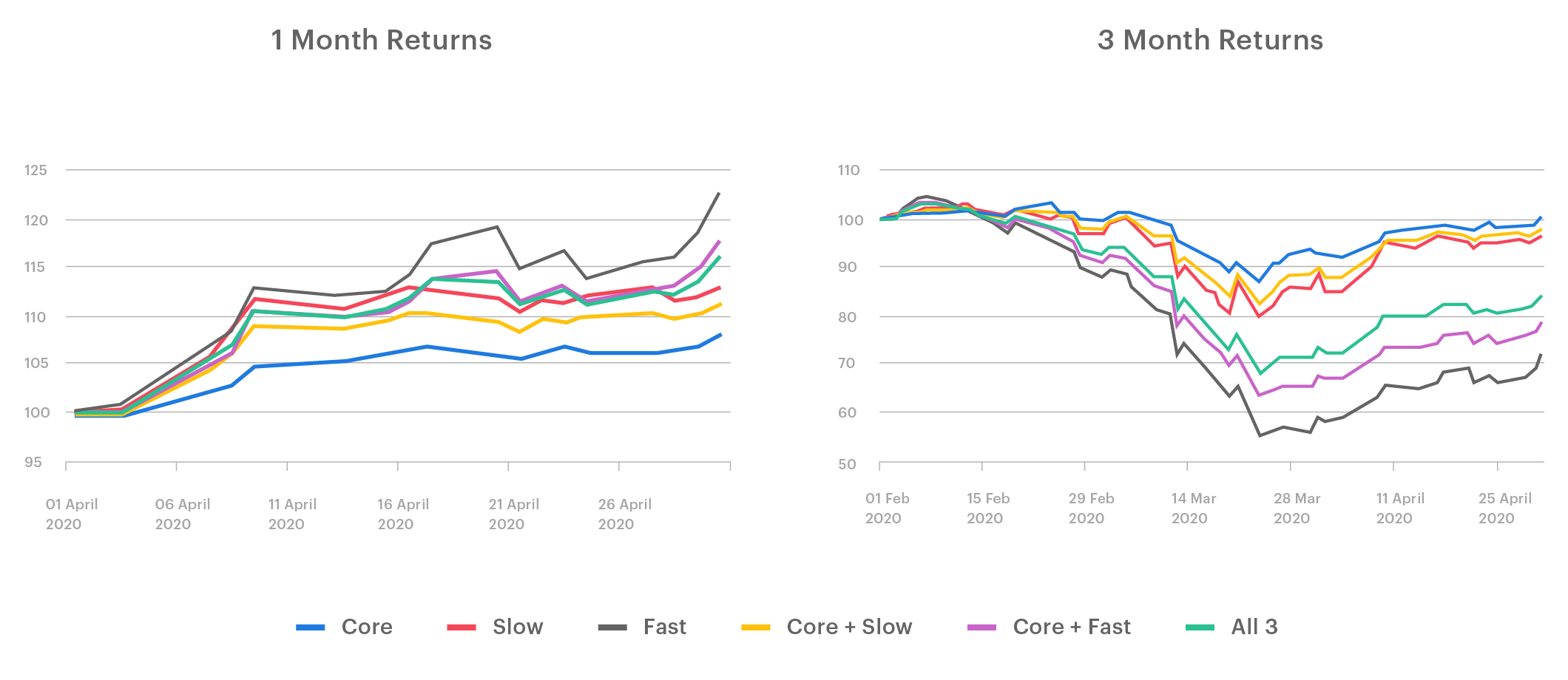 The above charts depict the performance of different portfolios (including core, fast and slow-moving satellites) during covid 1.0 market crash.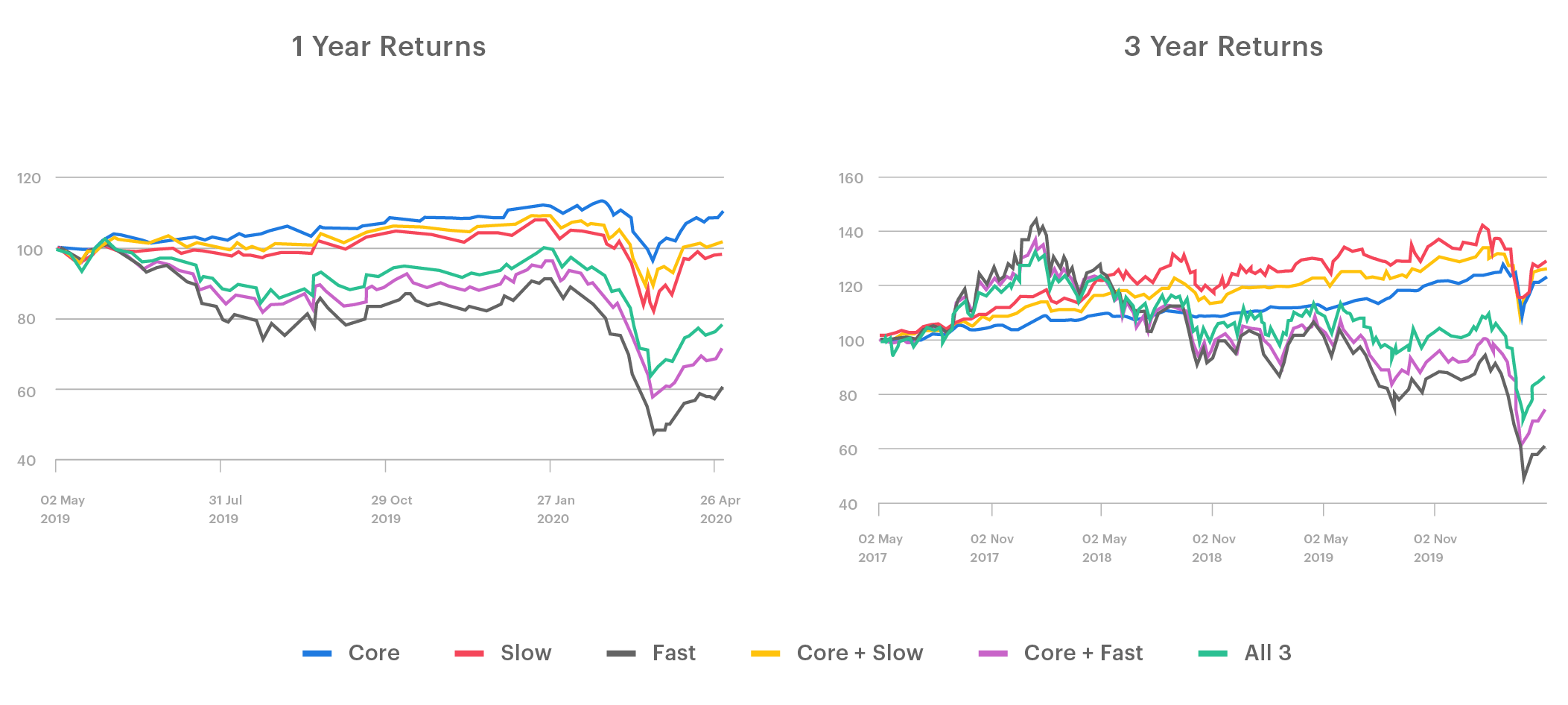 The above charts depict the performance of strategies just prior to the covid crash. Note that the crash occurred sometime around March 2020.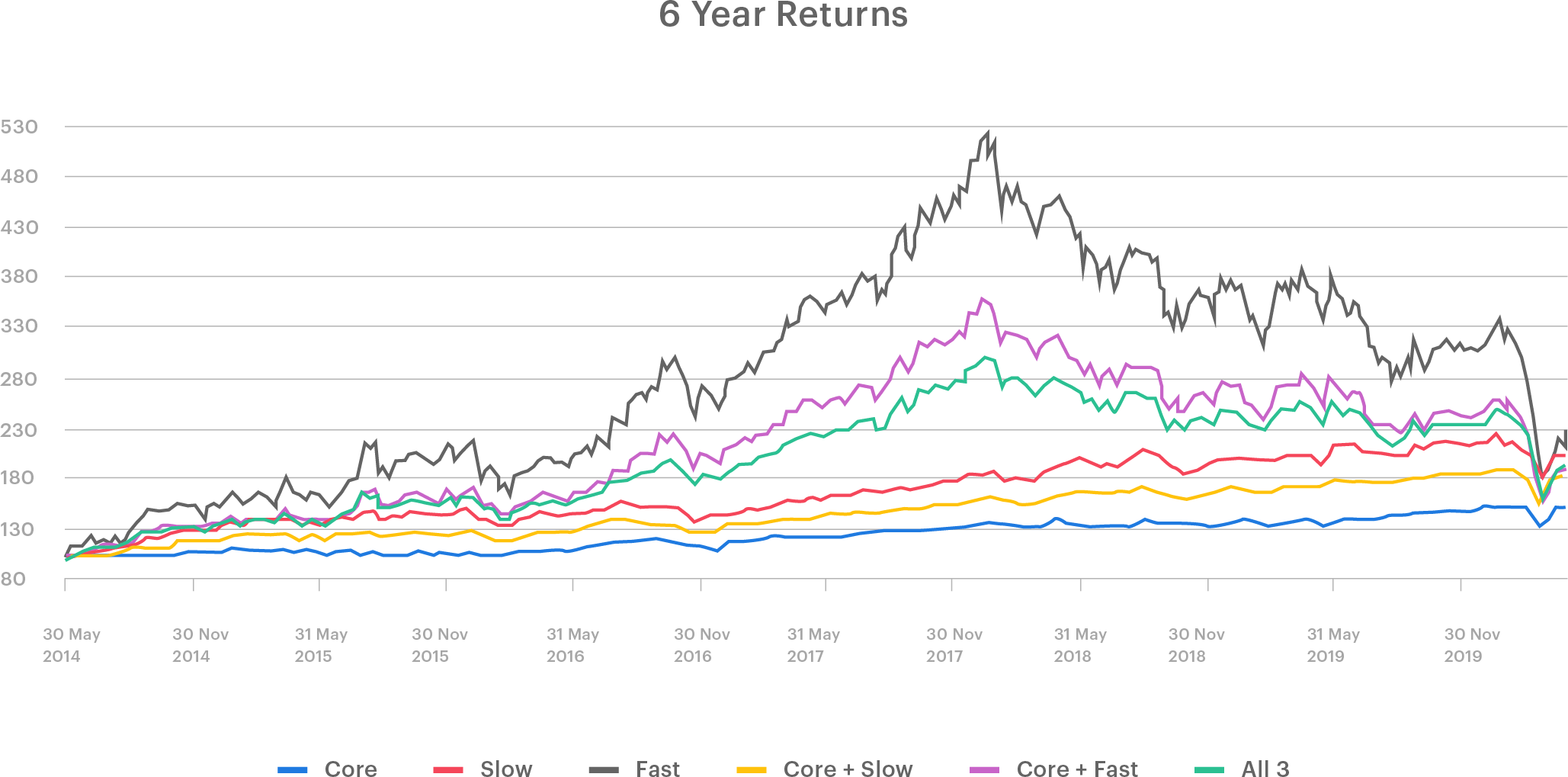 This chart depicts the performance of different portfolios during the bull-run period starting in 2014.
The core-satellite investing approach can be useful in building a healthy portfolio & gives the best possible risk-adjusted returns.
Disclaimer
Past performance of smallcases do not guarantee future results. Suggestions for investing in additional smallcases, are only for the purposes of ensuring proper diversification, on a best effort basis. These suggestions are derived from a fixed model without any reference to the investor's risk profile, financial needs and goals. The above should not be construed as investment advice or as a solicitation to invest in any of the aforementioned smallcases. The investor is advised to consult his / her advisor prior to arriving at any investment decision.