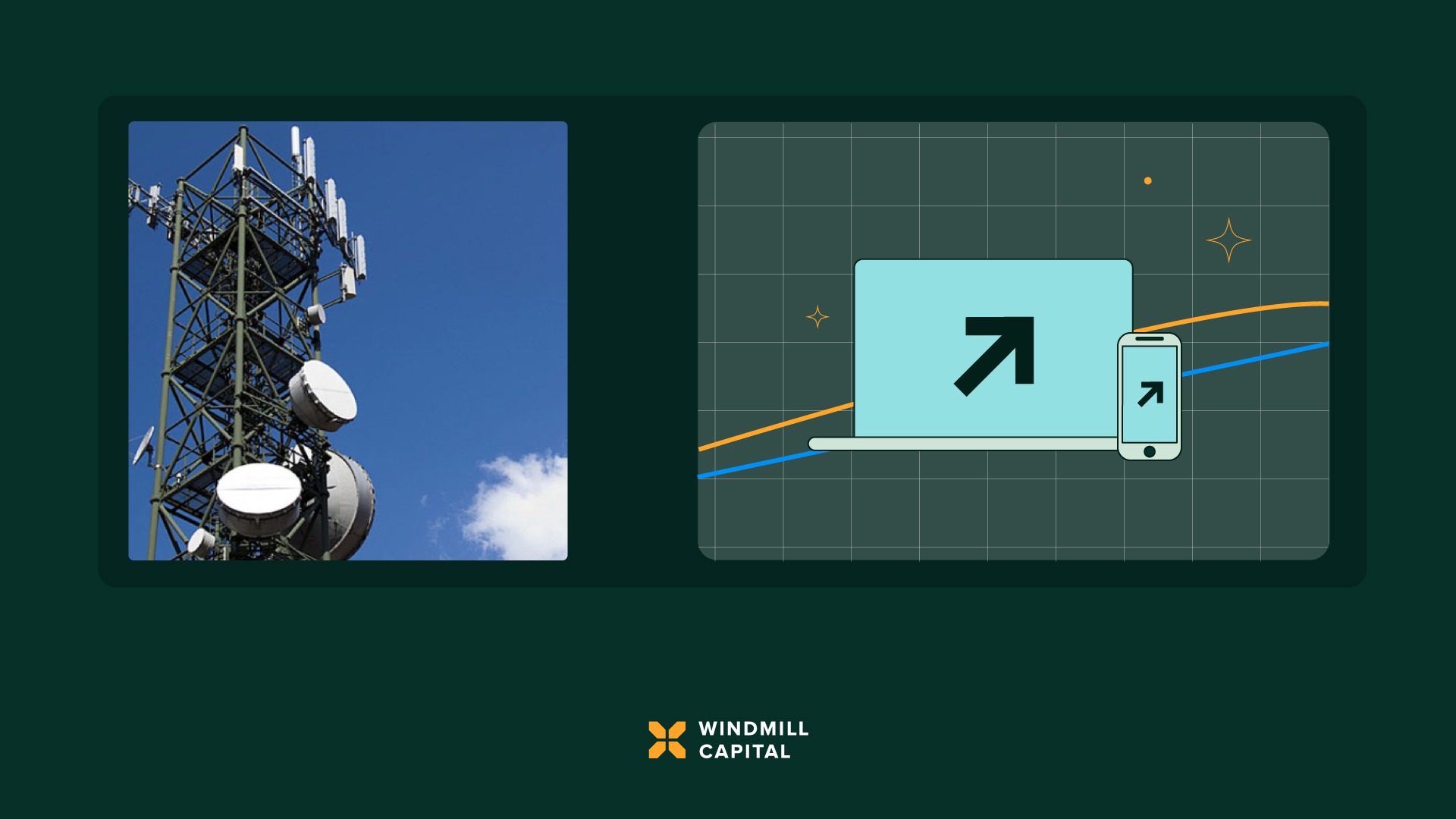 Reading Time: 5 minutes
The Story
Imagine the state of our lives in India back in 2015 – smartphones were still a luxury, 4G was expensive and not widely available, e-commerce giants like Amazon & Flipkart were still struggling to earn the trust of Indian users & convince them of its convenience. There was no Swiggy, while Zomato was merely an online directory/catalogue of restaurants. Uber & Ola had only recently launched in India, and their white cars were far from dominating the roads of metro cities. Netflix was chilling only in the US, and Hotstar was still an idea being worked on. Paytm had just started its e-wallet, but UPI was non-existent, as were PhonePe & Google Pay. And WhatsApp was a simple messaging service that was used by a handful of young Indians.
Come to 2022 and guess what? So much has changed. Courtesy a combination of affordable smartphones & cheap internet data, apps & services that were non-existent have now become ubiquitous and an integral part of the daily lives of millions of Indians. The extent of change, over the last decade, has been so drastic that startups like Zomato and Paytm have gotten listed on the stock exchanges. Though India has been the 2nd most populous country in the world for over multiple decades, technological advancements have picked up pace in the last decade. Today is a different story!
Since the launch of the Digital Inclusion smallcase (2016), internet users in India have grown by an impressive 75%, from about 375 million to 658 million users.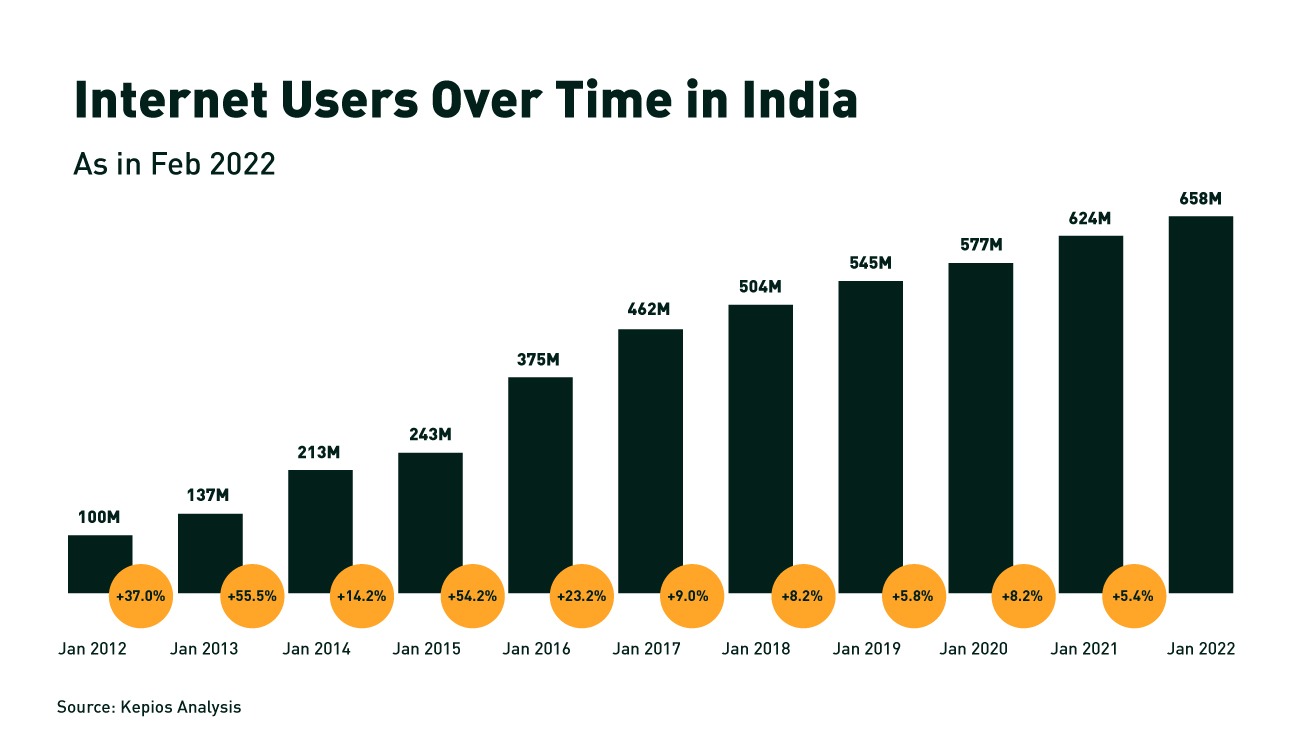 Now, the natural question that you will tend to ask is – what is driving this digital revolution?
Rising Income: India's per capita income has been rising robustly over the last few decades and that has allowed Indians to spend on gadgets and internet based services.
Cheap Data & Hardware: India's internet costs are one of the lowest across the world. This has been the most key propellent of internet usage in the country. To top it up, Indians have wider access to cheap hardware – mobile phones, laptops, and other gadgets. This is a great facilitator of the growing digital revolution.
Demographics: A sizable portion of our country's population (16.6%) is in the age bracket of 25 to 34 years. Therefore, we have a large chunk of tech-savvy folks who work at the brink of innovation.
Government Policies: Various digital-first initiatives have been undertaken by the government, over the course of the last 5 years. This includes push for a cashless economy, rise of UPI, better internet infrastructure.
Detailing of the smallcase
The Digital Inclusion smallcase is a carefully crafted portfolio that seeks to include companies whose business core is – digital. Essentially, we look for businesses who are at the forefront of digital operations and who provide unique internet solutions. The obvious picks are telecom providers, providing the underlying digital infrastructure layer, such as the likes of Bharti Airtel and Reliance Jio. However, our ethos behind building this smallcase was much more than the obvious. I shall explain this going forward.
Launched in 2016, we have always been working towards refining the theme of this smallcase. This is imperative, on the part of the smallcase manager, given the rapid pace with which things are evolving in India's digital space.
In the March'22 rebalance, we tried to give a new shape to the smallcase. That led to inclusion of two new companies in the portfolio – SBI Cards and Route Mobile.
The rationale behind including SBI Cards was the underlying robust growth that the Indian economy is witnessing on credit card spends. With the onset of the COVID-19 pandemic, social distancing has become a norm. Henceforth, credit cards serve as a convenient avenue for people to transact with. It is needless to mention the way credit cards have transformed the digital payments landscape in India. Credit card companies have worked towards making the digital payments ecosystem smooth for anyone to transact. A study conducted by ICICI Securities corroborated our view, revealing that credit card spends in India have grown by a whopping 56% between 2020-2021.
As far as Route Mobile is concerned, the service it provides has almost become indispensable in today's business ecosystem. Route Mobile is a SaaS company that provides communication services over the cloud. To put it simply, the company facilitates automated messages that you receive on your phone like – bank updates, food delivery updates, OTPs, and so on. Route Mobile has a smart clientele spread across various sectors – financial services, aviation, retail, e-commerce, logistics, healthcare, hospitality, media and entertainment, pharmaceuticals and telecom.
Apart from the aforementioned, the smallcase houses numerous online-focused businesses that stand to benefit from this digital revolution. The likes of Affle India — which has a considerable market share in the mobile advertising space and CAMS — which provides technological solutions to asset managers across the country.
All in all, if you believe in the digital revolution that India is going through, this smallcase can be a good fit for you. The intention behind delving deep into the specifics of the smallcase constituents is to help investors understand how the Digital Inclusion smallcase has been built and is being managed. As mentioned earlier, the team of analysts at Windmill Capital will continue to look for every market opportunity out there, in order to provide a better portfolio for our clients. Hope you had a good read!
---
Follow us on Twitter @windmillcapHQ for updates on our latest and existing offerings and interesting market insights. Also, feel free to let us know what else you wish to read!
Disclaimer: The content in these posts/articles is for informational and educational purposes only and should not be construed as professional financial advice and nor to be construed as an offer to buy/sell or the solicitation of an offer to buy/sell any security or financial products. Users must make their own investment decisions based on their specific investment objective and financial position and use such independent advisors as they believe necessary. Refer to our disclosures page, here.