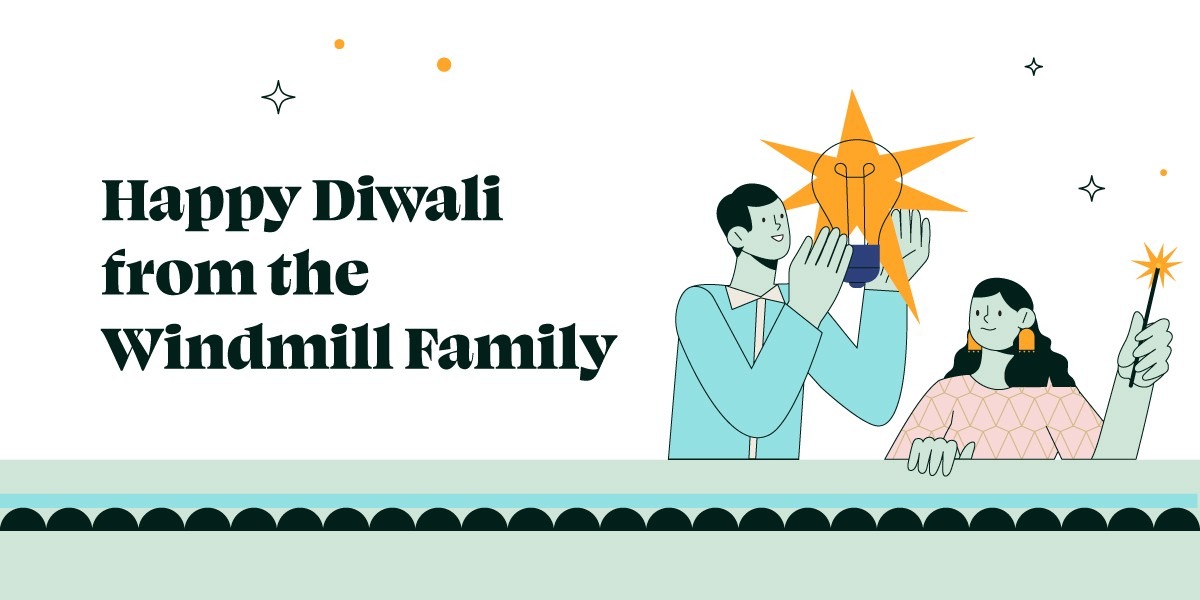 Reading Time: 5 minutes
The Windmill Team wishes all investors and readers season greetings!
The festival of Diwali is the most auspicious occasion for Dalal Street. There is exuberance amongst market participants and everyone looks forward to a fresh start. For the Indian community, Diwali marks the beginning of a new Samvat. As a practice to capture optimism, the Bombay Stock Exchange started the tradition of Muhurat Trading, which is believed to bring wealth and prosperity to all. It's usually a 60-minute trading session on the evening of Diwali. For this year, the Muhurat Trading session will span from 6:15 PM to7:15 PM, on November 4th.
The festive season bodes well for a number of themes and sectors. Let's talk about the dominant themes around the time of the festival that perhaps you should look at from an investment perspective. For a change, we shall talk about gold at last, given it's the most sought after investment decision during such times.
To begin with, we would like to touch upon the significance of white goods around Diwali. For the uninitiated, white goods are large home appliances such as television sets, air conditioners, refrigerators, and so on. Companies dealing with such goods usually post a strong set of sales and revenue numbers for this quarter on the back of lifted sentiments. The demand scenario is so robust that the festive season nearly accounts for approximately 30–35% of annual sales.
Two smallcases revolving around this theme that you can consider –
Brand Value– This smallcase consists of companies that have been able to leverage their brand power into an outstanding financial track record over the years.
Great Indian Middle Class– This smallcase includes companies that are expected to benefit from the growth in the Indian middle class.
Another vibrant space during the time of Diwali is real estate. People usually consider this to be an auspicious time for buying a new house. The current scheme of things has turned out to be favourable for both housebuilders and buyers. The top 7 cities in India have witnessed house registrations jump by more than 100% on a yearly basis. There are two important factors driving this — low-interest rates and heavy discounts. Add the festival exuberance to it, and you have a perfect win-win for the overall industry. In order to cherry-pick, one can perhaps look at real estate players tending towards private properties as households have pulled the trigger. From an economic point of view as well, real estate has become an important source of reckoning for playing the unlock theme.
Two smallcases revolving around this theme that you can consider-
Realty Tracker– This smallcase comprises real estate companies to allow investors to efficiently track and invest in the realty sector.
Affordable Housing– This smallcase consists of stocks from segments like housing finance companies focused on financing low and middle-income segments, real estate developers constructing affordable houses and cement & building products companies.
Coming on to Autos. The festival of Diwali is considered to be an auspicious time for one to purchase a new vehicle. Automotive dealers witness a sharp surge in demand for various price ranges. Besides the festive cheer, autos have been making headlines quite regularly. Ever since the onset of the pandemic, preference towards personal mobility has increased manifold. People are willing to shell out extra money for owning a vehicle, in order to avoid the high contact alternatives of shared transportation. The other prominent tailwind is the push around electric vehicles. It's beginning to turn into a status symbol, wherein the early adopters are pulling in the majority to opt for the same. Auto manufacturers focusing on this front has a nose ahead advantage over their peers and will successfully garner greater market interest and resources.
Two smallcases revolving around this theme that you can consider –
Auto Tracker– This smallcase comprises automobiles, auto parts, batteries and tyre companies to allow investors to efficiently track and invest in the automobile sector.
Electric Mobility– This smallcase comprises companies that are investing in the electric vehicle ecosystem and are expected to grow with growth in electric mobility.
And finally, not to forget — Gold. Diwali, as an occasion, has almost become synonymous with gold. Every Indian household is bound to purchase some form of gold during this time. The only thing that has changed is the form of gold that people have started to own. A good portion of the crowd has taken to digital gold. Not only do they save you unnecessary hassle, but is also pocket friendly. It doesn't involve those cosmetic making charges and other surcharges. Besides the social status it carries, gold as a commodity has proved to be an effective hedge against inflation as well as a sulking equity market.
Two smallcases revolving around this theme that you can consider –
Equity & Gold– The smallcase holds a gold ETF and an equity ETF.
All-Weather Investing– This smallcase is ideal for all types of market conditions. It will ensure that neither will your investment ship sink nor will the investment flight soar to scary heights. What you will get here is a steady ride to help you meet your long-term investment goals.
The idea behind sharing this is to sketch a mental model for you. One of the most important things in financial markets is to be mindful of the nuances that make or break the game. The above illustration strives to be a good cue for anyone to understand the way seasoned market participants go about identifying opportunities. There are a multitude of things that affect equities, but it is essential to connect the dots in order to make it actionable. Investing usually makes one more aware of developments taking place around, adding perspective to one's thought process. Also, it's not a game of quantity. The key is to have a strong grasp of a set of things that possess the potential to affect market cycles.
Our work at Windmill Capital aims to inculcate the importance of how to make prudent financial/investing decisions into everyone's lives and at the same time smoothen the investing journey by building cost-efficient and transparent yet powerful smallcases. Please write to us at support@windmill.capital in case of any queries, we will be happy to assist.
Take care and a very Happy Diwali to you and yours from all of us at Windmill Capital! 🙂
Disclaimer: The content in these posts/articles is for informational and educational purposes only and should not be construed as professional financial advice and nor to be construed as an offer to buy/sell or the solicitation of an offer to buy/sell any security or financial products. Users must make their own investment decisions based on their specific investment objective and financial position and using such independent advisors as they believe necessary. Refer to our disclosures page, here.