smallcase Managers
Expert Analysis of the Global Macro Events & News affecting the Indian Markets
Reading Time: 5 minutes
Weekly Synopsys
| | | | | |
| --- | --- | --- | --- | --- |
| Index | 1 week | 1 month | 1 year | 5 years |
| Nifty 50 | -2.91% | -3.35% | 2.63% | 65.47% |
| BSE Midcap | -2.61% | -3.27% | 2.81% | 45.16% |
| S&P 500 | -3.26% | -0.12% | -8.49% | 54.02% |
| Nasdaq | -2.24% | 2.26% | -11.10% | 56.17% |
Markets are Struggling this week – what's happening?
Revenue growth is higher than earnings growth consistently in the US – again thanks to a rise in input costs, piled-up inventory, the rising interest costs, and wage expenses.
This chart from Refinitiv shows this trend to continue: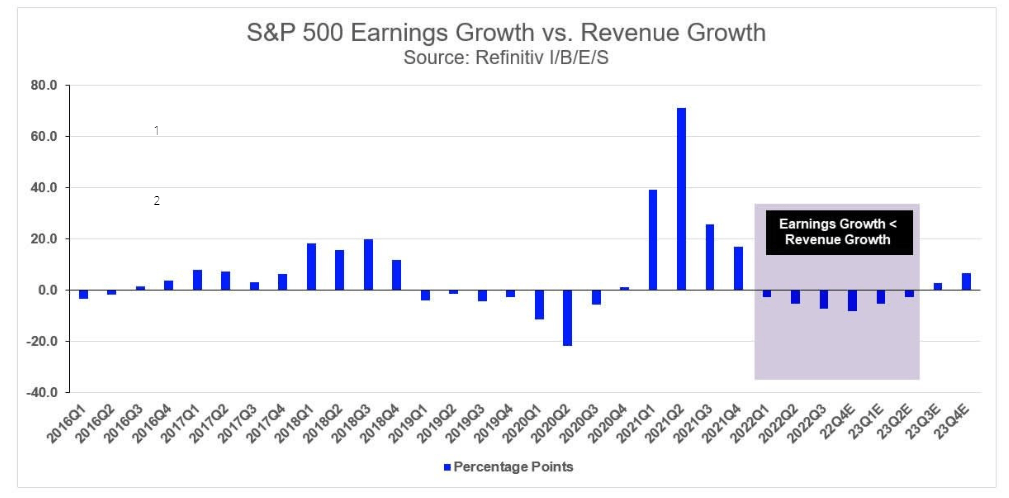 Similar is the case for Indian companies. For a change, let's take a look at the broader market. From the 2,930 companies that reported results (excluding the BFSI sector), we have seen a near 15% degrowth in net profits despite rising sales.
Future earnings are mostly priced in, and markets are not reacting to this. However counter intuitive it may sound, markets are falling because the western economies are showing strength (despite their central banks trying to slow it down).
| | | |
| --- | --- | --- |
| | Reported Data | Expected Data |
| US Initial Jobless Claims | 192 K | 200 K |
| Retail Sales | 3% Increase | 1.9% Increase |
| US CPI Data (January) | 6.4% | 6.2% |
Now you might ask 'why is rising interest rates having no major impact', and we'd say, that's a brilliant thought! You see, the central bank went so hard on the accelerator that they are unable to halt it with the brakes. Household savings are near the highest level (well above pre pandemic levels), and gladly homebuyers had locked in 30-year mortgages when the interest rates were near zero. Hence the Fed is unable to become as relevant as they thought they'd be.
Adani Saga continues…
$125 billion has been wiped off on a group level since the short-sell report.
| | |
| --- | --- |
| Company | Drawdown from All Time High |
| Adani Enterprises | -69% |
| Adani Green Energy | -83% |
| Adani Ports | -43% |
| Adani Power | -66% |
| Adani Wilmar | -58% |
Prominent figures in the finance industry – Larry Summers and George Soros left no tables unturned while lashing out at the group. This has become more like a serial drama now!
News that caught our attention
US consumer spending surged by 1.8% in January, the highest increase since March 2021, due to increased consumer confidence and government stimulus checks. However, inflation also accelerated at a faster pace than expected, with the personal consumption expenditures price index rising by 4.7% in January compared to the same month last year. Personal incomes shot up, but personal savings fell, indicating a growing concern for policymakers and economists about the impact of rising inflation on the Feds decision-making process around monetary policy and interest rates.
India's foreign exchange reserves have dropped for the third week in a row, reaching an 11-week low of $561.27 billion, according to the Reserve Bank of India. The drop was primarily driven by a decrease in foreign currency assets, which make up the largest component of India's foreign exchange reserves.
According to the Indian government, domestic coal production is expected to reach 1.31 billion tonnes by the end of the fiscal year 2024-25. The government has also set a target to achieve 1 billion tonnes of coal production by the end of the fiscal year 2023-24. The growth in domestic coal production is attributed to the increase in demand for coal from the power, cement, and steel industries, as well as the government's focus on reducing coal imports and increasing domestic production. The government is implementing various measures to boost domestic coal production, including the auction of coal blocks and the liberalization of coal mining policies.
Overall Green Portfolio smallcases Outlook
What we invest in are high growth businesses backed by world class management, and above all else, available at reasonable valuations. In other words, 'High Quality Right Price'. Many of our companies did face severe headwinds and Q3 results were reflective of this.
Businesses have been cyclical, yet most of our companies (17/20) reported profits despite surfing through rough waves this quarter. Business outlook of all our companies are sound. There was a company where the fundamentals took a nose dive and differed from our thesis. In these cases, we do not shy away from booking profits/losses in order to realign our portfolio.
Update on Portfolio Companies: Exide Industries
Exide industries is something we wanted to discuss this week. They are the market leaders in Lead acid batteries – the batteries we use in our vehicles. They ventured into lithium battery assembly through a joint venture, and the experience/response from the market was thrilling. Hence, they are now going venturing into Lithium-ion cell manufacturing. A very risky venture that will require them to invest INR 6,000 Crores over the years. Nonetheless, they will be commencing operations towards the end of this year.
With this Exide Industries would be the second company in India to manufacture Lithium batteries followed by Godi India but they currently have very low capacity whereas Exide Industries would have a capacity of 6 GWh in 2024, with domestic production of lithium cells the cost of EVs in India would reduce as lithium batteries make up 40-50% of the total cost of EVs. Exide is already in advance talks with the OEMs to supply the batteries once commercial production starts and would further ramp up the capacity by 6 GWH.
With the focus on clean energy, the finance minister laid down the plan of 4000 MWh of Battery Energy Storage Systems (BESS) around India in the budget 2023, this is positive for Exide Industries as it has been providing BESS solutions to various companies in India through its subsidiary and would further bring in demand for Exide Industries products.
Green Portfolio is a SEBI Registered (SEBI Registration No. INH100008513) Research Analyst Firm. The research and reports express our opinions which we have based upon generally available public information, field research, inferences and deductions through are due diligence and analytical process. To the best our ability and belief, all information contained here is accurate and reliable, and has been obtained from public sources we believe to be accurate and reliable. We make no representation, express or implied, as to the accuracy, timeliness, or completeness of any such information or with regard to the results obtained from its use. This report does not represent an investment advice or a recommendation or a solicitation to buy any securities.