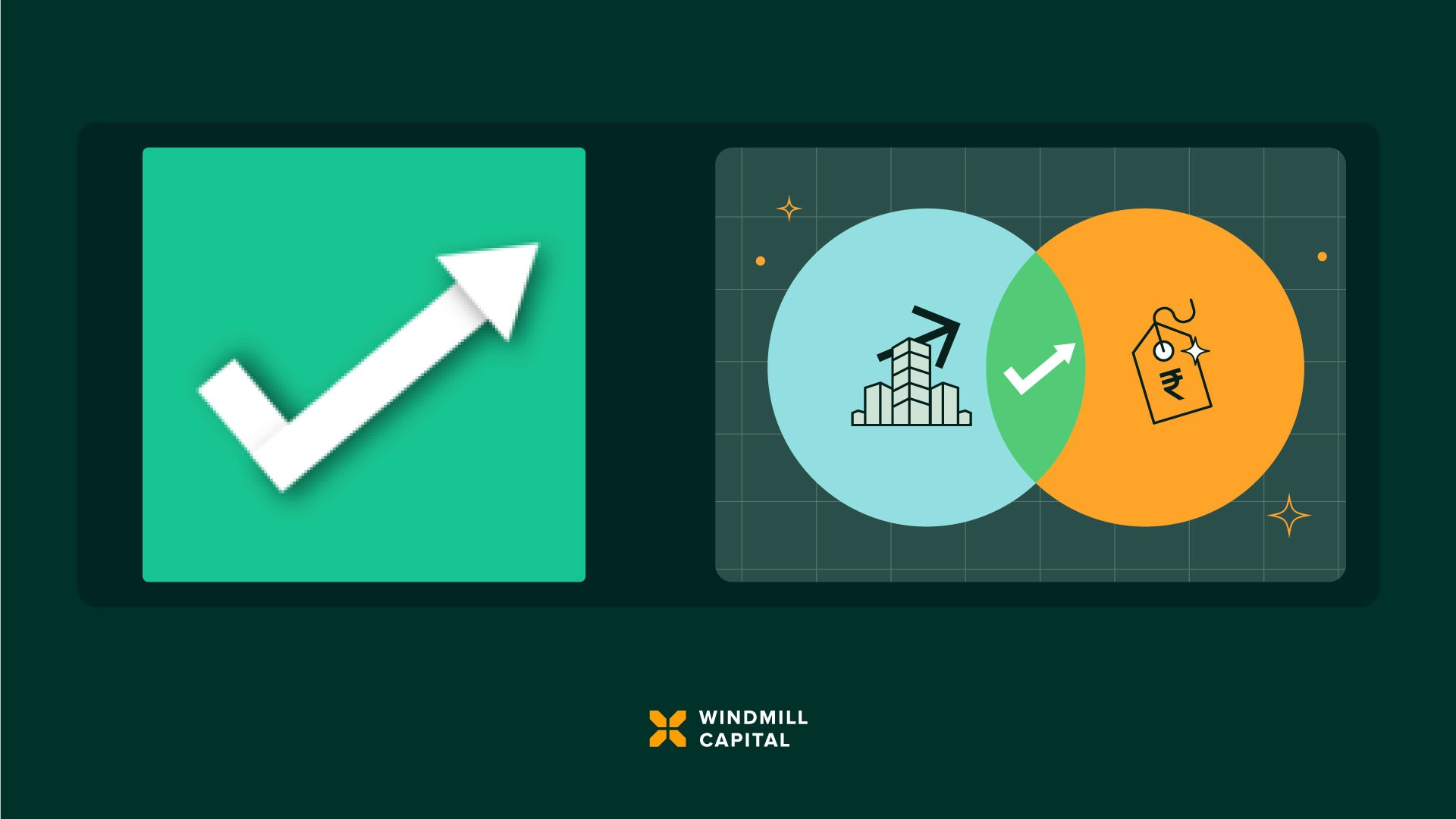 Reading Time: 2 minutes
What are growth stocks?
Growth companies are usually defined as companies that have higher earnings growth as compared to their competitors. These companies operate in fast-growing industries and usually do not pay dividends as the earnings are reinvested to fuel growth. Hence, the return on growth stocks usually comes from appreciation of stock prices rather than dividends.
These stocks can be an excellent investment opportunity for investors looking to outperform the market. However, growth stocks can command high valuations which may not be justifiable sometimes. At Windmill Capital, we believe that investors should buy stocks at justifiable valuations.
That's why we have created 'Growth at Fair Price', a portfolio of growing stocks which are trading at fair valuations and have been witnessing an upward momentum in their price.
To select stocks under this smallcase we consider the following metrics:
Earnings – Earnings per share (EPS) represents the portion of a company's profit that can be allocated to each outstanding common share of the company. The higher the earnings per share of a company, the better is its profitability. Companies that are able to increase their earnings per share year after year are desirable. The smallcase only selects profit-making companies that have been recording significant growth in earnings per share over the medium term. In addition, these companies should also have reported an increasing net profit margin trend.
Efficiency – Return on capital employed (ROCE) measures a company's profitability and the efficiency with which it uses capital. Only companies that have high ROCE and display an increasing trend in ROCE are selected.
Valuations – P/E ratio is an important valuation ratio and helps understand whether a company is undervalued or overvalued. This ratio is often compared to the ratio of different companies operating in the same sector. This smallcase shortlists undervalued companies trading at low PE in comparison to its peers in the same sector.
Momentum – Momentum is the pace of change in a stock's price. This could either indicate a positive or negative trend in stock prices. It has been observed that stocks whose prices have been rising recently will continue to do so in the near term and vice versa. This smallcase only selects stocks that have been witnessing positive price momentum.
Who may be suitable to invest in this smallcase?
Growth at Fair Price smallcase shortlists fairly valued, growing companies whose prices have been witnessing positive momentum. During times of market crisis, stocks of fairly-valued growing companies may not witness a massive drop and can help steady the portfolio returns. During bullish phases, momentum kicks in and helps the smallcase beat the broader market.
Pure-equity strategy like this one comes with the risk of significant drawdowns in the short-term and is suitable for long-term investors with a higher risk appetite.