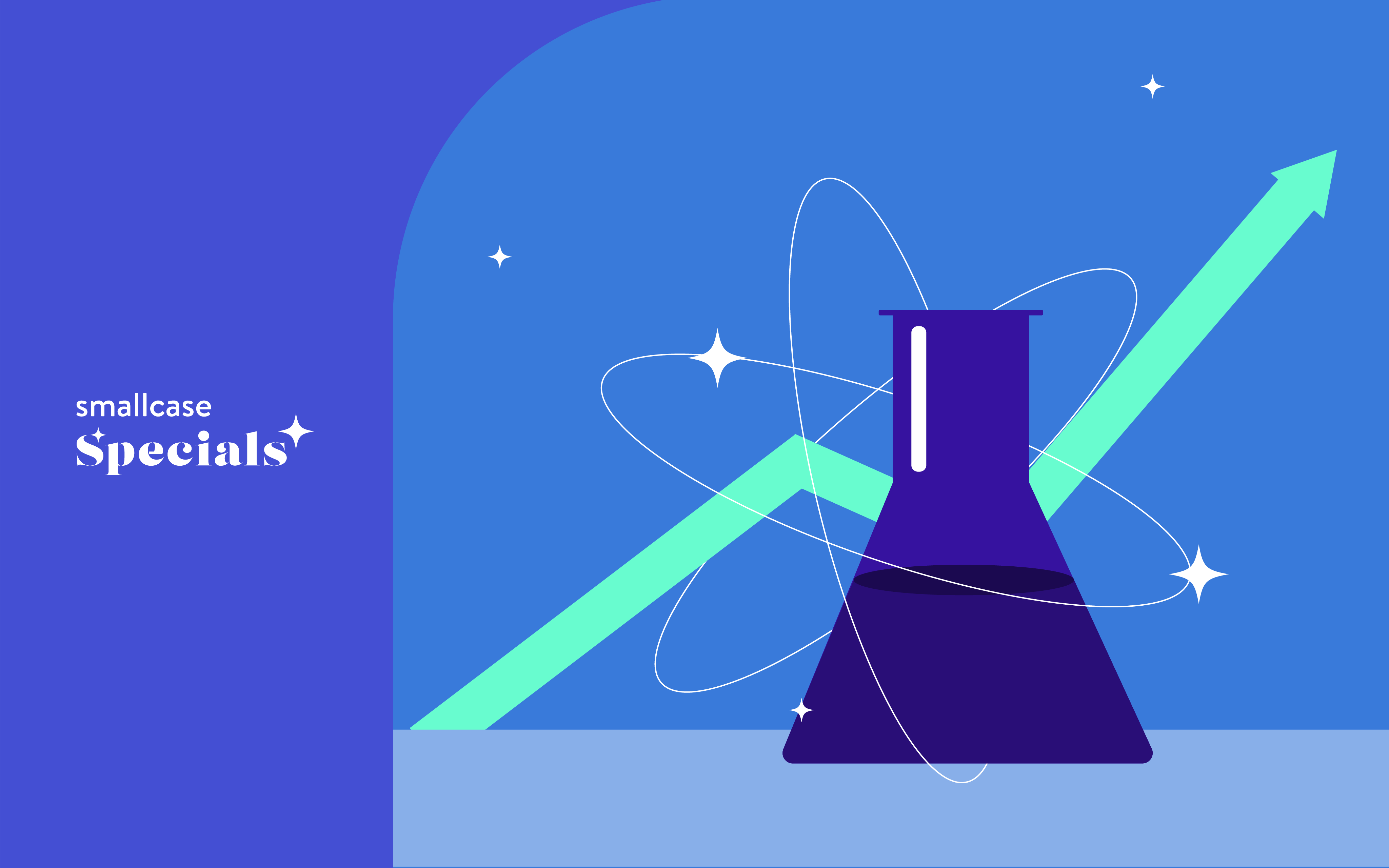 Reading Time: 5 minutes
Okay, let's play KBC here just for a second – which do you think was the first-ever industrially produced chemical?
Well, answering this question might not make you a Crorepati, but investing in this industry could probably propel you onto the path towards a better financial future! Having said that, read on (and don't Google) to find out the answer.
It wouldn't entirely be an exaggeration to say that the speciality chemicals industry is like the dark horse of a race given the consistency it has shown in the Indian markets. Interestingly, when India's economy faced headwinds during 2016-19, the chemical industry maintained a whopping CAGR of 17%!
Let's rewind a bit here.
While the history of chemicals and their usage can be traced back to Phoenecian days, scaled productions at the industrial level started only in the 19th century with the advent of the Industrial Revolution. The modern chemical industry was birthed in order to develop more rapid bleaching techniques for the British cotton industry.
The breakthrough in industrial chemical production came when John Roebuck invented the method of mass-producing sulfuric acid in lead chambers. 
Click To Tweet
The world wars propelled this industry into being the raging money-maker that it is for investors today.
Cut to the present day…
The Indian chemical industry contributes to nearly 7% of the country's GDP, and is set to add a whopping US$ 300 billion to India's GDP by 2025!
It is the sixth-largest in the world, and third in Asia. The value of the chemical industry in India is estimated at $178 billion. An industry this big is obviously also a major employer, currently generating employment for over 2 million people.
Between 2006-2019, the global chemicals industry maintained a CAGR of 8% while the overall equity market was at 6%. During this period, however, the speciality chemicals sector maintained a steady 15% CAGR!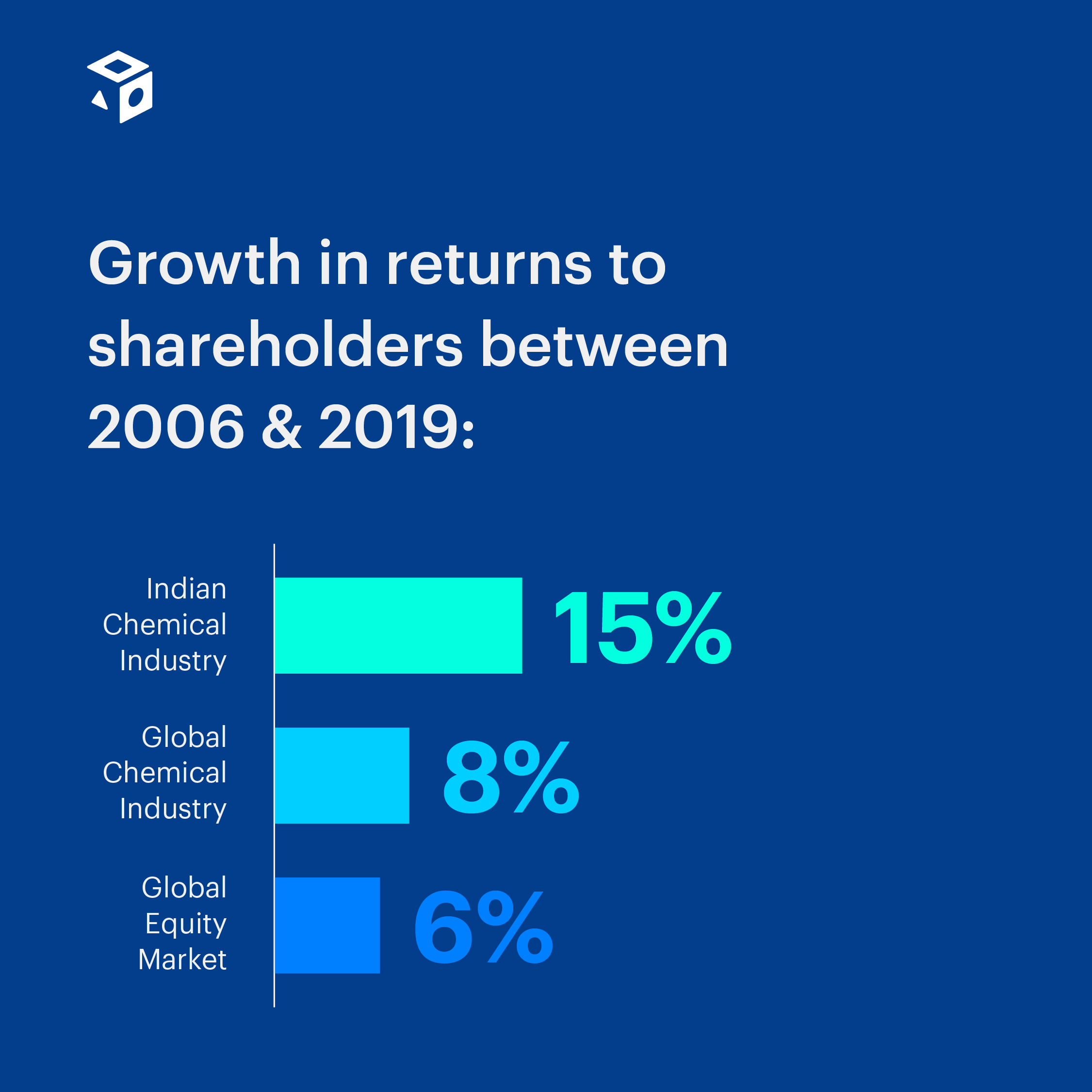 The speciality chemicals constitute 22% of the total chemicals and petrochemicals market in India. As of FY19, the total market size of the industry was pegged at around $32 bn. They account for more than 50% of total chemical exports from India and the demand is expected to rise at a 12% CAGR in 2019-22, creating an additional opportunity of $20-25 billion.
The government has allowed for 100% FDI in this industry under the automatic route in the chemicals sector (except in the case of certain hazardous chemicals).
Industries like food processing and personal/home care are driving the speciality chemicals market. With the population rising, there will be a strong demand for speciality chemicals in the automotive industry, personal products, water treatment and construction segments.
The following are major growth drivers of this industry (source – Invest India) –
Rising disposable income, the median age of population, urbanisation and growing penetration and demand from rural markets
The shift in consumer preferences towards a healthier lifestyle and environment-friendly products
Production Linked Incentives scheme for manufacturing of Advance Cell Chemistry Battery under Atmanirbhar Bharat Abhiyaan

India's proximity to the Middle East, the world's source of petrochemicals feedstock, makes for economies of scale.

The Indian Government supports the Industry through research & development and initiatives such as reducing basic customs duty on several imported products and promoting the 'Make in India' campaign.
But why should I invest?
The speciality chemical industry is knowledge-driven & oligopolistic in nature. Companies that manufacture such chemicals need to have process expertise as well as research and development capability. The industry is also capital intensive. Combination of these factors acts as entry barriers, allowing incumbents to retain a competitive advantage.
Moreover, firms are also striving to further raise barriers to entry by being more customer-centric. They are focusing less on products and more on support services for customer-specific needs.
The price of the products is, more often than not, decided through negotiation. Thus, firms can pass on increases in cost to end-users fairly easily. This allows companies to retain their margins.

Supply disruption in China has caused the global end-user industries to diversify their vendor base mainly towards Indian players. Closure of plants in the EU and China due to increasing environmental concerns have favoured further investment in speciality chemicals.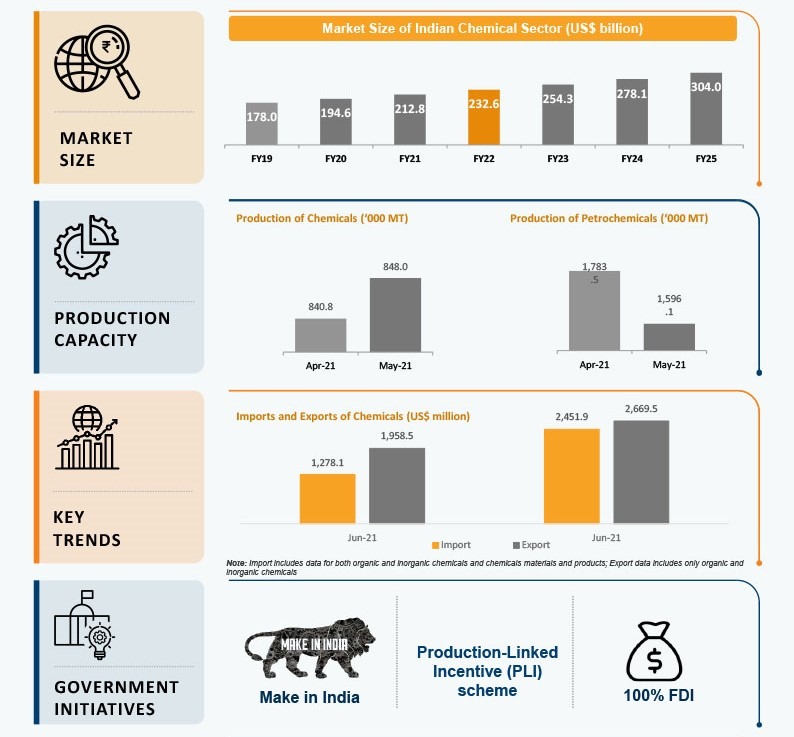 This was an idea so lucrative to the folks at Windmill Capital that they couldn't help but build the Speciality Chemicals smallcase!
Given chemicals have become especially important to the growth of the overall economy, the entire sector has witnessed tremendous growth in recent years. Speciality chemicals present an interesting and fairly overlooked investment opportunity. This smallcase comprises companies manufacturing speciality chemicals that are used in a wide range of industries like automobiles, pharma, textiles, food processing, agrochemicals, etc.
This is an ideal smallcase for investors looking to take exposure to the growing and promising prospects of the Speciality Chemicals industry.
Who has curated this smallcase?
The team at Windmill Capital!
Windmill Capital was the first smallcase Manager on our platform and the journey until here has been absolutely incredible! Theirs is a team of experienced professionals who strive to make financial ideas into reality. Data, and fundamental analysis, along with mathematical and statistical models, are used to assess sectors, companies, and various asset classes. This makes their approach prudent, yet progressive!
Over 50 smallcases, ranging from low-risk, asset allocation portfolios, to high-risk, pure-equity strategies, are currently managed by Windmill Capital on the platform. The portfolios have been created keeping in mind the varied needs of investors and the importance of long-term wealth creation. Investors can choose the smallcases according to their risk appetite and time horizon.
A data-driven and quantamental approach for portfolio construction and maintenance has always been the core methodology; one that is built to give equal importance to company fundamentals and quantitative algorithms while crafting portfolios. This approach ensures that
biases of both the fundamental and quantitative styles of investing are removed, and investors get the best of both worlds.
Windmill Capital has both free and fee-based offerings. Their free smallcases include investor favourites like All Weather Investing, Equity & Gold, and the Top 100 smallcase. In fact, the All Weather Investing smallcase recently crossed the threshold of 1 lakh investors! You can read more about it here.
Check out more unique smallcases by Windmill Capital here.

The speciality chemicals sector is going places and is a sector that hasn't been entirely explored as a money-making machine in India. Custom producers are finally getting the chance to build relationships with international companies and expand supply contacts. The ChemTech World Expo 2021 in February '22 and the ChemExpo India in April '22, are two wonderful opportunities in Mumbai to get major eyeballs on the domestic industry.
Get the first-mover advantage with the Speciality Chemicals smallcase!