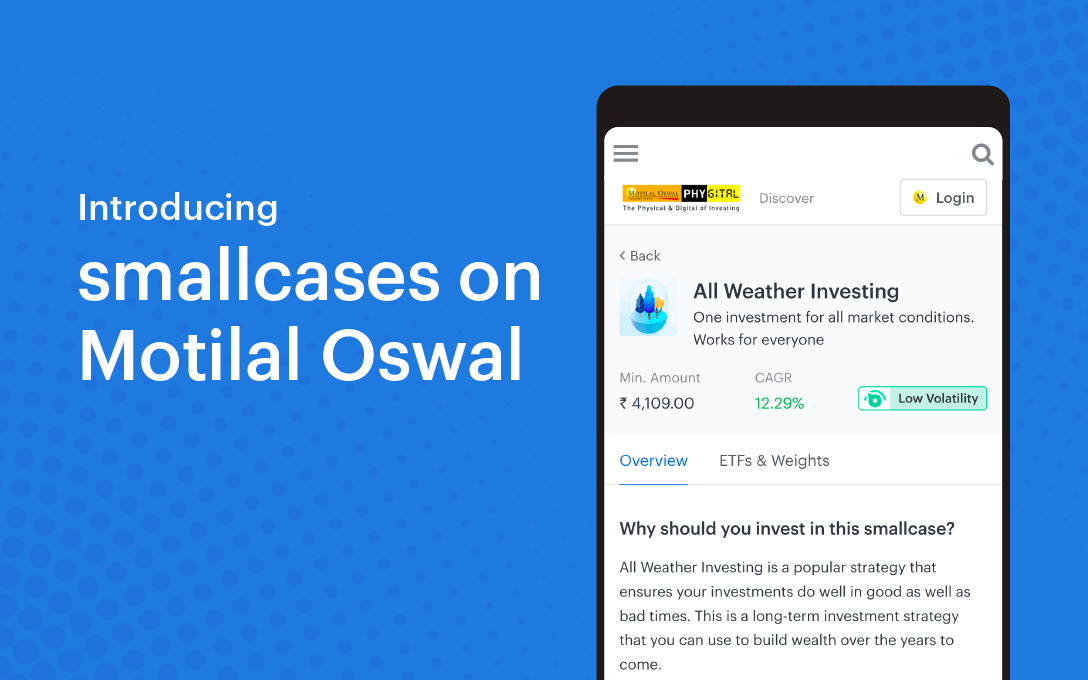 Reading Time: 1 minutes
We are excited to announce that our integration with Motilal Oswal Financial Services Limited is now live. Motilal Oswal was one of the earliest entrants in the broking services with 34+ years of legacy. With a presence in over 550 cities and counting, this company is one of India's 10 largest stock brokers.
smallcases are modern investing products that are based on simple ideas you can understand. These are baskets of stocks or ETFs, selected & weighted intelligently to reflect a specific idea. You can now experience the quick, seamless & hassle-free experience of investing in smallcases through your Motilal Oswal account.
That's not all! You can even set up SIPs, create your own smallcases, and track their performance anytime, anywhere.
With this partnership, we take another giant step towards making our low-cost, transparent & delightful investment product available to all Indian investors. Start investing in smallcases with your Motilal Oswal account.
[cta color="blue" title="Invest in smallcases with Motilal Oswal" url="https://smallcases.motilaloswal.com/discover/explore?utm_source=mofsl&utm_medium=blog&utm_campaign=br-launch&utm_content=discover&utm_term=may-2021″ button_text="Get Started"][/cta]