ITC's Financial Triumph: How its Diverse Ventures Drive Growth Beyond Tobacco
Reading Time: 3 minutes
Introduction
ITC Limited, an Indian conglomerate, has established its presence in various sectors, ranging from tobacco and FMCG (Fast-Moving Consumer Goods) to hospitality and agri-business. With a long-standing dominance in the tobacco industry, ITC has strategically expanded its business operations and diversified its portfolio over the years. This blog explores the company's recent financial performance, key business segments, and its prospects for the future.
Impressive Financial Performance
ITC's recent financial results reflect its resilience and growth in challenging times. The company reported a 21% year-on-year increase in net profit during the December quarter of 2022. Furthermore, for the fourth quarter ended March, FY23, ITC achieved a 5.6% revenue growth, driven by strong sales in cigarettes and hotel businesses. Its net profit rose by 21.4%, surpassing street estimates and indicating its ability to navigate market dynamics effectively. The company also recommended a special dividend of ₹2.75 per-share in addition to the final dividend of ₹6.75 per share. Including the interim dividend in March, the total dividend for the year is ₹15.50 per share.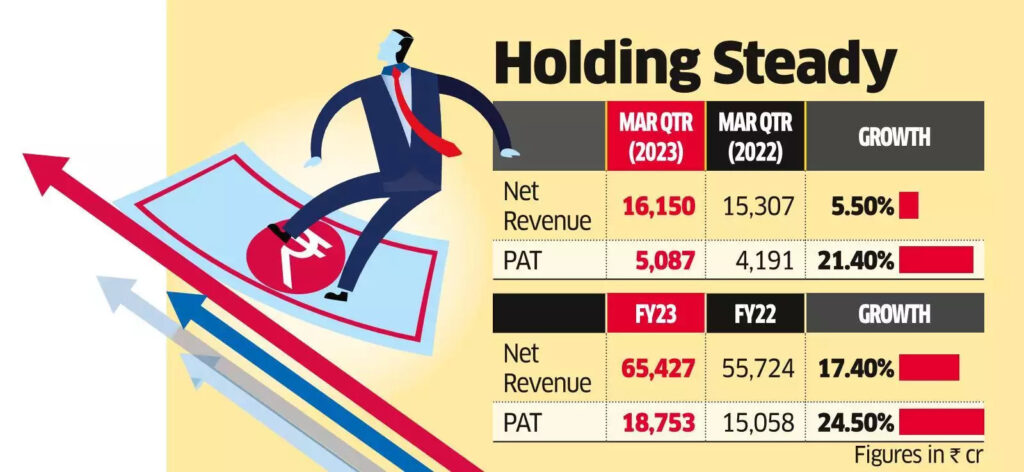 Dominance in the Tobacco Industry
ITC's stronghold in the tobacco industry stems from its loyal customer base and extensive distribution network. 8 out of 10 cigarettes sold legally are from an ITC brand. With over 7.1 million outlets for tobacco product sales, double that of its closest competitor, the company has built a significant advantage. Additionally, ITC continues to innovate by offering smaller cigarette pack sizes to tap into the market demand for single sticks. This strategic move helps combat illicit trade and retain market share, ensuring domestic demand for Indian tobacco.
Diversification into FMCG and Other Sectors
Recognizing the need to diversify its business beyond tobacco, ITC ventured into the FMCG sector. The company has introduced a range of personal care products, biscuits, and even instant noodles. Despite initially experiencing lower net margins in this segment, ITC has made progress, with margins gradually increasing to nearly 7%. Investors anticipate further improvements, considering ITC's brand awareness, marketing efforts, and robust supply chain.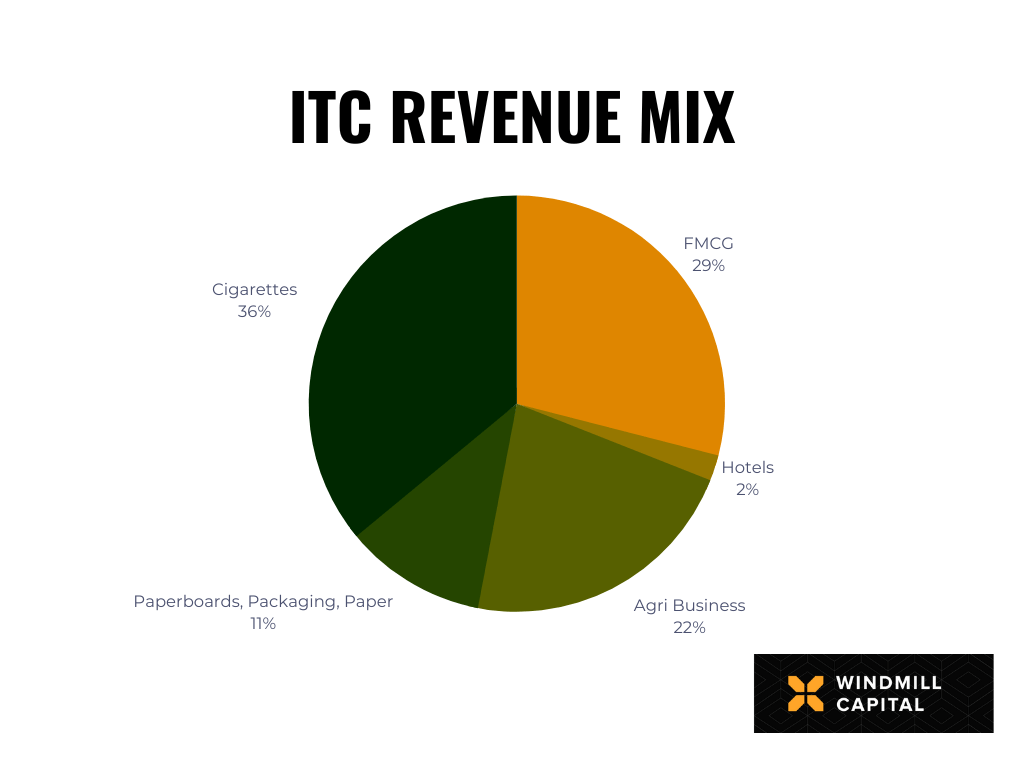 ITC's hotel business, though capital-intensive, has undergone strategic adjustments. Instead of acquiring hotels outright, the company now focuses on managing existing properties owned by others. This asset-light approach enables ITC to capitalize on the recovery of the tourism and conference industry post-pandemic. By reevaluating its hotel strategy, ITC aims to optimize profitability and sustain its presence in the hospitality sector.
Beyond tobacco and FMCG, ITC has an agri-business division involved in manufacturing frozen peas, shrimps, and paper products. The Classmate brand of notebooks has gained popularity, contributing to the company's diverse product offerings.
Future Outlook
As ITC continues to strengthen its foothold across various sectors, its future prospects appear promising. The steady growth in its FMCG business and the evolving hotel strategy demonstrate the company's adaptability and commitment to enhancing profitability. Additionally, the normalization of the operating environment for the legal cigarette industry presents an opportunity for ITC to regain lost volumes to illicit trade.
Conclusion
ITC's journey from a cigarette manufacturer to a diversified conglomerate exemplifies its ability to adapt and innovate in the face of challenges. While the company maintains its dominance in the tobacco industry, it has expanded into FMCG, hotels, and agri-business, capitalizing on market opportunities and consumer demand. With strong financial performance and strategic initiatives in place, ITC is poised for a promising future, driven by its commitment to growth, innovation, and customer satisfaction.
How can you invest in ITC?
Currently, ITC is a part of many Windmill Capital smallcases. You can choose from these smallcases based on your risk appetite and investment goals.
You can check out Windmill Capital smallcases that include ITC here:
Liked this story and want to continue receiving interesting content? Watchlist Windmill Capital smallcases you'd like to read more stories about!
Disclaimer: The information provided in this blog is for informational purposes only and should not be construed as financial or investment advice. The opinions expressed are solely those of the author based on the information available at the time of writing.