Reading Time: 1 minutes
Earning income above price returns
For long-term investors, dividend returns are very important as they are an additional income that is earned over and above the price returns. The Dividend Aristocrats smallcase consists of companies that have increased their dividend payout consecutively for the last 10 years.
4 out of 7 companies in this smallcase have potential upside of greater than 10%, according to broker estimates. All the companies in the smallcase have an institutional holding of at least 10%, indicating high management quality, good performance track record and expectation of bullish performance going forward.
This smallcase also has a momentum rank of 1 amongst all model-based smallcases in our universe. The smallcase has returned 10.27% over the previous 6 months compared to Nifty returns of 1.74%.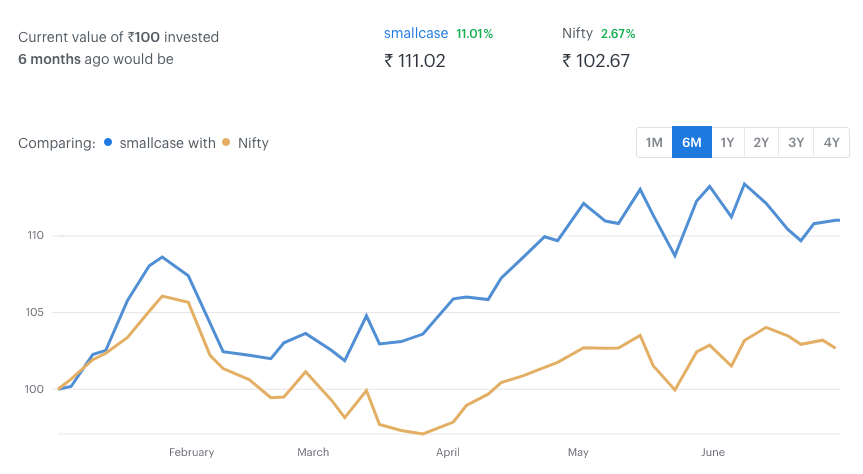 Indian realty sector improves transparency
India has improved its ranking to 35th in the global real estate transparency index, driven by policy reforms and liberalisation of FDI rules in property as well as retail sectors, realty consultant JLL said. According to JLL, the ranking is expected to improve further in the next survey in 2020, on the back of several government initiatives such as Real Estate Regulation and Development Act (RERA), GST and Benami Transactions Act. India has emerged as one of the top ten countries to register maximum improvement in transparency in real estate over the last two years.
In related news, a Knight Frank report released last week said that capital inflow into the Indian real estate market witnessed a jump of 31% to $2.6 billion in 2017, primarily on the back of the government's reforms initiatives and new regulations. This put India on the 19th spot among 73 countries, which attracted cross-border capital into their property markets. Foreign investment into real estate has grown by 600% since 2012 to reach reach $2.6 billion in 2017.
You can benefit from this trend by investing with the smallcase Realty tracker. The smallcase has returned 22.23% over the previous year compared to 12.73% Nifty returns.
Trade friction pulls markets down
Escalating trade friction between USA and other major economies, rising oil prices and depreciating Rupee all combined to pull markets down this week. Nifty closed down 0.99% at 10,714.3 and Sensex closed down 0.75% at 35,423.5.