Reading Time: 7 minutes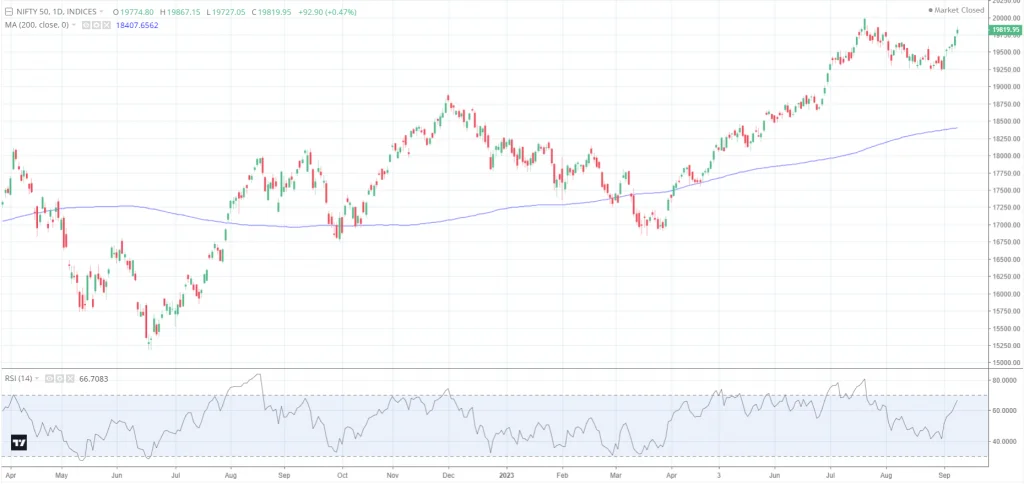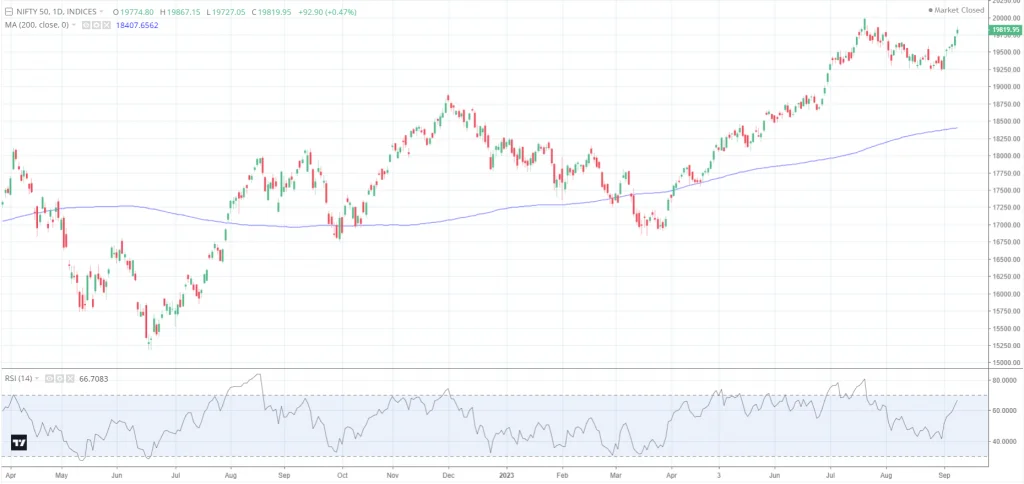 The WeekendInvesting App !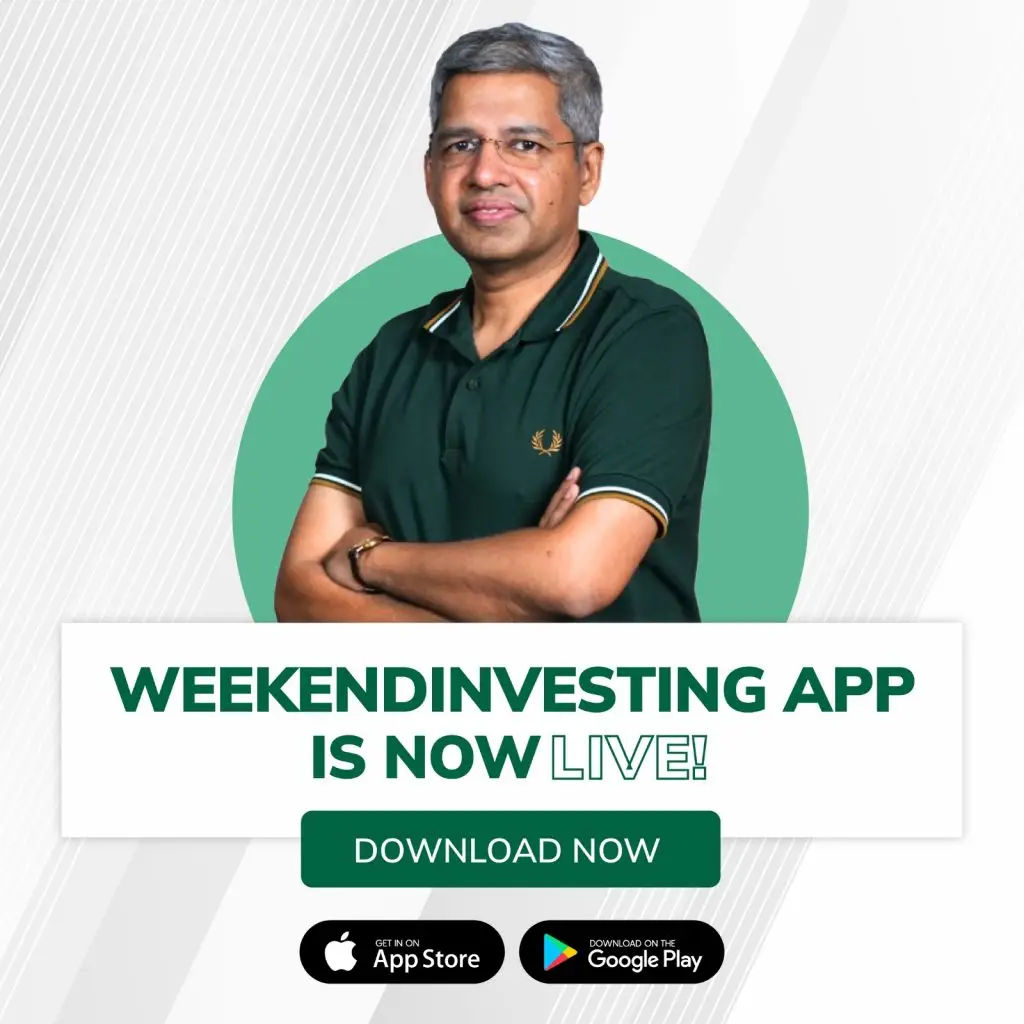 The biggest launch news from our side continues to has been the launch of the Weekend Investing app, now available on Google Play and App Store. The app has been received with great enthusiasm, with over 3,000 users already joining. We encourage all weekend investors to download the app, as it provides numerous benefits and features that can enhance your investment experience.
By joining the app, you will receive immediate notifications for urgent messages from us. Additionally, all our content, including YouTube videos and Twitter posts, can be accessed in one place. This ensures that you stay up to date with relevant and valuable information. Moreover, the app allows you to interact with our team, ask questions, and provide feedback. It offers a seamless and convenient channel for communication between investors and our support team.
One of the key advantages of the app is access to exclusive educational content and strategies tailored specifically for weekend investors. We offer educational US strategies, trend analysis posts, market psychology insights, and much more. By leveraging these resources, you can enhance your investing knowledge and make informed decisions. Furthermore, the app provides opportunities for online and offline meetups exclusively for WeekendInvesting subscribers, allowing you to engage with fellow investors and expand your network.
A unique feature of the app is the ability to book a one-on-one call with the Weekend Investing team. This personalised support ensures that you receive prompt assistance and have your queries addressed directly. Additionally, a chat feature is available to provide immediate solutions to any questions or concerns you may have. The aim of the app is to facilitate seamless interaction and provide phenomenal support to all weekend investors and app users.
Introducing "The WeekendInvesting Newsletter"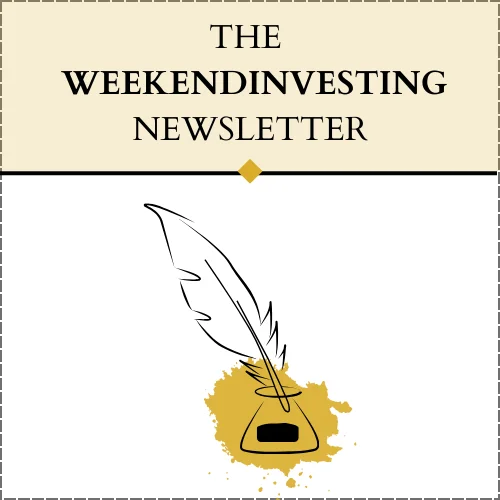 Another new feature introduced this week is the Weekend Investing Research Desk Market Nuggets. This is a daily newsletter that summarises all the stories we cover during the day, including the daily byte that we shoot every evening. This newsletter will be delivered to your email every evening on working days, providing you with a wealth of market-related information. The newsletter includes both summaries and long-form blogs for all the market nuggets covered. These blogs are also linked to the videos we shoot, so you can choose to watch or read the content according to your preference.
Check out our newsletters for this week.
Subscribe to the WeekendInvesting Newsletter
Markets this week !
Nifty witnessed an incredible rally that many investors were eagerly waiting for. After several weeks of correction and sideways movement, the Nifty finally broke out above the 19,570 region. As a result, we closed the week at an all-time high of 19,819 on the Nifty weekly chart. This milestone demonstrates the strength of the Indian market compared to the rest of the world.
Furthermore, the market is experiencing robust fund flows, with domestic flows matching the outflows from FIIs. This positive trend indicates a healthy and sustainable market environment.
Sectoral Trends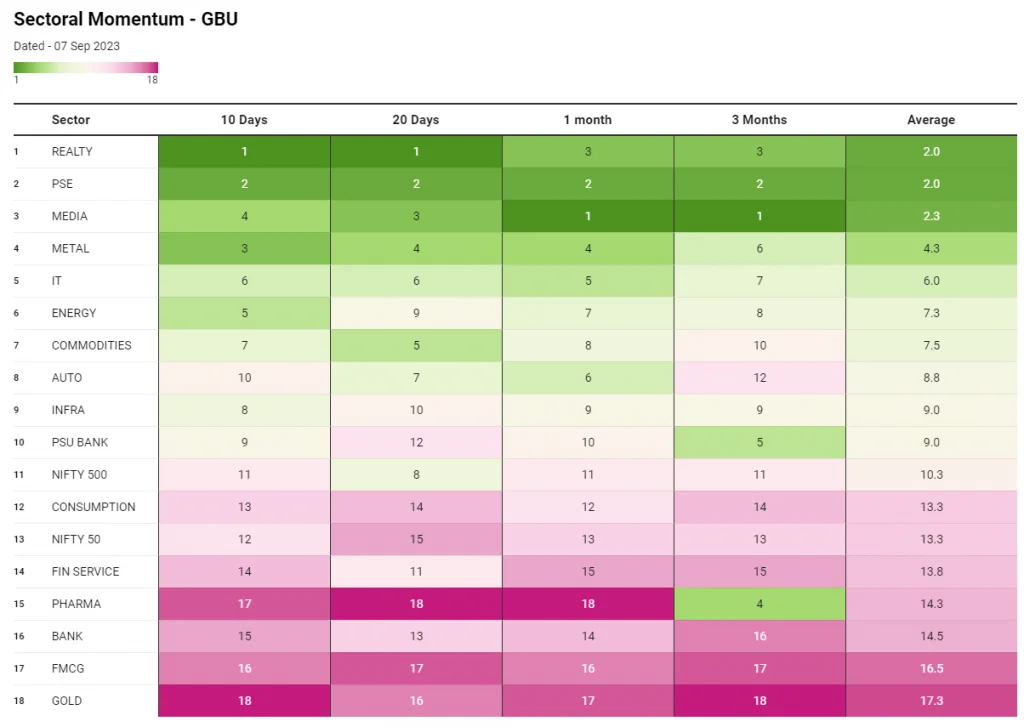 To understand the sector-wise performance, let's take a look at the sectoral momentum table. Real estate continues to be the primary mover in the market, holding the top spot on both the 10-day and 20-day basis. Public sector enterprises rank second, followed by metals, media, and energy sectors. By studying these trends, you can identify sectors that have remained strong over various time frames, such as three months, one month, three weeks, and one and a half weeks.
In terms of sectoral performance this week, public sector enterprises had the highest momentum with a 6% increase, followed by real estate (4.9%), energy (4.2%), PSU banks (3.7%), infrastructures (3.5%), and commodity stocks (2.9%). On the other hand, Pharma witnessed a sudden collapse in rank from 4 to 17. However, sectors like autos, commodities, metals, and real estate showed positive moves, indicating potential opportunities for investors.
WeekendInvesting strategies Performance
Now, let's take a look at the performance of different strategies offered by Weekend Investing. Mi ATH 2, an aggressive strategy, recorded a remarkable 9.2% gain for the week, making it the top-performing strategy. Mi 20 and Mi MT Allcap strategies also showed impressive performance with gains of 6.4% and 4.7% respectively. It's important to note that these strategies have consistently delivered strong returns over the financial year, with gains ranging from 50% to 66%. This highlights the potential of these strategies to add alpha to your portfolio when used as a satellite strategy.
Remember, investing is a long-term journey, and trying to time the market based on fear or greed is unlikely to yield successful results. Instead, focus on your investment strategy, stay well-diversified, and continue adding to your portfolio over time. By doing so, you can reap the rewards of consistent and disciplined investing.
Spotlight – Mi ATH 2 !
This week's spotlight strategy is Mi ATH 2, which has been on a remarkable run lately. Over the past one month, the strategy has recorded a gain of 23%, outperforming the index by a substantial margin. Over the past three months, the strategy has delivered a staggering 32% return, showcasing the strategy's strength in volatile market conditions. Moreover, the long-term CAGR for the strategy has witnessed a significant increase, indicating its ability to generate consistent returns over time.

Despite the initial drawdown in the first year, Mi ATH 2 has managed to recover and match benchmark returns. This highlights the importance of staying committed to your investment strategy, even during challenging periods. So, it's crucial to focus on the long-term objectives and avoid making impulsive decisions based on short-term market movements.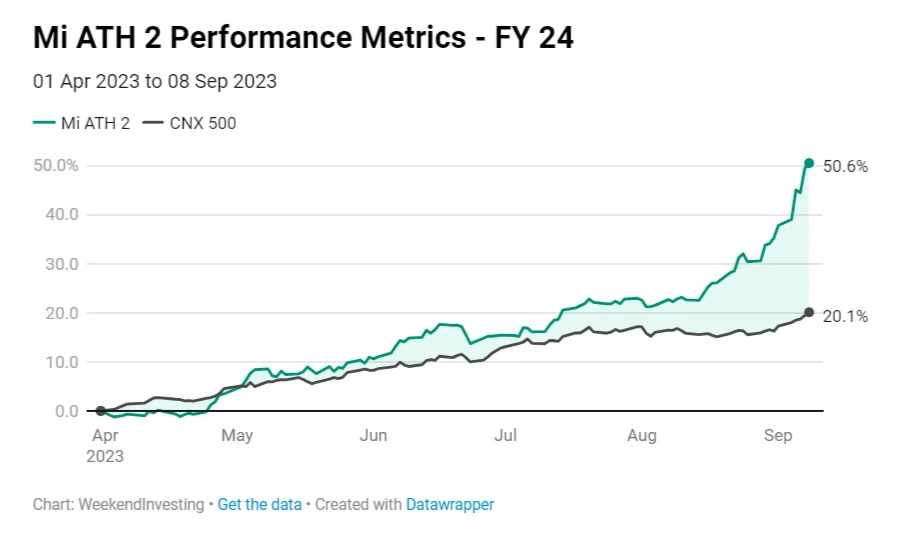 Overall, the latest market trends and performance of different strategies indicate promising opportunities and potential for positive returns. As an investor, it's important to stay disciplined, adhere to your investment strategy, and consider diversifying your portfolio with different strategies to capitalize on market movements and add alpha.
A SHORT COURSE to Help you Stay Calm in All Market Conditions
Usually, quick – sharp corrections amidst a Bull Run creates ambiguity in the minds of lots of new investors. The most important question we often get asked is whether markets will crash from here. Should we exit? and a few other questions like these. We have made several videos to help you clarify many such questions and help you have the RIGHT MINDSET for a rewarding journey in investing.
We have put together a few of our previous Daily Bytes which we think might be relevant for times like these. Do have a look and send us your thoughts, questions or comments if any.
The smallcase products are all LONG ONLY products that invest in various subsegments of the markets but have the momentum theme underlying in all of them. The strategies will pick strong outperforming stocks and remove weak ones once a week (except Mi NNF10, Mi EverGreen & Mi India Top 10 which is monthly rebalanced)
These are all long-term strategies that will create enormous wealth in each upswing and then maybe give some back in the downswing and repeat this process again and again achieving the compounding effect. With patience and grit to follow strategy over ups and downs over the last nearly five years, it has been shown that much superior CAGR returns are possible than the benchmarks.
We give advance notice here on the upcoming changes in your smallcase for Monday. This advance notice can be used to ignore Monday's update if there is no change. If there is a change indicated you can use the smallcase app or log in to weekendinvesting.smallcase.com to see the rebalance. A backup email is sent by mid-day Monday if you have not rebalanced by then and yet another one a day later.
Note: We are not including LIQUIDBEES as an ADD or an EXIT count.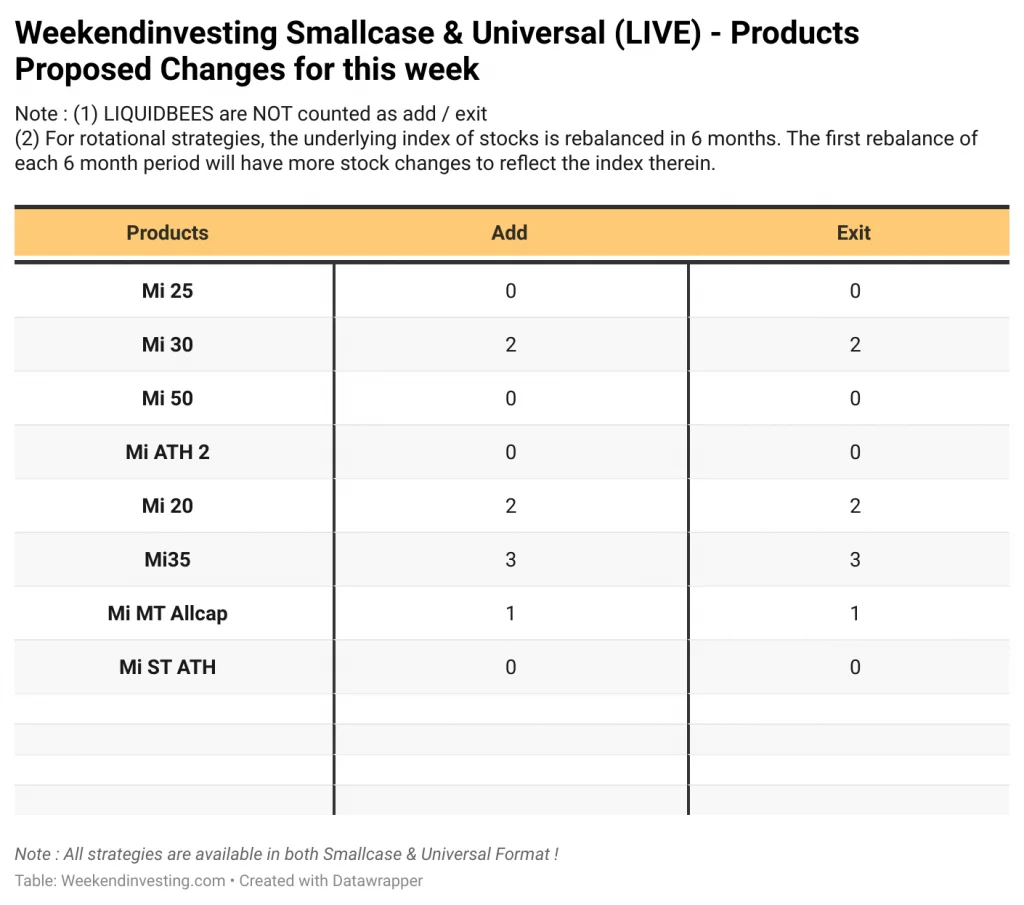 The performance of all strategies across various timeframes are listed below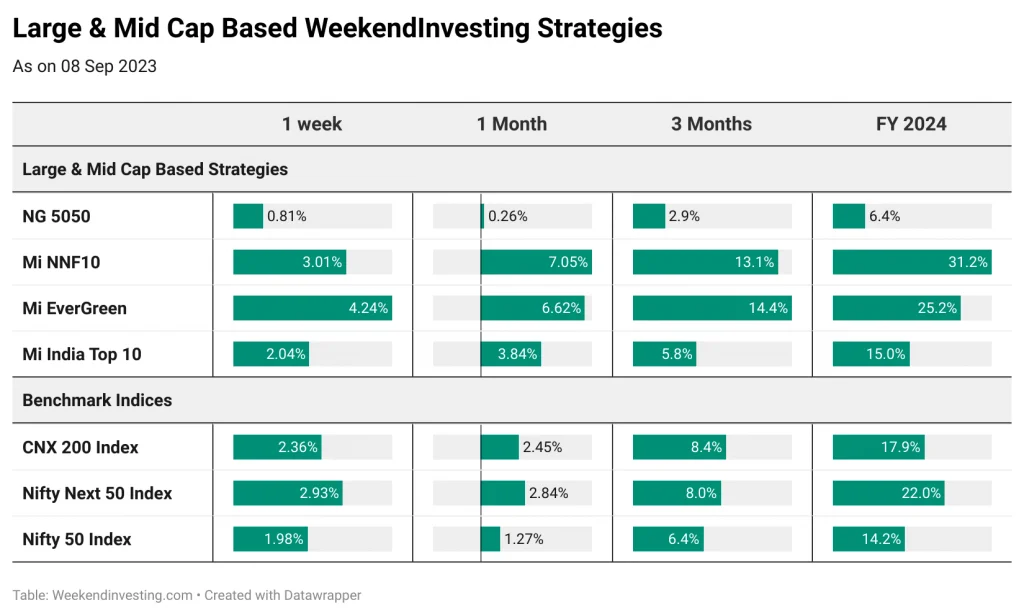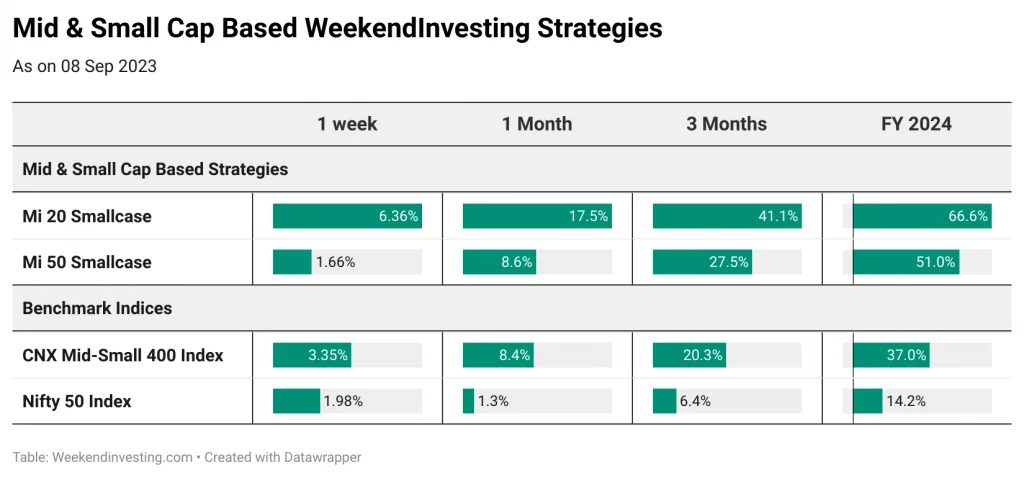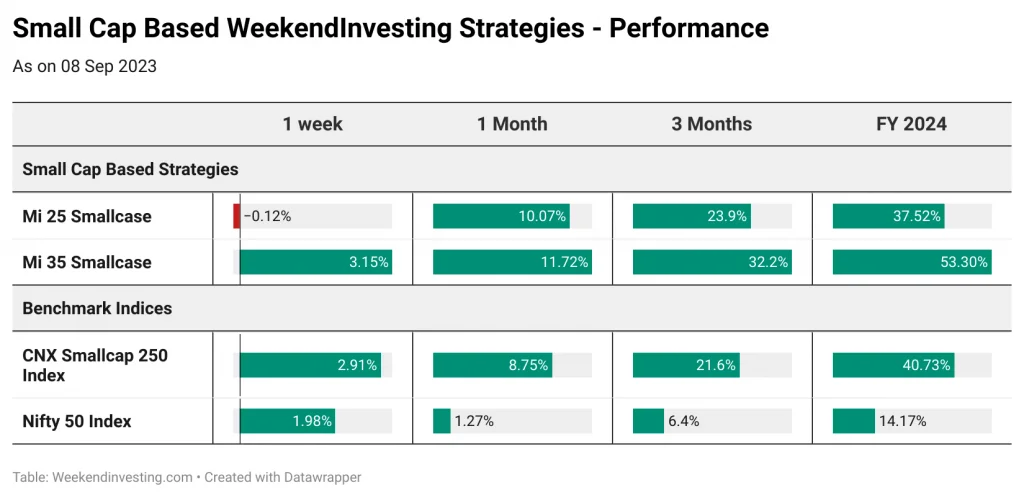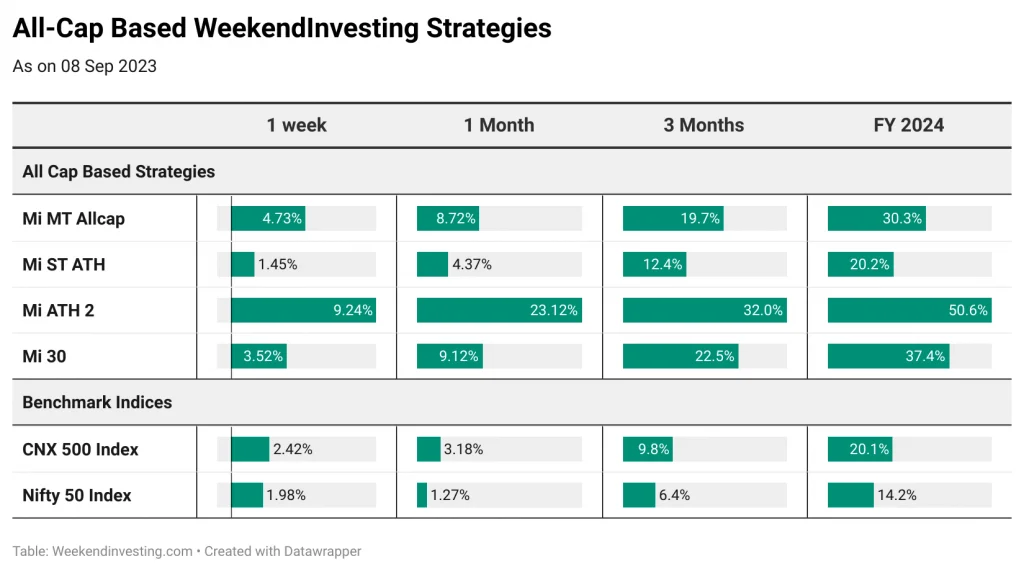 Many of you had asked us to make the index series of all WeekendInvesting Products available so that you could perform your own analysis and studies. You can find a link to the LIVE sheet here and also on the HUB under the support column in the content tab.
WeekendInvesting Telegram and YouTube Channel
We post daily content related to investing on our Weekendinvesting Telegram Channel and YouTube channel to help our community take stock of the performance of markets, sectors & our products and touch base upon a new topic every day. We look forward to having you all there! Several videos in this blog are from this series.
Liked this story and want to continue receiving interesting content? Watchlist Weekend Investing smallcases to receive exclusive and curated stories!
Check out Weekend Investing smallcases here
Explore Now
WEEKENDINVESTING ANALYTICS PRIVATE LIMITED is a SEBI registered (SEBI Registration No. INH100008717) Research Analyst