Reading Time: 5 minutes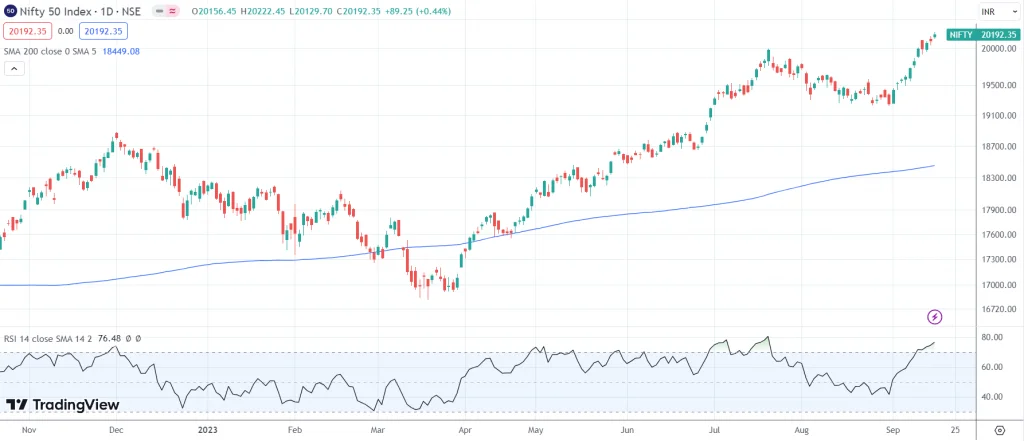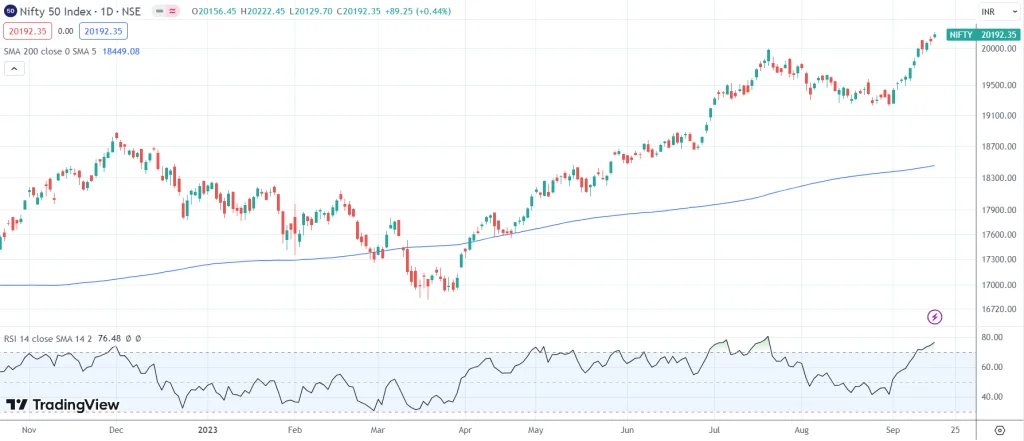 The WeekendInvesting App !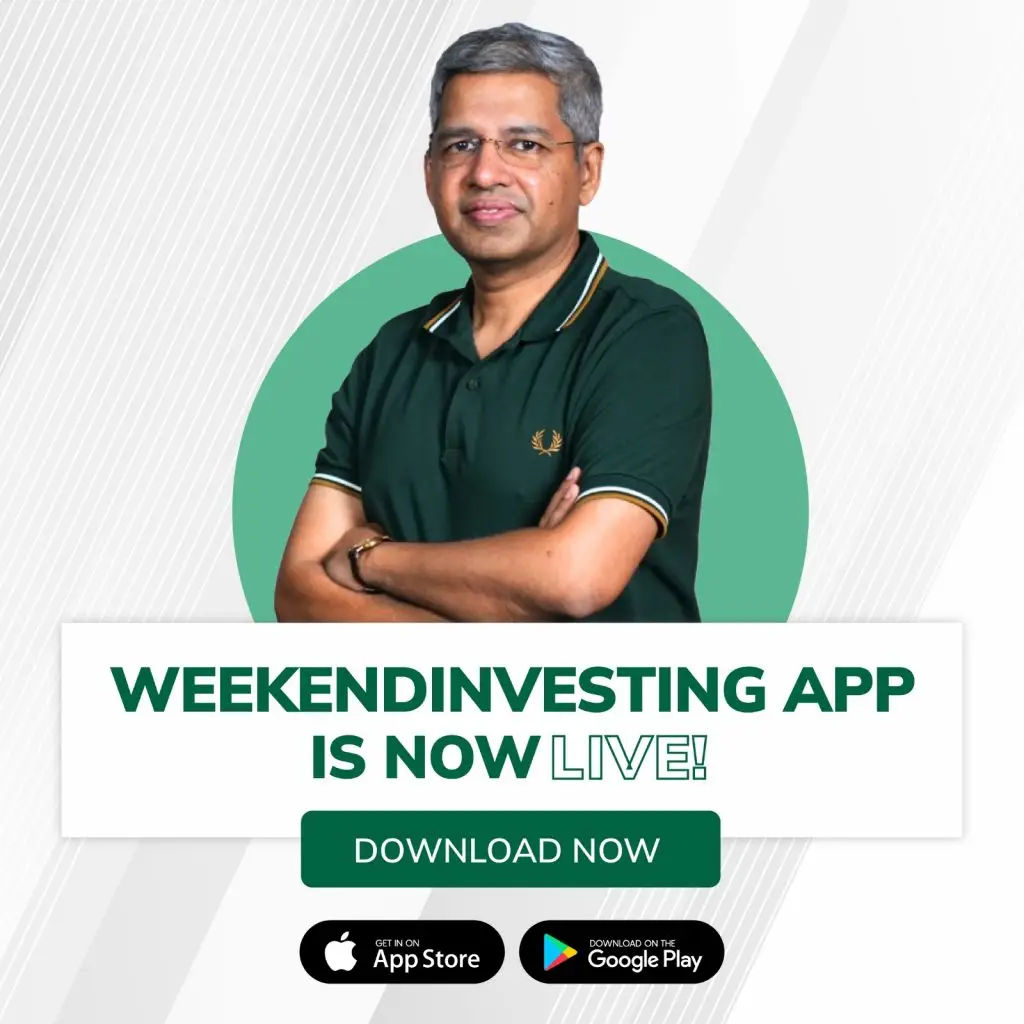 The biggest recent launch from our side continues to be the Weekend Investing app, now available on Google Play and App Store. The app has been received with great enthusiasm, with over 4,000 users already joining. We encourage all weekend investors to download the app, as it provides numerous benefits and features that can enhance your investment experience.
By joining the app, you will receive immediate notifications for urgent messages from us. Additionally, all our content, including YouTube videos and Twitter posts, can be accessed in one place. This ensures that you stay up to date with relevant and valuable information. Moreover, the app allows you to interact with our team, ask questions, and provide feedback. It offers a seamless and convenient channel for communication between investors and our support team.
One of the key advantages of the app is access to exclusive educational content and strategies tailored specifically for weekend investors. We offer educational US strategies, trend analysis posts, market psychology insights, and much more. By leveraging these resources, you can enhance your investing knowledge and make informed decisions. Furthermore, the app provides opportunities for online and offline meetups exclusively for WeekendInvesting subscribers, allowing you to engage with fellow investors and expand your network.
A unique feature of the app is the ability to book a one-on-one call with the Weekend Investing team. This personalised support ensures that you receive prompt assistance and have your queries addressed directly. Additionally, a chat feature is available to provide immediate solutions to any questions or concerns you may have. The aim of the app is to facilitate seamless interaction and provide phenomenal support to all weekend investors and app users.
Introducing "The WeekendInvesting Newsletter"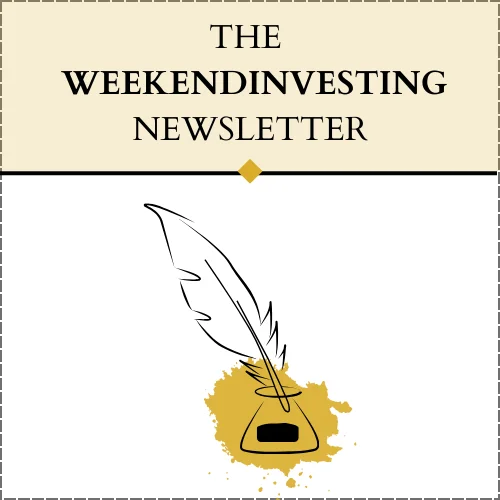 Another brand new initiative from our Research Desk is The WeekendInvesting Newsletter. This is a daily newsletter that summarizes all the stories we cover during the day(market nuggets), including the daily byte that we shoot every evening. This newsletter will be delivered to your email every evening on market days, providing you with a wealth of market-related information. The newsletter includes both summaries and long-form blogs for all the market nuggets covered. These blogs are also linked to the videos we shoot, so you can choose to watch or read the content according to your preference.
Check out our newsletters for this week.
Subscribe to the WeekendInvesting Newsletter
Markets this week !
Nifty has shown stability and closed comfortably above the 20,000 mark. On the weekly charts, we can see a breakout that occurred at 18,800 levels, followed by a correction. Currently, the index is closing at a new high, indicating positive momentum.
Sectoral Overview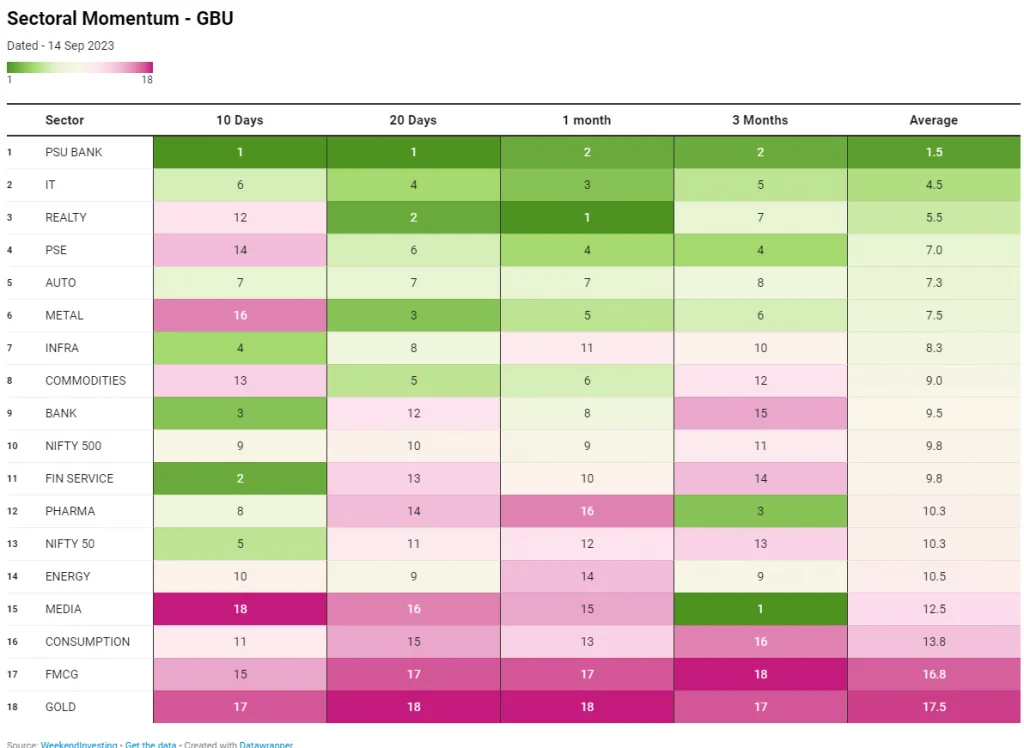 To understand the sectoral performances, we conduct rankings based on short-term and long-term momentum. In the short term, PSU banks have topped the charts consistently, showcasing their strong market performance over different time periods. Real estate, on the other hand, has slipped in recent weeks, while sectors like banking and financial services have shown improvement. Autos have remained steady, and pharma has seen rapid improvement, climbing from the 16th position to the 8th position. Media, commodities, and metals, however, have experienced a decline.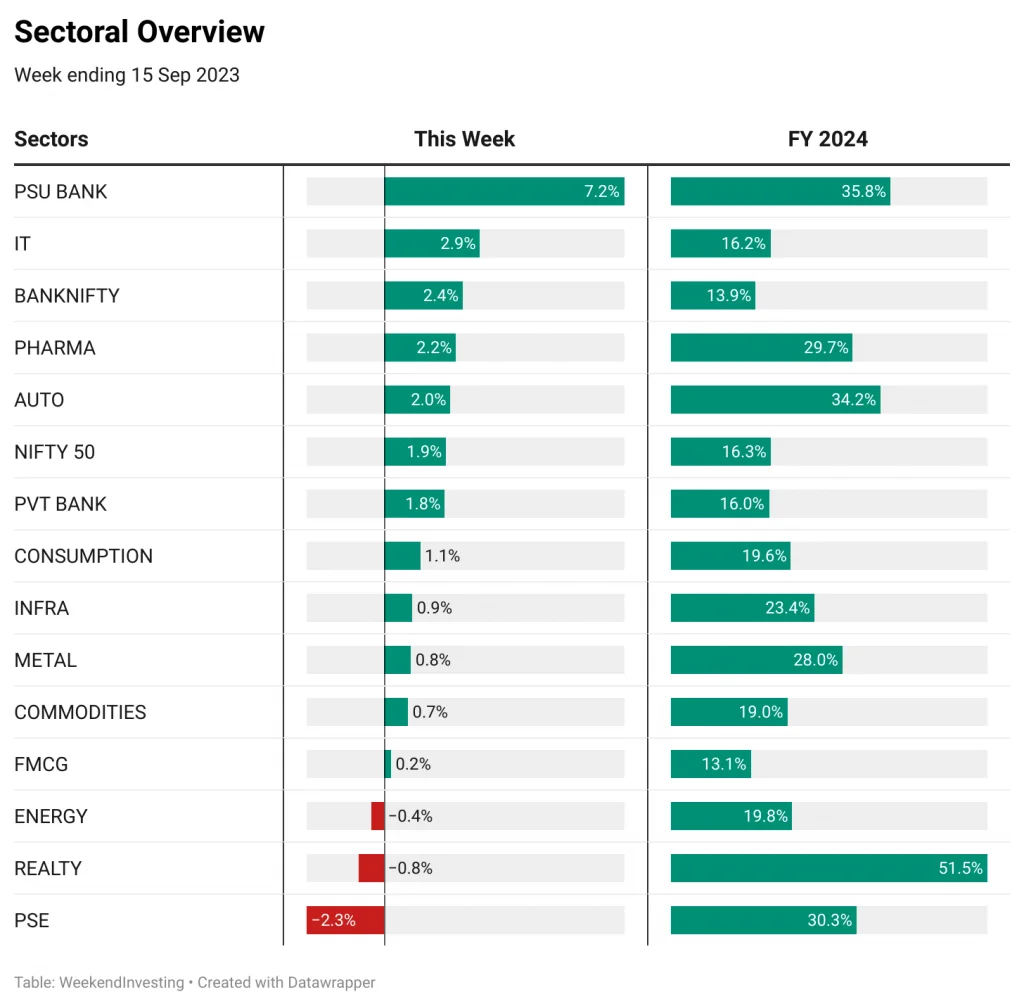 Looking at the financial year basis, most sectors have achieved near double-digit returns. PSU banks have seen a significant rise of 35%, outperforming other sectors. Pharmaceuticals and public sector enterprises have also performed well, while real estate has experienced a slight dip. FMCG, although growing, has not shown significant upward movement. Infrastructure and PSU banks have led the rally, with a focus on consumption stocks and infrastructural development.
Benchmark Indices Overview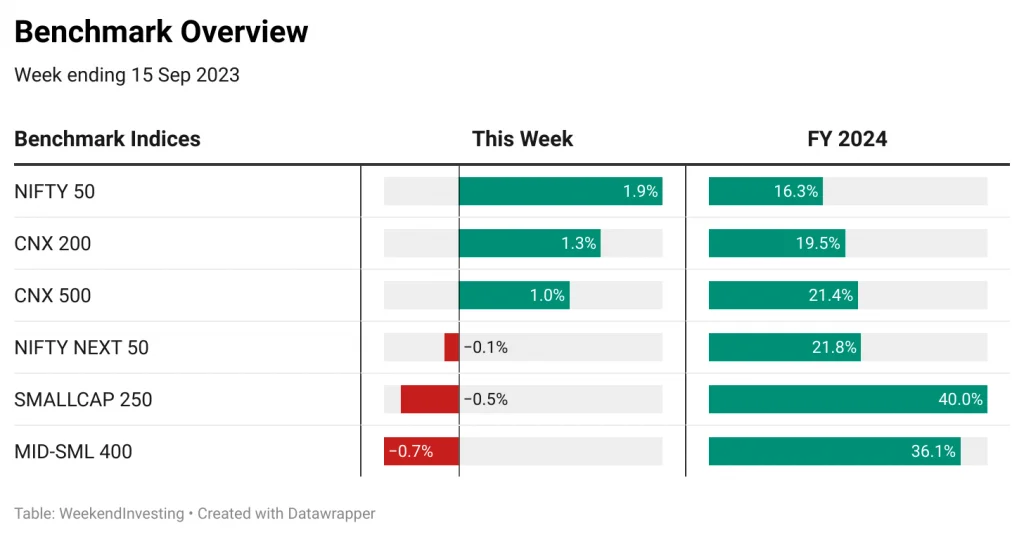 The Nifty has recorded a 2% increase over the week, while CNX 200 and CNX 500 have shown a 1.3% and 1% increase, respectively. On the other hand, small caps and mid caps have experienced a slight decline, with small caps down by 0.5% and mid and small caps down by 0.7%. Despite the initial decline, small caps have recovered by the end of the week, indicating resilience.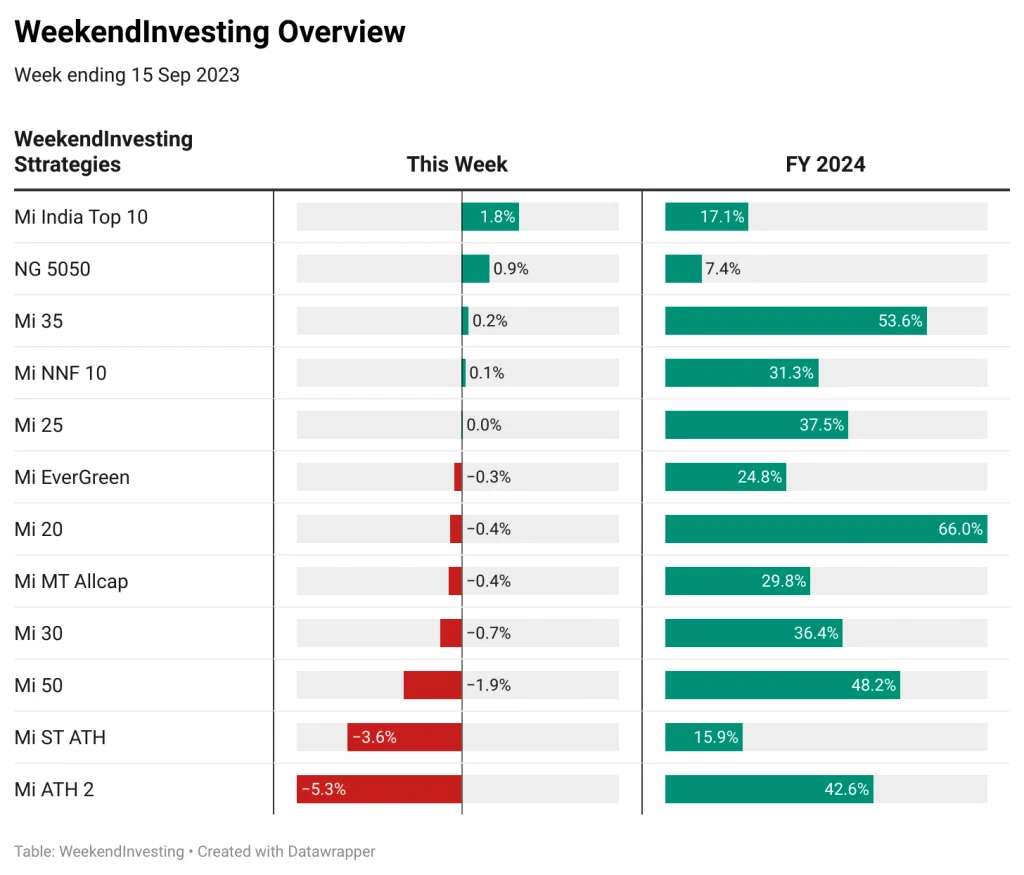 Spotlight – Multibagger (6x) MAZDOCK in Mi 35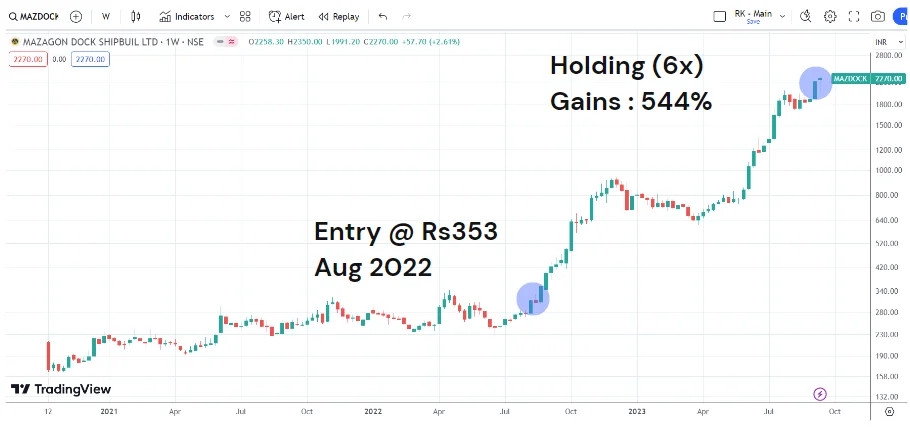 This week's spotlight is on MAZDOCK which has gone on to become a fantastic 6x bagger in Mi 35 strategy. We had entered this stock around Rs353 levels back in Aug 2022 and are currently holding this stock at a healthy 544% gains.
One interesting aspect of rotational strategies is their ability to enter the market early when momentum starts to build. This gives them an advantage over absolute momentum strategies that enter later. Moreover, rotational strategies adapt to changes in the market by rebalancing every six months and resetting the weights of the constituents. This ensures that profits are taken off the table in a disciplined manner, promoting consistent performance over time.
Mi 35 Performance Metrics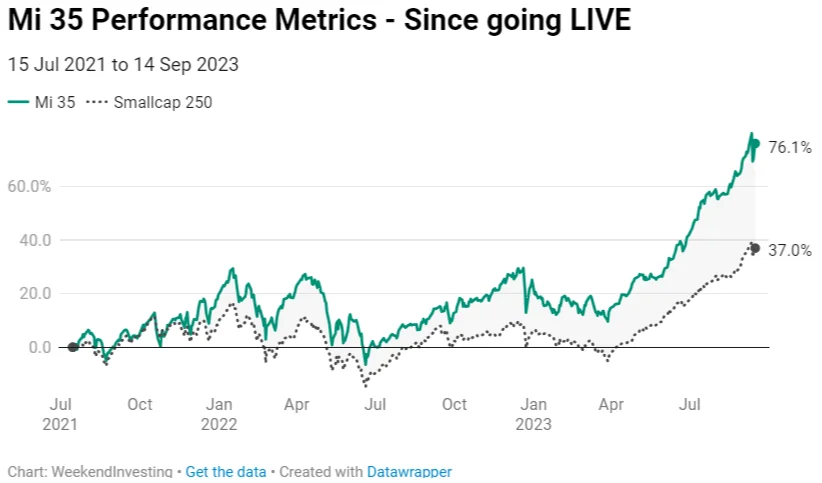 The Mi 35 strategy has shown remarkable performance recently. The strategy has achieved a CAGR of 31% since April 2016 and a maximum drawdown of 33%. Since its inception, the strategy has outperformed small caps, with a staggering 71% gain compared to 37% in small-cap benchmarks. If you are interested in adding a small-cap flavour to your portfolio, the Mi 35 strategy is worth considering.
Rebalance Update
We give advance notice here on the upcoming changes in your smallcase for Monday. This advance notice can be used to ignore Monday's update if there is no change. If there is a change indicated you can use the smallcase app or log in to weekendinvesting.smallcase.com to see the rebalance. A backup email is sent by mid-day Monday if you have not rebalanced by then and yet another one a day later.
Note: We are not including LIQUIDBEES as an ADD or an EXIT count.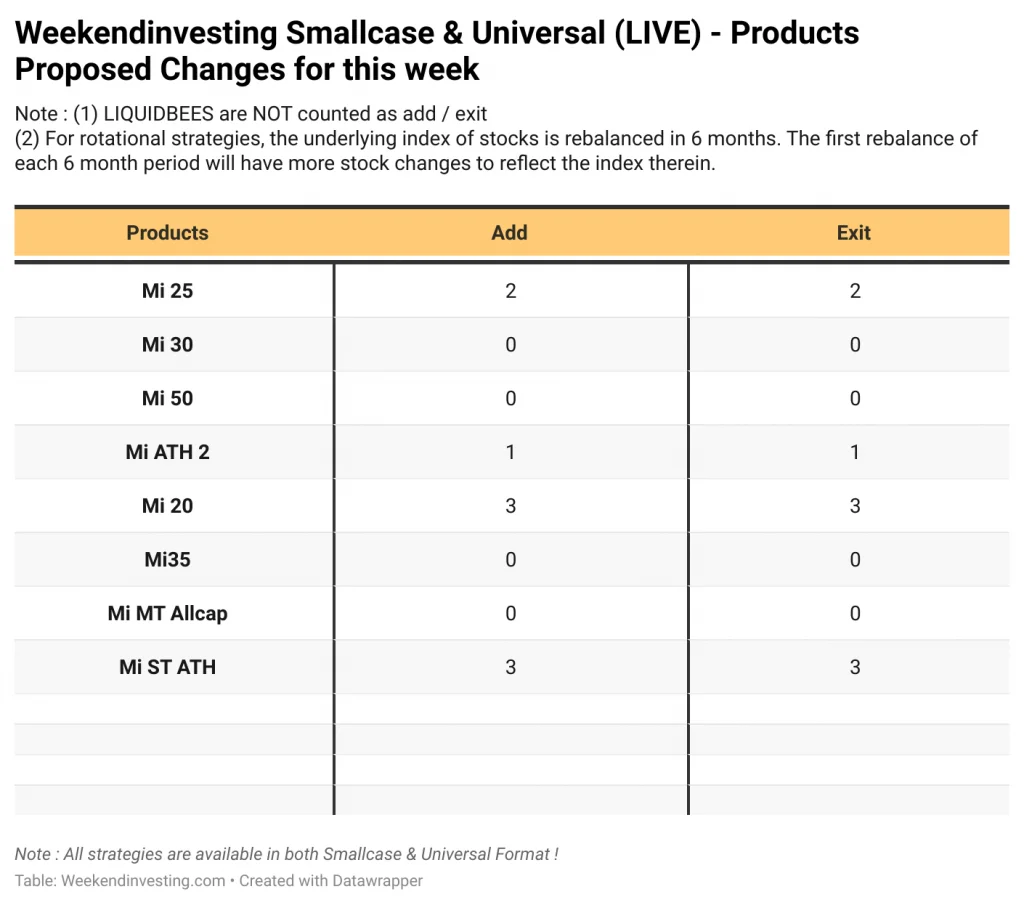 WeekendInvesting Strategies Performance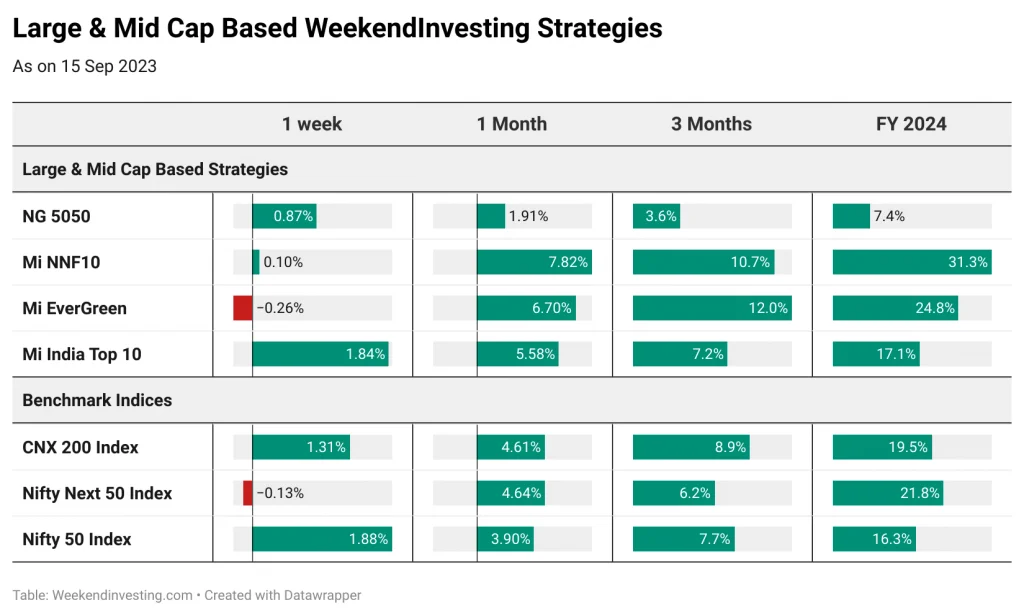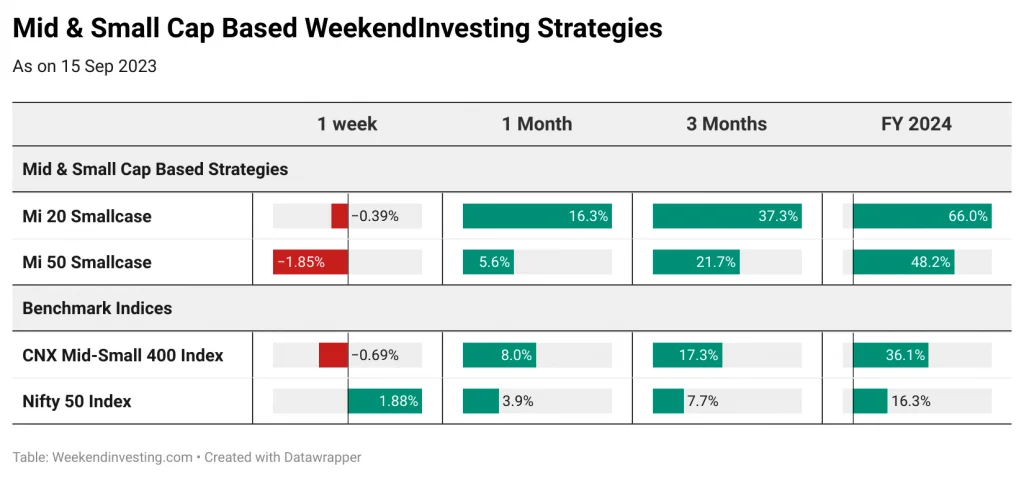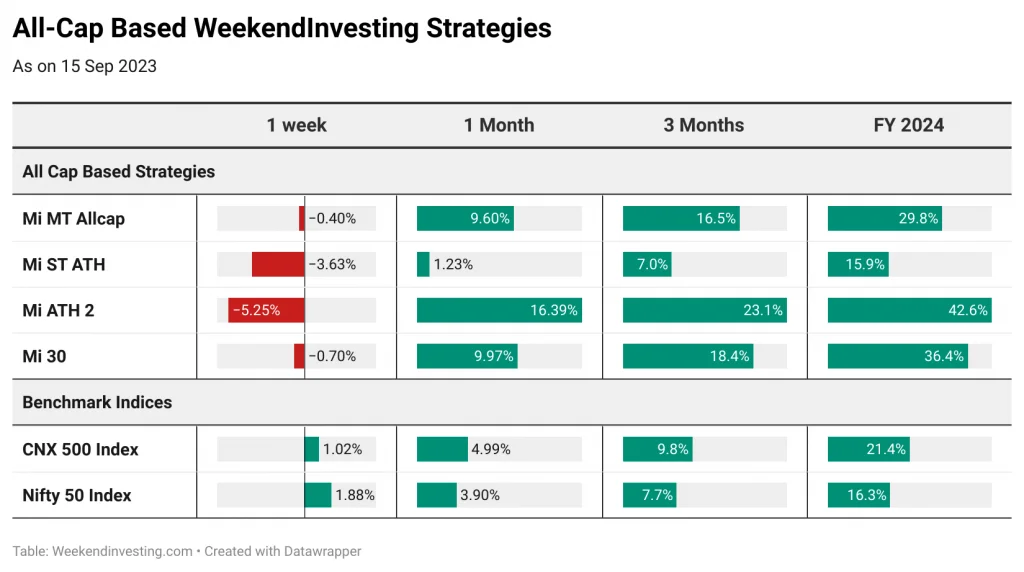 Many of you had asked us to make the index series of all WeekendInvesting Products available so that you could perform your own analysis and studies. You can find a link to the LIVE sheet here and also on the HUB under the support column in the content tab.
WeekendInvesting Telegram and YouTube Channel
We post daily content related to investing on our Weekendinvesting Telegram Channel and YouTube channel to help our community take stock of the performance of markets, sectors & our products and touch base upon a new topic every day. We look forward to having you all there! Several videos in this blog are from this series.
Liked this story and want to continue receiving interesting content? Watchlist Weekend Investing smallcases to receive exclusive and curated stories!
Check out Weekend Investing smallcases here
Explore Now
WEEKENDINVESTING ANALYTICS PRIVATE LIMITED is a SEBI registered (SEBI Registration No. INH100008717) Research Analyst