Reading Time: 3 minutes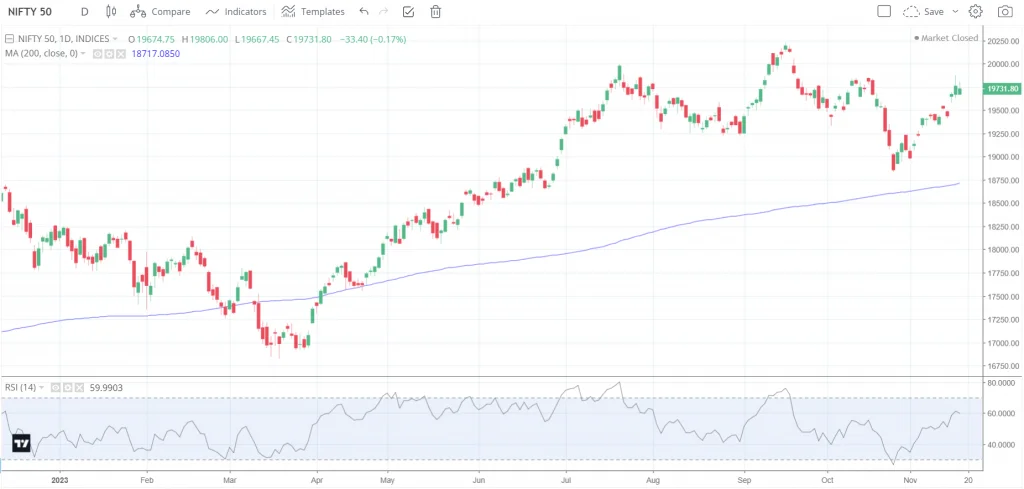 Markets this week
The market experienced a positive week, with a strong recovery observed since 27 Oct 2023. In just a couple of weeks, the market has regained most of the previous fall. The market ended the week close to 1900 points, and the charts indicate a very positive outlook with potential new highs on the horizon.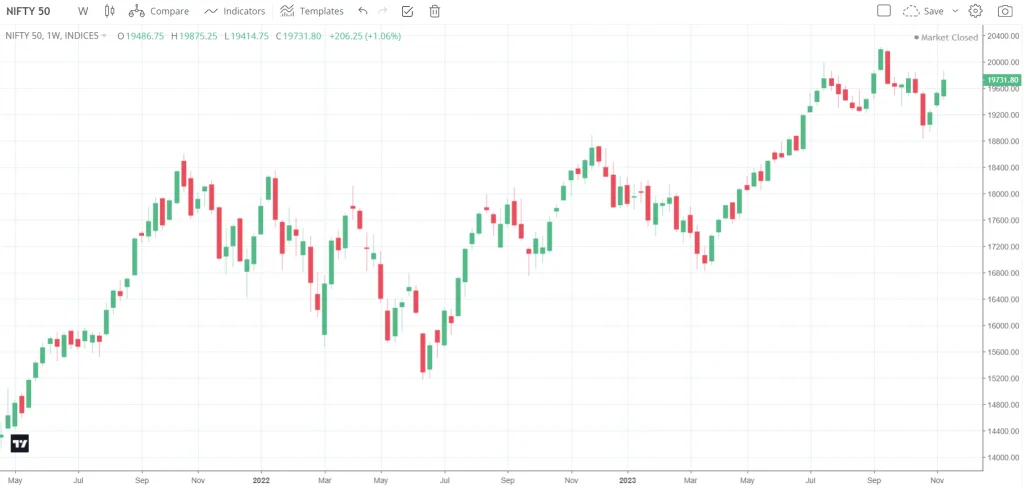 Sectoral Overview
Sector-wise, the IT sector was leading the pack with a 5% increase in value. Real estate stocks also saw significant gains, up by 4.6% for the week. Financial and auto sectors showed positive growth, with a 3.8% increase. Public sector enterprise stocks also performed well with a 3.2% gain. On the other hand, Bank Nifty and private banks were in the red, with PSU banks managing a modest 0.8% increase.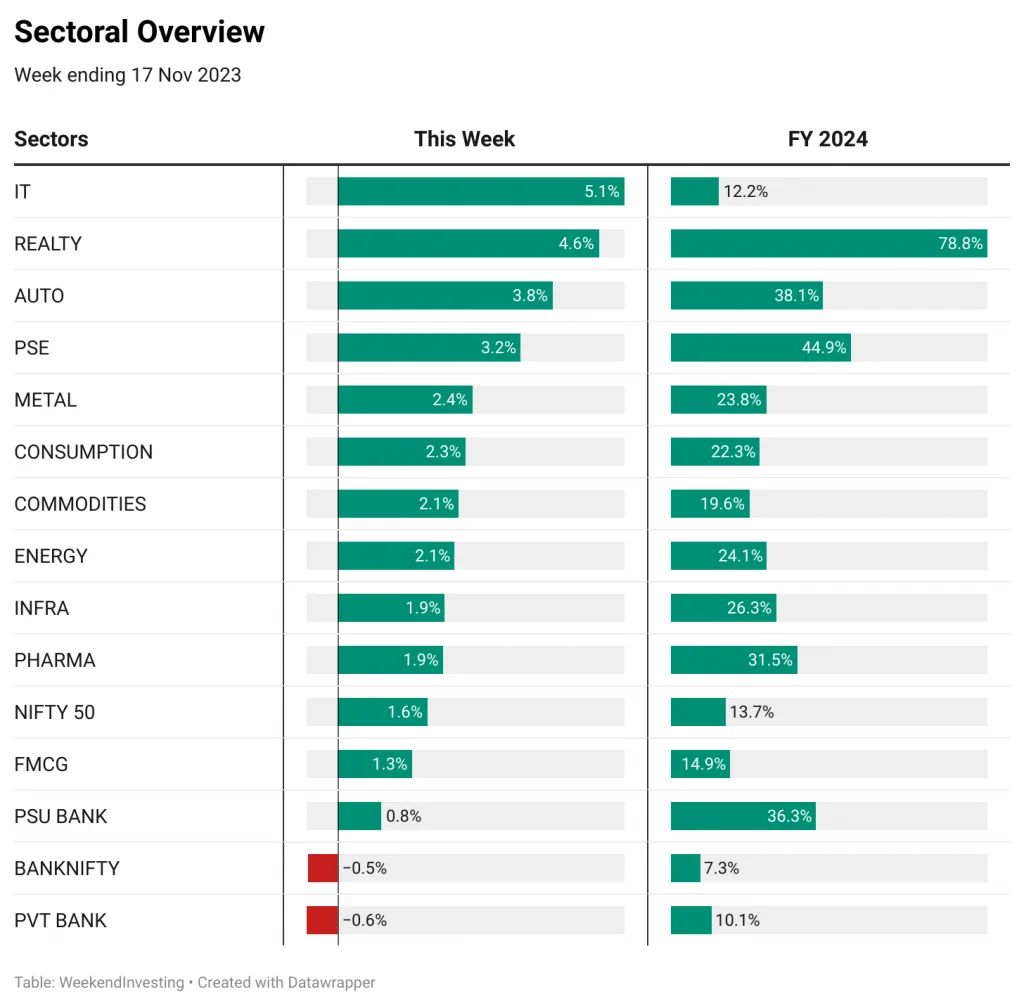 Real Estate has firmly held on to the top spot with an outrageous run this year. PSE has also been occupying the top spots consistently. PHARMA & IT have done a solid job in the past 10 days to post good recovery while GOLD has slipped to the last spot in the last 10 days further to a strong uptrend in the markets. BANKS and Financial services took a beating occupying the last spots following RBIs tightening of norms for unsecured lending.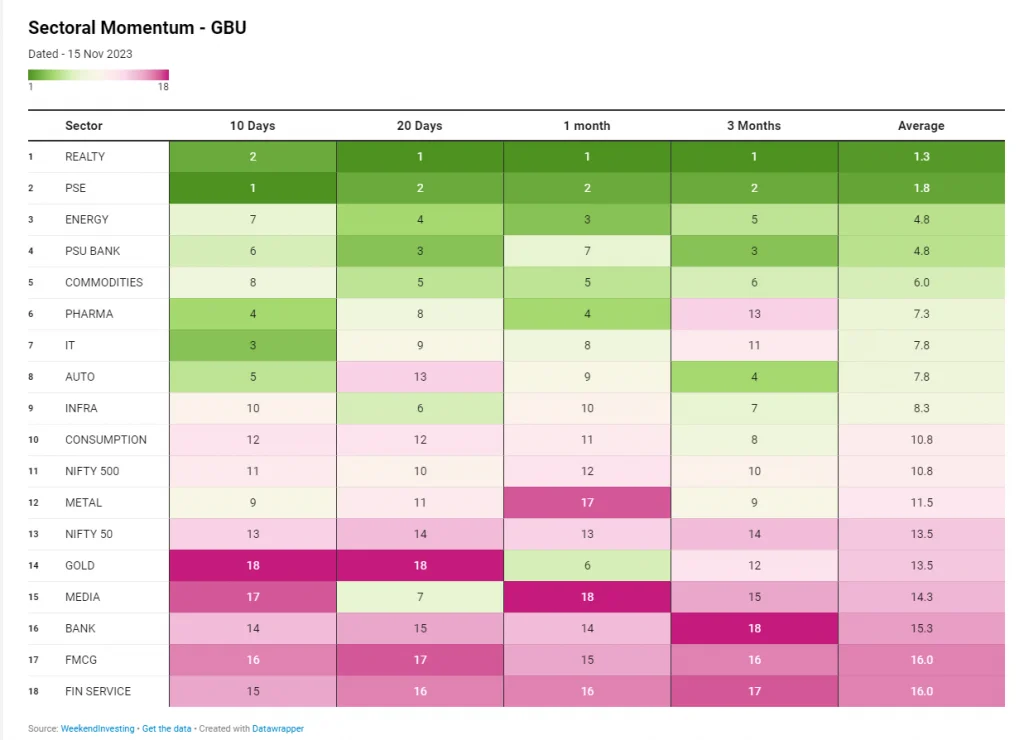 Benchmark Indices Overview
Looking at the benchmark indices, the smallcap 250 index showed the highest gains with a 3.4% increase. The Mid-small 400 Index also performed well, up nearly 3%. Nifty Next 50 index experienced a 2.4% increase, while the CNX 500 and CNX 200 indices saw a 2% gain. Overall, the Nifty has moved up by 13.7% in this financial year, with CNX 200 up by 18%.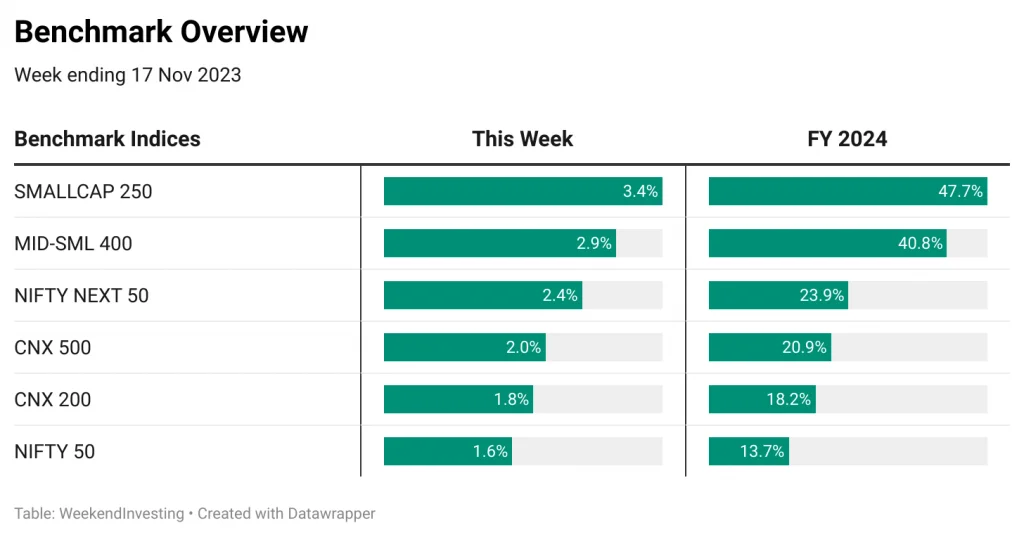 WeekendInvesting Overview
Among the strategies, the Mi MT Allcap had a phenomenal week, gaining 6.6%. It has shown remarkable growth this year, with a 45.6% increase compared to its benchmark at nearly 20%. Mi ST ATH and Mi 20 also performed well, with gains of 6.1% and 5.5%, respectively. HNI Wealth Builder and Mi 35 also showed positive growth.
It is important to note that strategies may experience periods of underperformance or consolidation, but they are designed to bounce back strongly. The MI India Top 10, Mi Evergreen, and Mi NNF 10 all had impressive gains this year, outperforming their respective benchmarks.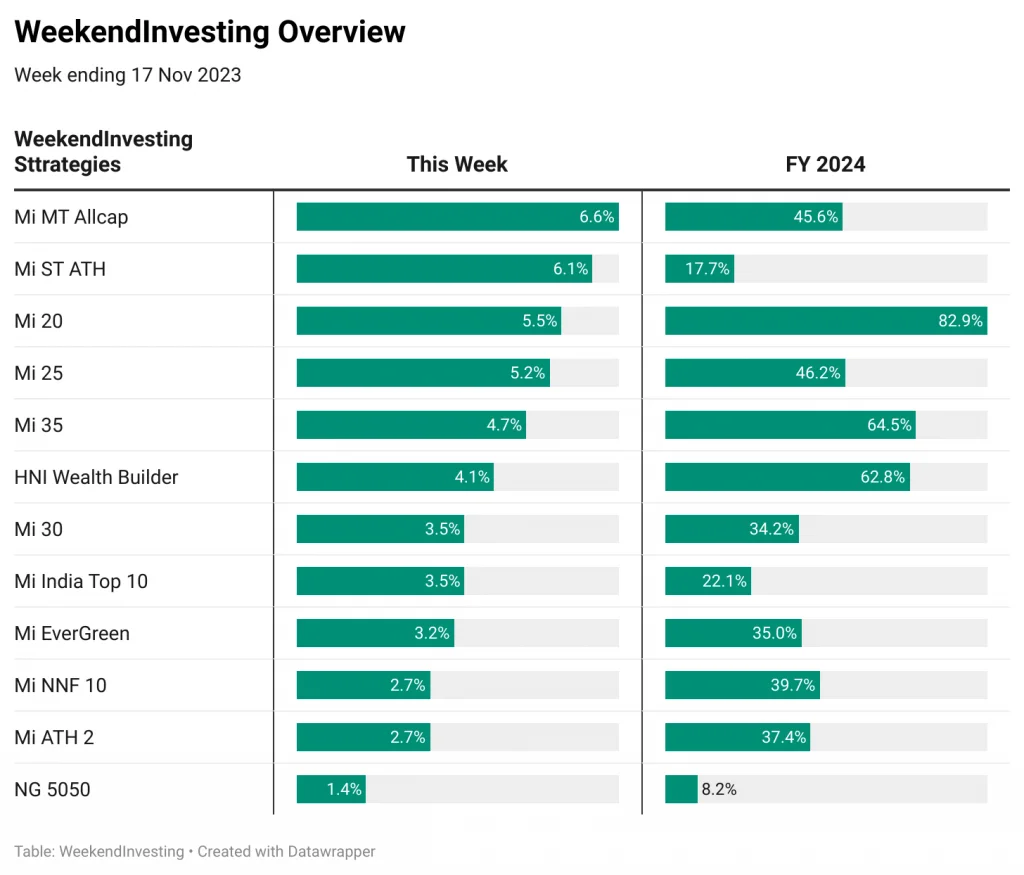 Spotlight – A sensational 4x ahead of Mi MT Allcap's 5th anniversary.
Mi MT Allcap strategy, which will soon celebrate its fifth anniversary, has seen a remarkable performance consistently for 5 years since going live in Nov 2018. If you had invested Rs100 in this strategy ignoring taxes, dividends, and transaction costs, your investment would be worth Rs400 (300% gains) today. In contrast, the underlying index, CNX 500, stands at 197, resulting in a 96% gain. The CAGR for this strategy over the live period has been 32%, compared to 14% for the benchmark. The Max Drawdown has been significantly better than the underlying index, with a Romad ratio of 1.13.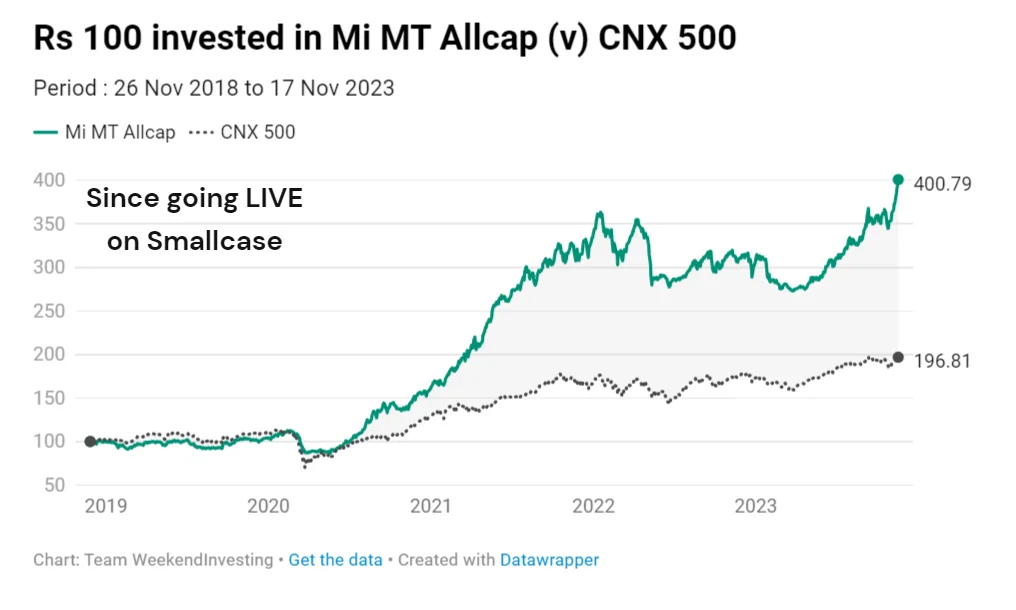 This is a weekly rebalance strategy that invests in up to 20 stocks based on absolute momentum. It goes to cash when the momentum is weak and does not invest in stocks below 1000 crore market capitalization. The strategy has consistently delivered impressive results and will be the focus of upcoming campaigns and detailed information.

Rebalance Update
We give advance notice here on the upcoming changes in your smallcase for Monday. This advance notice can be used to ignore Monday's update if there is no change. If there is a change indicated you can use the smallcase app or log in to weekendinvesting.smallcase.com to see the rebalance. A backup email is sent by mid-day Monday if you have not rebalanced by then and yet another one a day later.
Note: We are not including LIQUIDBEES as an ADD or an EXIT count.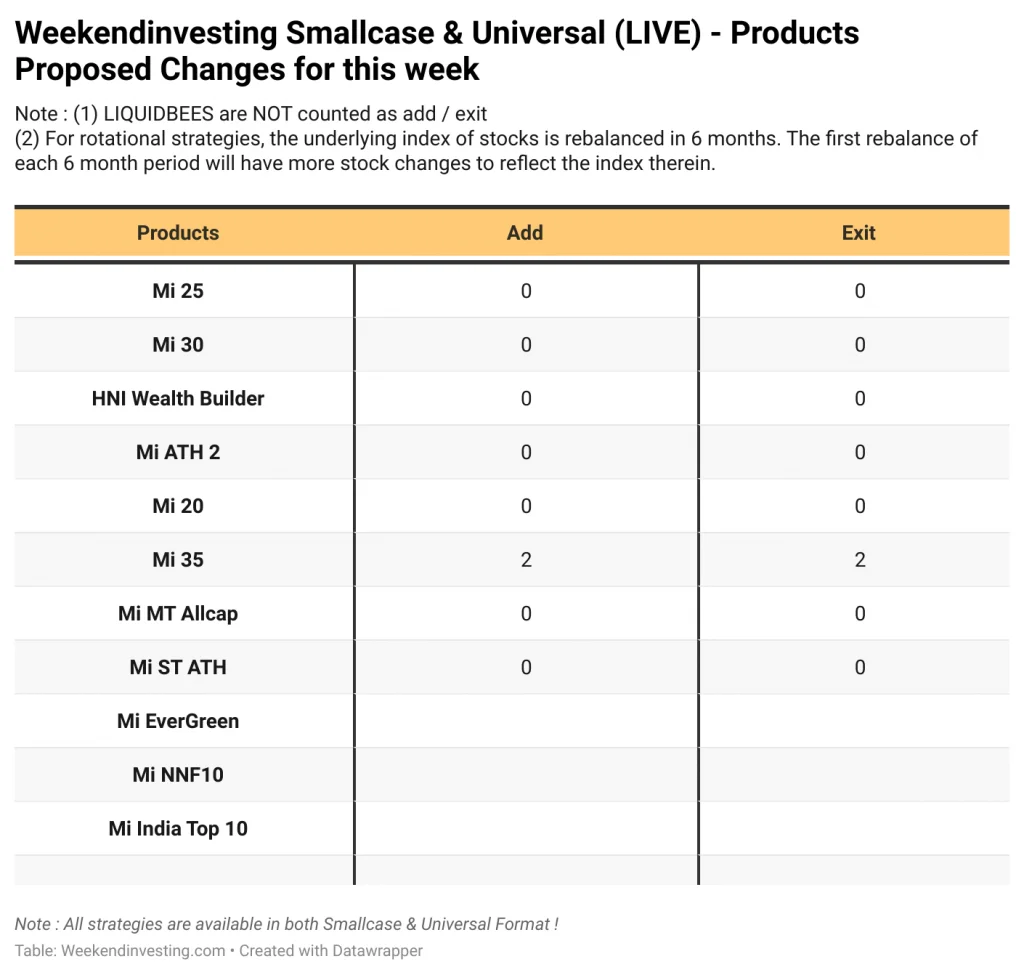 WeekendInvesting Strategies Performance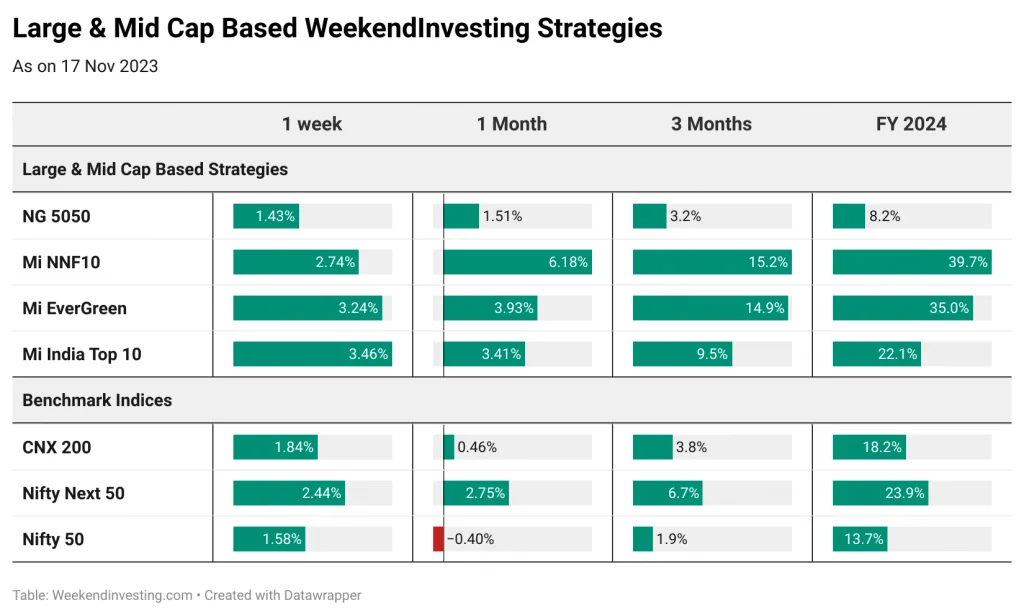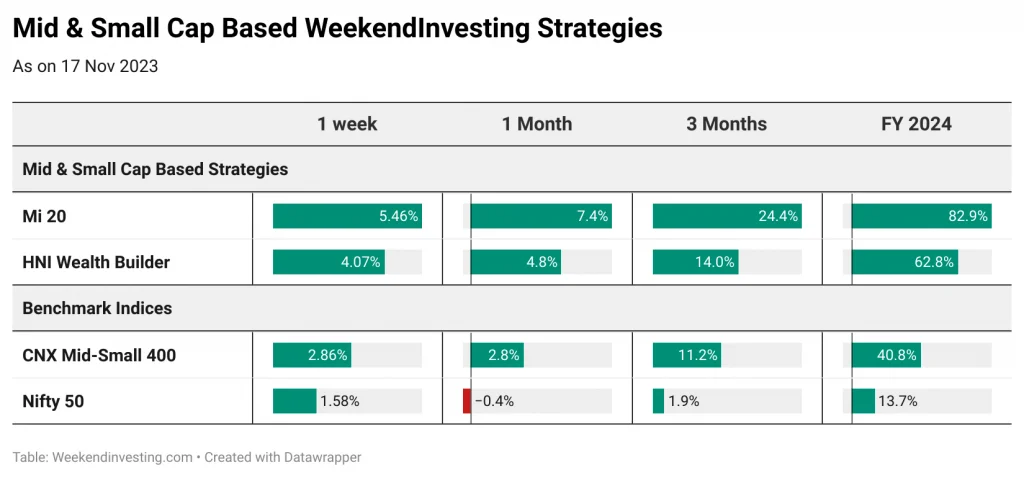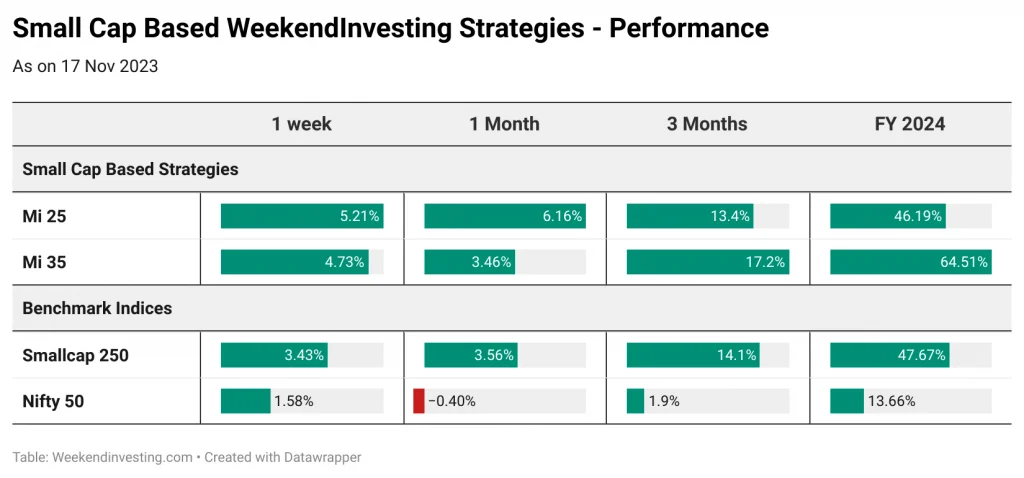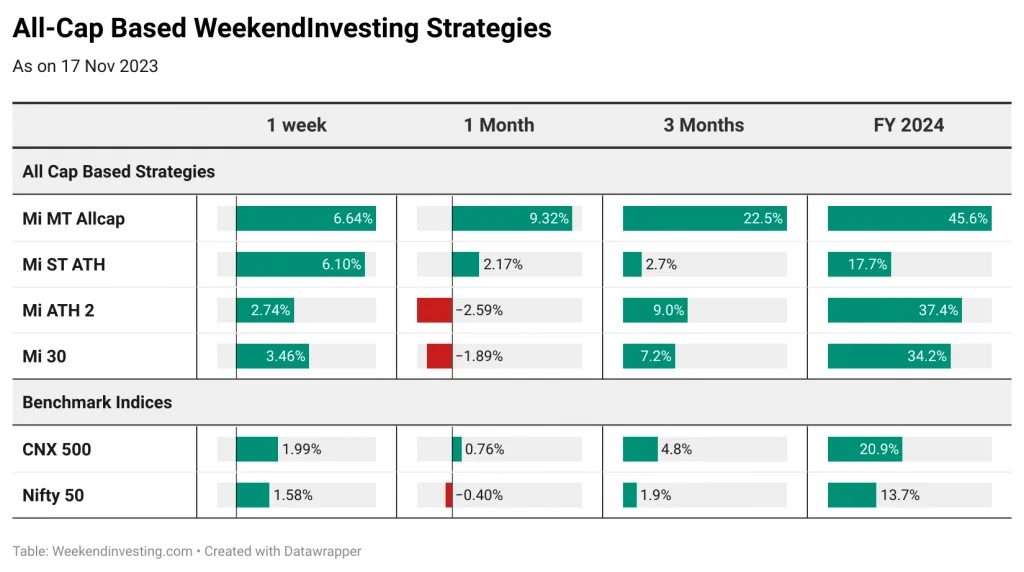 Liked this story and want to continue receiving interesting content? Watchlist Weekend Investing smallcases to receive exclusive and curated stories!
Check out Weekend Investing smallcases here
Explore Now
WEEKENDINVESTING ANALYTICS PRIVATE LIMITED is a SEBI registered (SEBI Registration No. INH100008717) Research Analyst