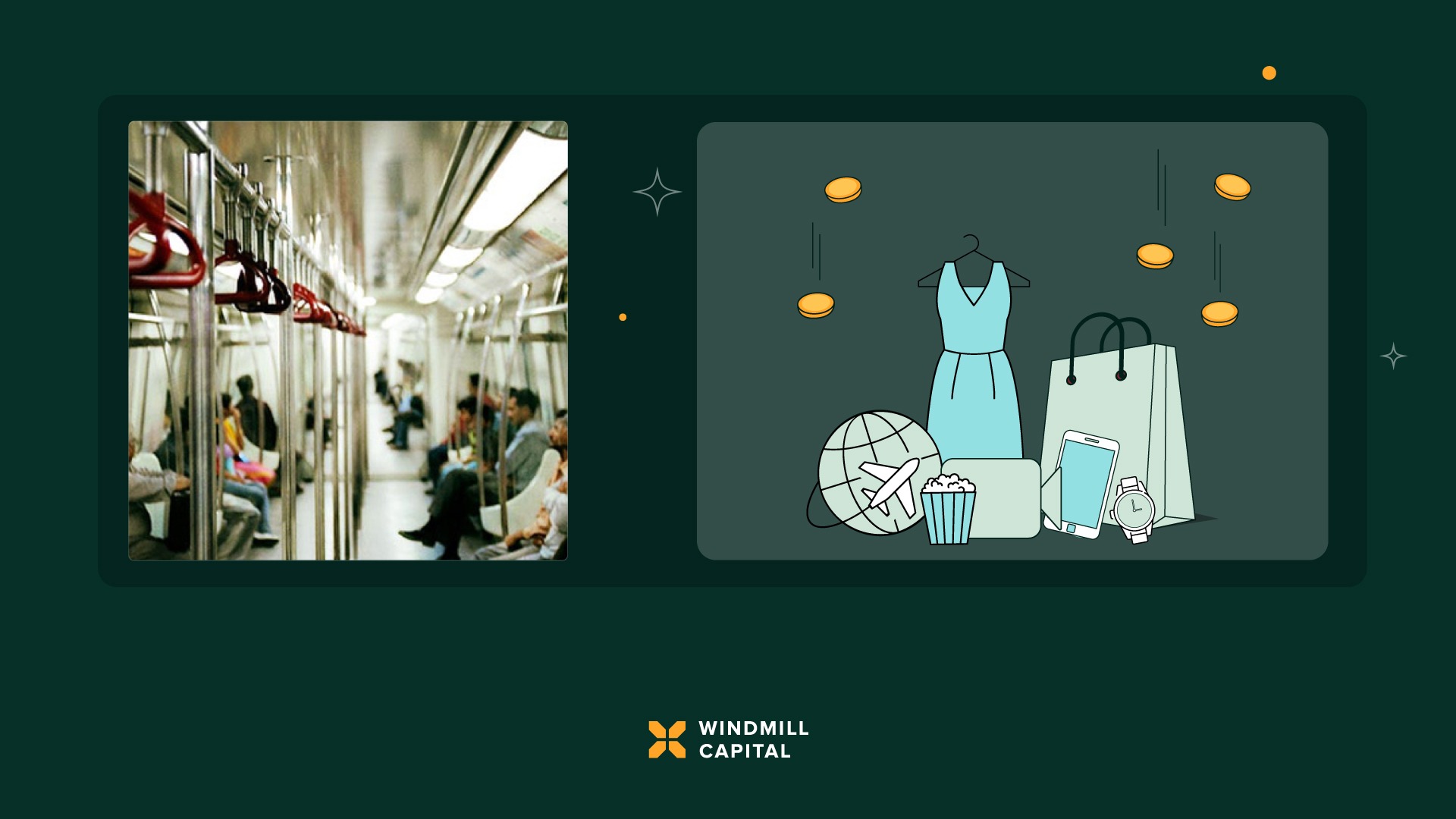 Reading Time: 4 minutes
The middle class in India is referred to as – 'Bird of Gold'. Seems like, India's common man is powerful both in real and reel life. The might of this section of the population in India has been increasing rapidly over time and many believe that India's GDP growth is hugely dependent on them. Why does one think so?
Size! India's middle class population is estimated at nearly 35 crore out of the total ~140 crore Indians. This translates to approximately 25% of the populace. Guess what? This is more than the entire USA's population of roughly 33 crores. Given the composition of our GDP, which is so reliant on consumption, India's middle class' purchasing power becomes instrumental to the economy's growth.
The multifacetedness that the middle class brings along has exponential benefits on any country's development. Let us understand the contributions of this class from a variety of different aspects –
Human Capital – Indian middle class forms the largest chunk of human capital in the country, that paves way for entrepreneurs. Small and medium sized businesses are at the core of India's middle class. Not only do they contribute to economic progress, but also social and welfare by providing goods and services that enhance overall standard of living.
Savings – Savings is almost synonymous with the middle class rank. They save and in turn invest, thereby creating ripple effects in the economy. As per SBI research, households in India saved a massive Rs 7.1 lakh crore during FY21. The rate of growth has been so rapid that Indian household savings have gone up from ~₹15 lakh crores in 2015 to ~₹31 lakh crores in 2021.
Social Capital – This section of the populace has a strong connection with democracy, education, and freedom. From time to time, they challenge the wrongdoings of the people in power or otherwise.
Consumption – It is needless to say that the middle class population forms a considerable chunk of the economy's consumption expenditure, however the interesting thing to note is their growth trajectory. The middle class' consumption graph usually tends to be upward sloping. According to the World Economic Forum, 'Total consumer spending in India is expected to more than double to $3.1 trillion by 2030, from $1.4 trillion in 2017, according to our research. The new middle class will account for nearly 60%, or $1 trillion, of the $1.7 trillion increase anticipated in India by 2030. India's economic success goes hand in hand with its increased openness and globalization.' The reason being they have aspirational spends and with time they keep moving towards more expensive goods and services.
smallcase detailing
As natural logic would guide, the smallcase includes companies that have exposure to the middle class populace of India. Currently, there are 15 constituents in the portfolio with around 70% of them in the large-cap category. Hence, it's fair to say that the volatility of the portfolio is on the modest side. The smallcase was launched in 2016 and since then the returns CAGR is ~18%.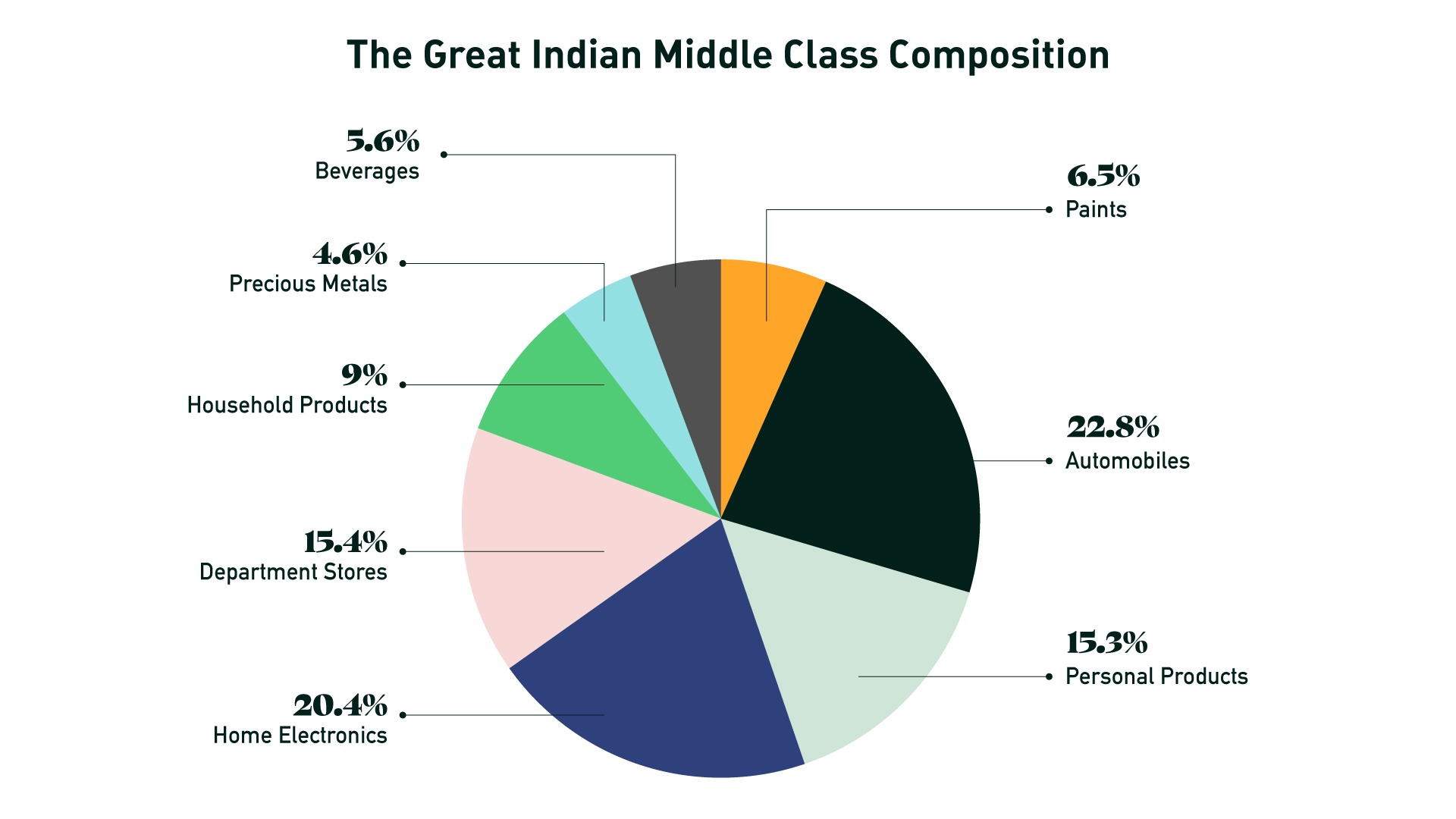 Now, let's talk about few companies that are present in this smallcase –
Hindustan Unilever – 'HUL is a company with a soul of the middle class', famously said by one of the previous chairmen, Mr. Harsh Manwani. The company's brands are a household favourite and have a huge range from Horlicks to Surf Excel to Dove. The price points for all their products are in line with the purchasing power of an average Indian middle class. In fact, the company has become such an integral part of India that many do not know that Hindustan Unilever is a subsidiary of a foreign company – Unilever.
Maruti Suzuki India – Maruti Suzuki brand is perhaps one of the most relatable brands when you think about the Indian middle class. Budget cars such as the Alto and WagonR have driven the aspiration of our middle class folks for a long time. It is the biggest car manufacturer in India and has managed to establish a connection with the average Indian consumer.
Varun Beverages – You might not have heard the name of Varun Beverages, but you've surely used one or more of their products. Varun Beverages is an FMCG company that owns the second-largest franchisee of PepsiCo outside the United States for carbonated and non-carbonated drinks. Their product profile includes Pepsi, Seven-up, Mountain Dew, Tropicana Juices, and so on. Yet again, it has a clear pull from all segments of the society, especially the middle class.
Trent – The Tata owned company, Trent has made quite a mark for itself, in the last two decades. Under Trent, there are brands like Westside and Zudio that offer clothing and accessories at modest prices. These brands have major shoppers belonging to the middle class section of the society.
All in all, we realize the power of the middle class in a country like India and we want our investors to benefit from this growing trend. The composition of the smallcase is also tailored in a way wherein it takes exposure to both forms of companies – first, who operate in a niche segment and cater specifically to the middle class populace and second, who have a wider operation and target market. Hope this read gave you all the insights you were looking for!