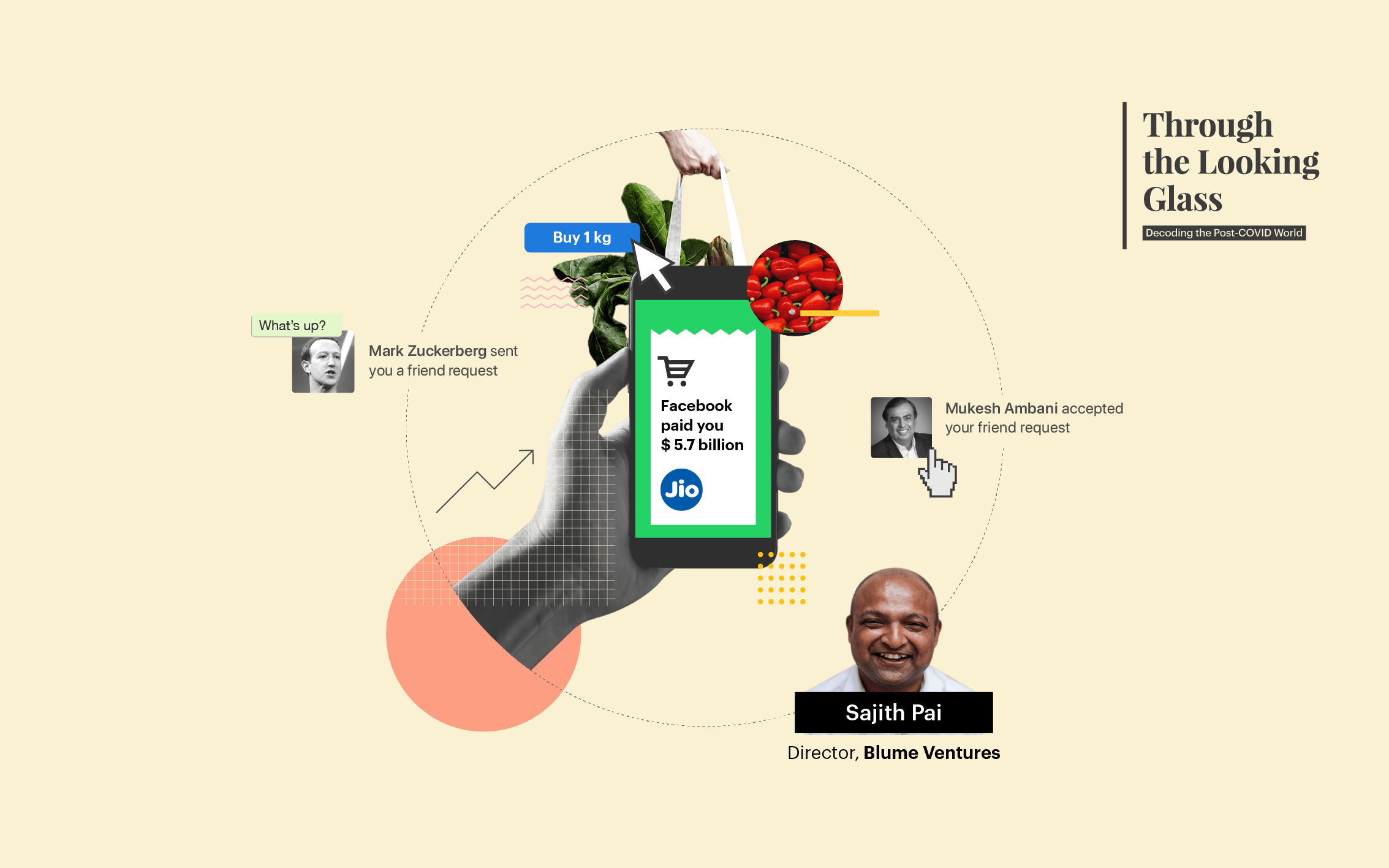 Reading Time: 8 minutes
This article is authored by Sajith Pai who works in the investment team at Blume Ventures, an early-stage investment fund. Blume has invested in Unacademy, Dunzo, Snapbizz, LoveLocal, which are mentioned in the article.
Facebook announced a $5.7 billion (INR 43,574 crore) investment for a 9.9% stake in Jio Platforms, an entity which owns Jio's mobile service, the broadband internet service and a slew of apps and products, the largest being the JioSaavn music app.
For those who don't know,  Jio is India's largest mobile telecom service provider with 388m subscribers – it reached market dominance in the short span of 3+ years and has reshaped the Indian digital sphere with its super-low data fee. For Facebook (FB), India is its biggest market for both Facebook.com + mobile app (~250m Daily Active Users – DAUs) and WhatsApp (400m DAUs).
The one strong hint that emerged from the press releases and soundbites was over commerce, specifically the upcoming JioMart venture that Reliance / Jio has been working on. A Morgan Stanley announcement document that I got access to – unfortunately, it is marked 'Not for Retail Distribution' – says that consumers will be able to use WhatsApp to access and transact with the nearest kiranas (local grocery stores; ~12m of them in India) or local businesses who can then supply products and services to people's homes.
How would this partnership work?
Here is how the partnership could play out in supporting Reliance's e-commerce initiatives. Please note that no specifics have been announced, and these are possible ideas about how they could work together :
WhatsApp business has features such as a catalogue, automated replies, and of course payments – which would be of great value to kirana stores / small businesses that are part of the JioMart network. 
Consumers will be able to use Jio app to source supplies from the nearest kirana stores, accessing the catalogue possibly via a WhatsApp API, and then transact and pay – the Jio app could even fulfil the transaction using WhatsApp's butter-smooth payment feature (which is still not universally active). 
As the JioMart platform takes off and increases in scale, there could be interesting possibilities that could emerge – Jio helping the kirana stores source supplies – say by aggregating orders across stores and negotiating with FMCG / CPG companies such as Unilever, P&G, Nestle, ITC etc. Sourcing could be frictionless given that JioMart has access to ordering data, and is also installing POS (point of sale) / billing machines at the kirana stores. Another could be using WhatsApp / WhatsApp APIs for group buys (like what PinDuoDuo facilitates), effectively riding on WhatsApp's social graph. Loyalty points to consumers could be another angle – imagine taking a Rs.1000 advance from consumers as a JioClub charge, the equivalent of Amazon Prime. Selling ads is another idea.
Clearly lots and lots of ideas here. There has also been talk about a 'superapp' in some of the stories about the partnership – again this isn't clear. Is WhatsApp the super-app or is it a separate Jio app? We don't know!
Beyond commerce, there is scope on edtech and digital media as well. We know that Jio owns Embibe and has been steadily investing in it. Jio also owns JioSaavn, a leading online music subscription app in India, and has been building up its JioCinema app.

Facebook, of course, is the dominant digital media company. Recently it announced an investment in Unacademy, seeing education video and edtech as a key growth segment in the Indian digital sector. So clearly there are additional synergy areas to explore as well.
Deal drivers
There were, of course, key motivators on both sides of the deal:
Jio gets access to the most powerful, useful and universal app in the country – effectively WhatsApp is the Indian internet. If they are smart about it, they can leverage WhatsApp's social graph and use that to quickly drive demand for purchases from kiranas. They can use the battering ram of consumer demand to prise open kiranas and onboard them easily via WhatsApp.
FB gets access to a carrier partnership. This means access to a whole lot of data – including information about the handset, location, data usage, spending data etc. Their ability to serve ads will also be heightened.
In addition, of course, Jio gets cash, which is welcome given that they can use this to shave $5.7b of their debt, and for FB, it is great to have Reliance as a partner.
Second-order effects of the deal
What happens if JioMart becomes a monster hit? How would it reshape the Indian e-commerce or kirana landscape? Let us examine the second-order effects of JioMart's success on the various constituencies impacted by the deal.
E-commerce + Payment biggies: Within e-commerce, we'll look at the likes of Amazon, Walmart / Flipkart, and for payments, we can look at the top 2 payment providers – PhonePe and Google Pay. For these players, JioMart's growth and WhatsApp payments getting approval (which is almost certain now), will mean a reduction in their present market share. Their strategy teams will be working overnight to put together thoughts about mitigation strategies. Yes, the market will grow and perhaps even with a lower share their volumes and revenues might be higher. But the 2-horse race will have to now accommodate a 3rd player.
The one sector which might be relatively safe, for now, is the Foodtech space, as delivery is a key moat there, and Reliance will not find it easy to set up delivery infrastructure very fast.
FMCG sector: Clearly if JioMart grows rapidly and uses its newfound heft to aggregate orders and approach the FMCG biggies – HUL, Nestle, ITC etc – for better terms, there might be some impact on the margins of these brand owners. This is much the same way they had to adjust down their margins with modern retail and e-commerce. But I don't see it as a massive impact.
Startups in retail tech / kirana tech: We can dissect the retail tech space into 3 sub-verticals :

Demand generation and fulfilment: Swiggy Supr, Dunzo etc. help customers discover and/or source supplies and get it delivered. From Blume's portfolio Dunzo and LoveLocal operate in this space.
Retail operations including retailer enablement + customer engagement: SKUs planning, Data mining to source or sell better to consumers etc. Snapbizz, a Blume portfolio company which sells a POS system falls in this slot. Another example could be a retail analytics player like Peel Works though they also help in sourcing supplies. This is actually the smallest segment of retail tech, as there is no large retail-only ops player (Manthan, Capillary are possibly the biggest – though they serve modern or large retailers and not kiranas).
Sourcing / Supplies: This is the biggest and most richly funded part of retail tech – helping kiranas source supplies. Udaan, Jumbotail, ShopKirana, Peel Works all compete here.
The big impact of JioMart will be on the last category.
JioMart not only wants to build a massive B2C e-commerce revenue stream. By routing all consumer demand to Kiranas and then using data from the POS machine and app, it can help these kiranas source inventory more efficiently.
Click To Tweet
Again, Udaan and Jumbotail are only serving a really small part of this space. There is scope for all of them to grow, however, the growth and headway may end up being much less buoyant and they may have to share that growth with JioMart.
I don't see much of an impact on the retail ops category or even the demand generation space, as this isn't a high volume or large segment yet. It is fundamentally top-up buying / on-demand, at weird hours – like ordering Doritos or Pringles at 11pm etc. The volumes aren't super significant but if the kiranas can sort out on-demand delivery like the Mumbai kirana stores, or dark stores emerge to ride on the Jio platform (like cloud kitchen), then one might see an impact here too.
New Startups that could emerge from the success of JioMart
Delivery as a service: Kirana stores or small businesses that don't have their own staff can hire staff for delivery. Shadowfax pioneered this, and Dunzo has offered this as an API to smaller businesses. There is scope for an even more hyperlocal delivery service model. These kirana stores could make do with folks without bikes too. They can source these folks by shifts to ensure they keep up with demand peaks. 
Dark stores: what cloud kitchens were to Swiggy, these are to JioMart. Essentially a small warehouse or storeroom in a residential area which sells on JioMart or online, but does not sell to walk-in customers.
A competing set of Shopify-type online retail service that helps offline retailers sell inventory online via their own or on third-party platforms. It is unlikely JioMart will have it all to itself. Google is clearly wondering if it is going to miss out and will try and put together a parallel platform. It already has a significant stake in Dunzo, and could try and create a search result with fulfilment via Dunzo.
Disclaimer: The views and opinions expressed in this article are those of the author's and do not necessarily reflect the views of smallcase Technologies.
This is the 1st article as part of a new series – Through the Looking Glass. It will explore trending topics in business + finance, the impact of COVID-19 on the economy, and other relevant topics to help you see beyond the news. The series will feature insights from industry leaders, experts, and our editorial team. Want to see a topic, industry or sector covered? Or opinion from an industry leader? Write to justin [at] smallcase.com
To explore the 2nd order effects on FMCG, we compared the FMCG Tracker smallcase with Equity Largecap 100 which represents a basket of top 100 market cap stocks, weighted by their market capitalization. FMCG Tracker smallcase is a basket of stocks to efficiently track and invest in the FMCG sector.
Reliance Industries Limited features in 3 smallcases –
Dividend Aristocrats
,
Energy Tracker
, and
Dividend Smart Beta
.
A smallcase is a basket of stocks/ETFs based on ideas, themes and strategies.
They are professionally managed and offer investors more transparency and control over their investments.
[cta color="blue" title="Get the smallcase App" url="https://link.smallcase.com/aAnmi46LJ5″ button_text="Download Now"]Discover ideas, invest & track your portfolio on the go[/cta]