Reading Time: 4 minutes
Amid the urbanisation buzz, it's easy to overlook a significant fact: rural areas are still home to 64% of all Indians. The rural sector is one of the major driving forces behind India's economy, providing employment and income to millions. And agriculture is the backbone of the rural society. Nearly 55% of the population relies on agriculture for their livelihood and it contributes 17% to the nation's GDP. The rural market has faced challenges like lower incomes, limited infrastructure, and limited access to finance and services. However, the tides are turning for good. 
Thanks to government initiatives, increased disposable income, and infrastructural development, the rural landscape is transforming. Previously, a significant portion of rural expenditure was allocated to food, but now, more and more people are diversifying their spending on various goods. This shift is evident in the rising share of rural markets in the sales of fast-moving consumer goods (FMCG). By 2025, the rural FMCG market is expected to reach $220 billion, double its 2020 size, primarily due to the increasing trend of non-food spending.
What's causing the surge in rural demand?
Improved income:

The government has taken several initiatives to boost agricultural productivity, such as providing farmers with better seeds, fertilisers, and irrigation facilities. As a result, crop yields have increased, leading to higher incomes for farmers. Additionally, rural individuals are receiving training through various government schemes like the Deen Dayal Upadhyaya Grameen Kaushalya Yojana (DDU-GKY). As of 2022, over 13 lakh candidates have been trained, with nearly 8 lakh securing job placements since the launch of the scheme in 2014. Moreover, there has been a notable rise in the Rural Female Labour Force Participation Rate (FLFPR) from 19.7% in 2018-19 to 32.8% in 2020-21. This indicates that more rural women are participating in economic activities, contributing more to raising household incomes.
Improved infrastructure:

The government has made significant investments in rural areas to enhance infrastructure, including roads, railways, and power facilities. These improvements have made it more convenient for rural residents to access markets and essential resources. Notably, initiatives like the Pradhan Mantri Gram Sadak Yojana (PMGSY) aim to provide all-weather road connectivity to previously unconnected habitations, while the Digital India program works towards connecting rural areas with high-speed internet. As a result of these efforts, businesses find it easier to access rural markets, and rural consumers enjoy improved access to a wider range of products and services.
Growth of the non-farm sector:

More rural residents are finding opportunities in the manufacturing, services, and construction sectors. Non-farm opportunities help to diversify the sources of income for rural households and reduce their dependence solely on agriculture. For instance, several infrastructure projects are being undertaken in rural regions, providing employment to thousands of workers. The services sector has also emerged as a major contributor to rural economic growth. With the rise of digital platforms and increased internet penetration in rural areas, service-oriented businesses like e-commerce, logistics, and healthcare have seen significant expansion.

Government support

: Government policies have played a pivotal role in the growth of the rural sector in India. Measures like digitisation, insurance support, and minimum price support have contributed to the robust performance of the agricultural sector. Additionally, the growth of institutional credit to the agricultural sector has also provided much-needed financial support to farmers and encouraged them to adopt modern agricultural practices.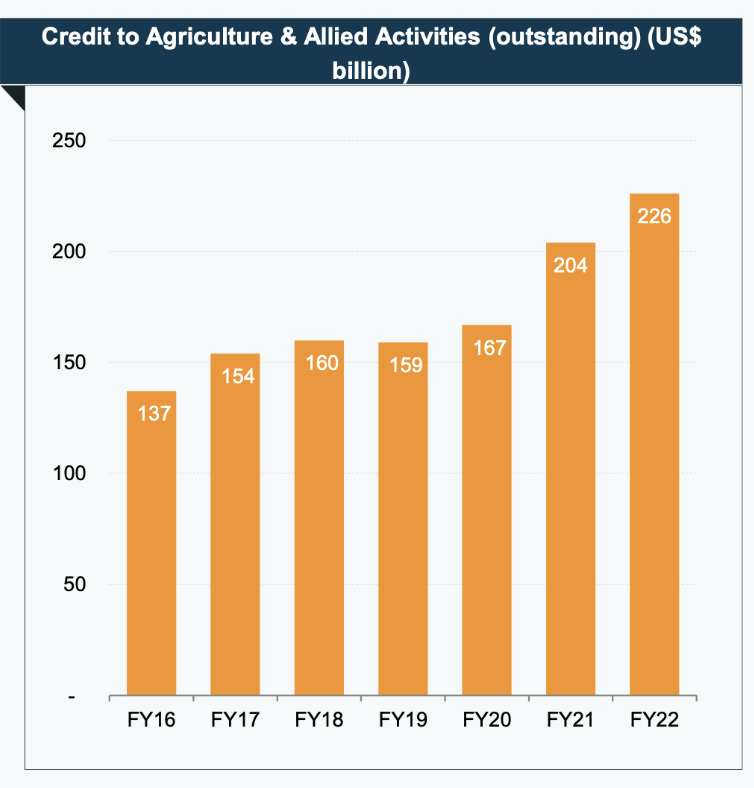 Some major government schemes aimed at the rural sector include:
Pradhan Mantri Kaushal Vikas Yojana (PMKVY): To train 10 million rural youth by providing employable skills.

Pradhan Mantri Annadata Aay Sanrakshan Abhiyan (PM-AASHA): To ensure minimum support price (MSP) to farmers

Electronic National Agriculture Market (e-NAM): To create a single, unified market for agricultural commodities by connecting existing Agricultural Produce Market Committees (APMCs). It benefits millions of farmers and traders by streamlining the buying and selling process, making it more efficient and accessible.

Pradhan Mantri Fasal Bima Yojana: To provide financial support to farmers who face crop losses/damages due to unforeseen events, stabilising their income and encouraging modern agricultural practices.
As aspirations evolve and rural communities become more aware of other lifestyles through media and migration, there is a growing demand for new products and services that align with their newfound aspirations. With the growth of rural markets, more and more companies will focus on tailoring their products and marketing strategies to cater to the unique needs and preferences of rural consumers.
To provide exposure to companies poised to benefit from the increasing consumption in rural India, we created the Rising Rural Demand smallcase. This curated portfolio includes companies that either derive a significant portion of their revenue from rural India or are proactively enhancing their presence in rural markets.
---
Disclaimer: Investment in securities market are subject to market risks. Read all the related documents carefully before investing. Registration granted by SEBI, membership of BASL (in case of IAs) and certification from NISM in no way guarantee performance of the intermediary or provide any assurance of returns to investors. The content in this article is for informational and educational purposes only and should not be construed as professional financial advice nor to be construed as an offer to buy /sell or the solicitation of an offer to buy/sell any security or financial products. Users must make their own investment decisions based on their specific investment objective and financial position and use such independent advisors as they believe necessary. Disclosures: bit.ly/sc-wc