Budget 2023
Popular investment opportunities after Union Budget 2023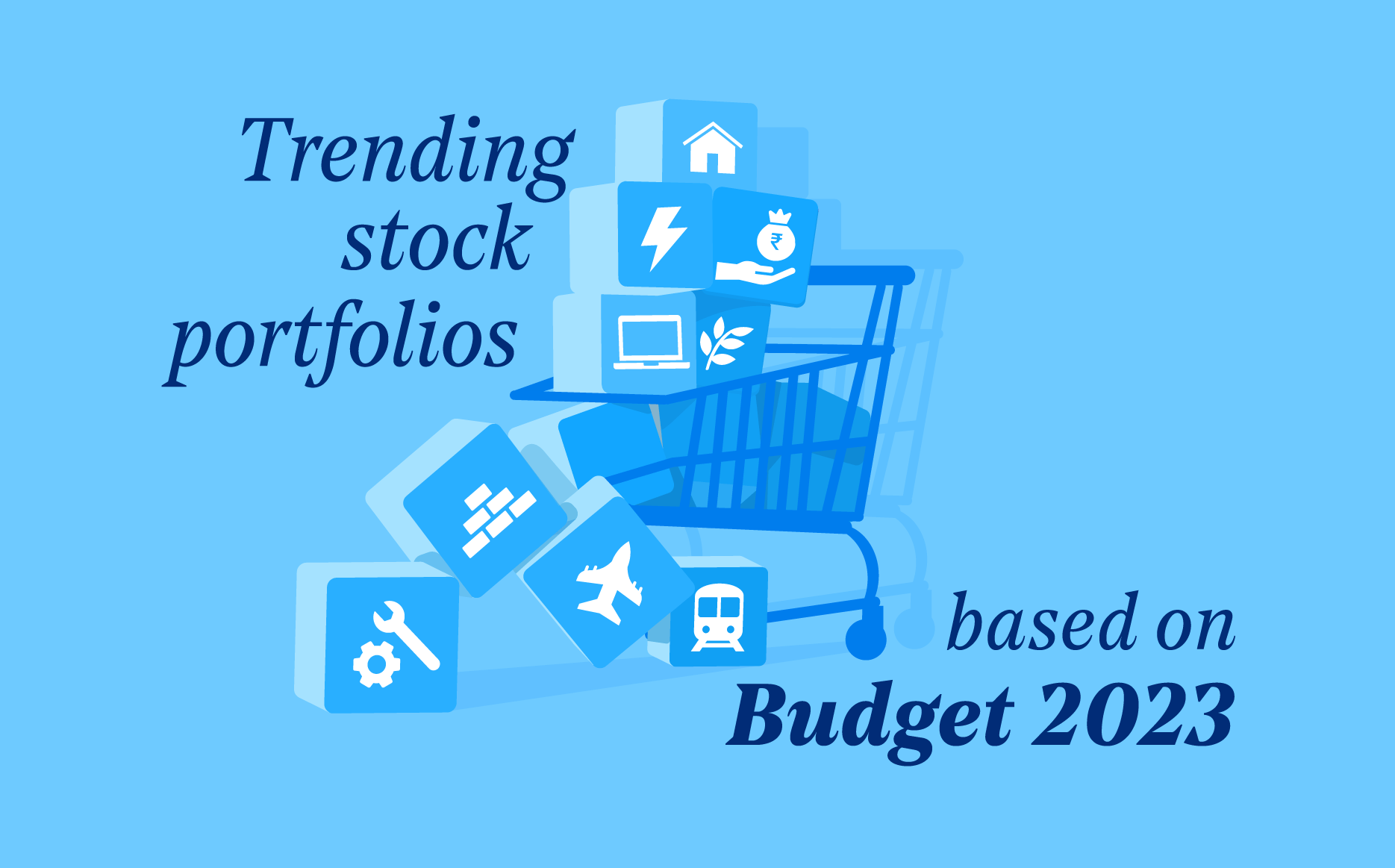 Reading Time: 4 minutes
Building on the foundations laid down at last year's Budget session, Finance Minister Nirmala Sitharaman emphasised seven priorities: development, reaching the last mile, infrastructure and investment, unleashing the potential, green growth, youth power and the financial sector.
Impact on popular themes and sectors after Union Budget 2023 –
Tax relief for India's middle class:
The Indian government has introduced tax relief measures.
Incomes lesser than ₹7 lakhs per annum will be exempt from paying the income tax
India's maximum personal income tax rate has also been reduced from 42% to 39%
Expected spending and purchasing power increase by putting more money in people's pockets.
Clean and renewable energy:
The 2023 Budget is centred around promoting environmentally sustainable growth.
Emphasis was laid on PM's vision of LiFE (Lifestyle for Environment)
₹35,000 crores allocated for investments towards energy transition and the goal of achieving net-zero emissions
The National Green Hydrogen Mission aims to reach 5 million metric tons of annual production by 2030.
Infrastructure Development:
One of the seven priorities, this Budget lay emphasis on infrastructural development.
Capex has been hiked by 33% to ₹10 lakh crores.
The infrastructure finance secretariat is to help attract more private investment.
The PM launched the Gati Shakti – National Master Plan on October 13, 2022, which also aimed to lower logistics costs.
Digital India:
India has revolutionised digital payments with the advent of UPI, and adequate funds have been allocated to propel the infrastructure in the future.
The FM announced an outlay of ₹4,795.24 crores for the Digital India Programme.
National Digital Library to be set up for children and adolescents
Apps being built in 100+ labs to facilitate the use of 5G services in India
Agriculture:
This Budget seems to have brought in an increased quality of rural life, leading to increased rural consumption.
The allocation for agriculture and rural development has shown a CAGR of around 12%, signifying a substantial increase in investment.
The government has declared plans to increase the agriculture credit target to ₹20 lakh crore.
Sector to see digitisation in the form of an Agriculture Accelerator Fund and open-source digital public infrastructure.
Housing and Urban development:
It looks promising for the housing and development sector post this Budget.
In the 2023-24 Union Budget, a pledge of ₹79,000 crore has been made for homes under the Pradhan Mantri Awas Yojana.
This represents a 66% jump compared to 2022 and will help boost the availability of affordable housing.
Property tax reforms aimed at increasing incentives for cities to enhance their credit ratings for municipal bonds were also discussed.
Manufacturing:
The Manufacturing Sector saw a considerable boost in this Budget.
Extended the reduced customs duty on certain input parts for an additional year to spur local investments.
As a result of government initiatives, such as the phased manufacturing program, mobile phone production in India has skyrocketed from ₹18,900 crores in 2014-15 to ₹2,75,000 crore in the past fiscal.
To encourage domestic manufacture, the basic customs duty exemption for a number of components was extended until March 2024.
Railways:
This Budget saw the highest-ever allocation and is 9x the amount provided in 2013-2014.
The Union Budget 2023-24 has set aside a historic high of ₹2.4 lakh crore for the Indian Railways.
The budget also strongly emphasises freight transportation, with a budget of ₹75,000 crores earmarked for the National Rail Plan (NRP).
The NRP 2030 aims to transform the rail system through operational and commercial policy improvements.
Defence:
This Budget saw an increase of 13% from the previous year's allocation.
The defence budget allocation for 2023-24 was raised to ₹5.94 lakh crores
₹1,62,600 crores allocated for the military for capital expenditure, including purchasing new weapons, aircraft, ships, and other defence equipment.
Aimed to strengthen domestic manufacturing in this sector, emphasising increasing exports from the country.
Biggest Companies of India:
India Inc seems to look much more confident of the times ahead after this Budget 2023-24.
₹10 trillion allocated towards infrastructural development
This increase in government infrastructure spending will enable private sector companies and India's market leaders to see a growth in demand.
The government is emphasising the positive impact of infrastructure spending on GDP.
Key takeaways from the Union Budget of India 2023-24 –
India to grow at 7% in the current fiscal
Personal income tax slabs to be reduced to 5; tax exemptions up to ₹7 lakhs per year
Open-source digital infrastructure and an Agricultural Accelerator Fund to boost the agricultural sector
Highest-ever allocation to railways at a capital outlay of ₹2.40 lakh crore
Green hydrogen, storage and transmission of clean energy to be key drivers of India becoming net-zero carbon emission by 2070, as promised to the world
Allocation for PM Aawas Yojana increased to over ₹79000 crores, making housing a priority.
Government to continue providing free food to priority households until the end of this year.
The Digital India programme gets a boost of ₹4795.24 crores
Subsidy for UPI expected to be ₹2137 crore in this fiscal
Disclaimer: This blog is purely based on facts presented at Union Budget 2023. It should not be considered investment advice.