Reading Time: 3 minutes
Look who's here! The apple of our eyes 😍
The season of festivities has begun! Just wanted to check in and see if you've bought all the gifts you need and made all the investment plans you need to make? Have you set aside a corpus to invest during the auspicious Muhurat hour?
Take a minute to make your investment plans, if you haven't already, and then dive right into today's serving – we're wondering if an Apple a day can keep India's economic worries away!
PS – Don't miss our exciting new collaboration with Zerodha! Scroll down for more.
When the only apple we knew was a red fruit
Apple Inc., the premium electronics company has won the hearts (and wallets) of many Indians. When Apple launched itself into the lucrative Indian market, many analysts felt that Apple had a long way to go to realise its ambition of becoming a major player in the Indian market, considering that the market had some very dynamic competitors, with decades of experience. And let's not forget how price sensitive this consumer segment is.
However, Apple did not care much for the speculations and became aggressive in 2013 with marketing and advertising targeting Indian consumers.
So, what changed that made the headlines of people selling their kidneys for the latest iPhones, and how does Apple stay true to its fame?
From a selected few to the masses
Changing the sales model by appointing retail distributors was a game-changer for the brand. With this strategy, a D2C network was built in place. The launch of the iPhone 5 in India, simultaneous with the global launch, helped the brand gain traction.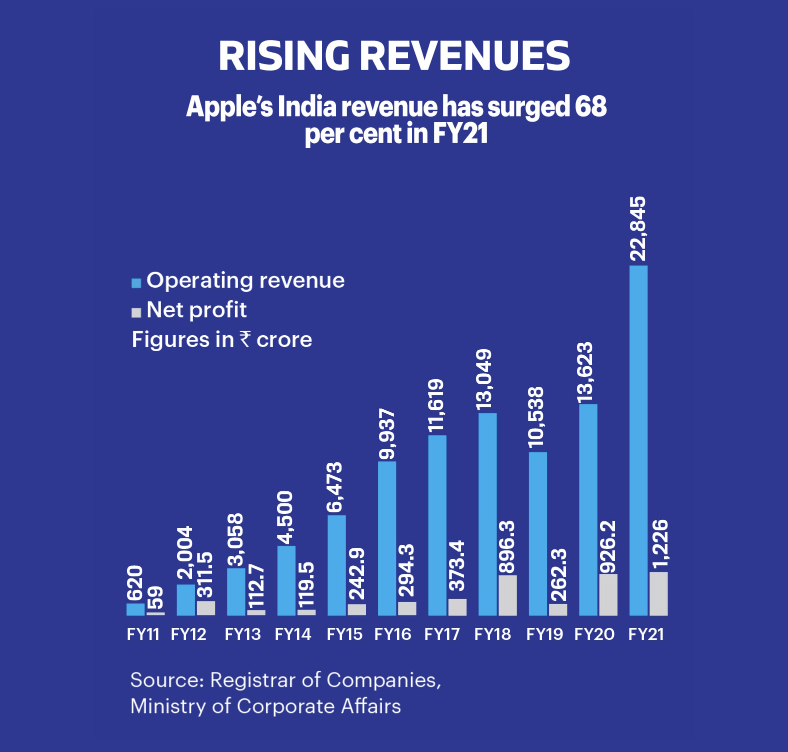 Who's holding the Apple?
Sanjay Kaul, former director of channel sales at Blackberry India changed the game of how the iPhone is sold in India. Maneesh Dhir, India's country manager, built a strong base for India to change the US headquarters' approach to the country.
Rising in the Indian market
Apple's strategy included three broad steps:
Start assembling and manufacturing iPhones locally, piggybacking on the "Made in India" programme.
Expanding the retail presence by opening the flagship Apple-branded online and offline stores.
They are gaining market share by offers, lowering prices, by sacrificing margins.
Where's the Apple tree?
With the launch of the flagship iPhone 14, Apple produced the latest model in its lineup at the launch. The main iPhone assembler, Foxconn, manufactured the devices at the Sriperumbudur factory on the outskirts of Chennai.
China's raising eyebrows and asking questions
A Chinese newspaper questioned legal policies and infrastructure for "Made in India" Apple iPhones. It's very well known that US and China haven't been good at political relations, and the effects now seeping down to business. Since COVID-19, Apple faced issues with lockdown and prevention policies implemented in China.
Well, let's see, shall we?
Apple is currently focusing on the production of iPhone 14 Pro and iPhone 14 Pro Max models. A survey by UBS suggests that 20-30% of manufacturing will be leaving from China, India is the most likely candidate to benefit from this situation owing to its comp advantage in various industries.
---
Don't want to miss out on the growth curve? Us neither! Check out the China Plus One Strategy- India Rising smallcase by Niveshaay to benefit from India's production advantages.
What moved the markets last week?
 Brought to you by Windmill Capital
This week we bring you an exciting collaboration with Zerodha and Windmill Capital!
——————————–
What Moved The Markets Last Week is a conversation where experts discuss the major updates of the past week. This series is your one-stop shop for all major updates that you, as an investor, should be aware of.
In conversation – Saket Mehrotra, Senior Associate, Tusk Investment; Shyam Agarwal, Portfolio Manager & Investments Analyst, Windmill Capital; Naveen Kaushik Rajan, AVP, Investment Products, Windmill Capital.
This week, we've been…
Reading Before The Coffee Gets Cold by Toshikazu Kawaguchi: An interesting take on time travel, this book is about a cafe which gives you the power to go back in time, but you must return before your coffee in the present life gets cold. Sounds interesting? Well, now you know why this newsletter didn't reach you on time. 😛
Watching Bad Sisters: This one's an Irish dark-comedy thriller. Watch this for the sisters who know nothing about murdering someone and their failed, trivial attempts to kill their brother-in-law, who they blame for disrupting their lives.