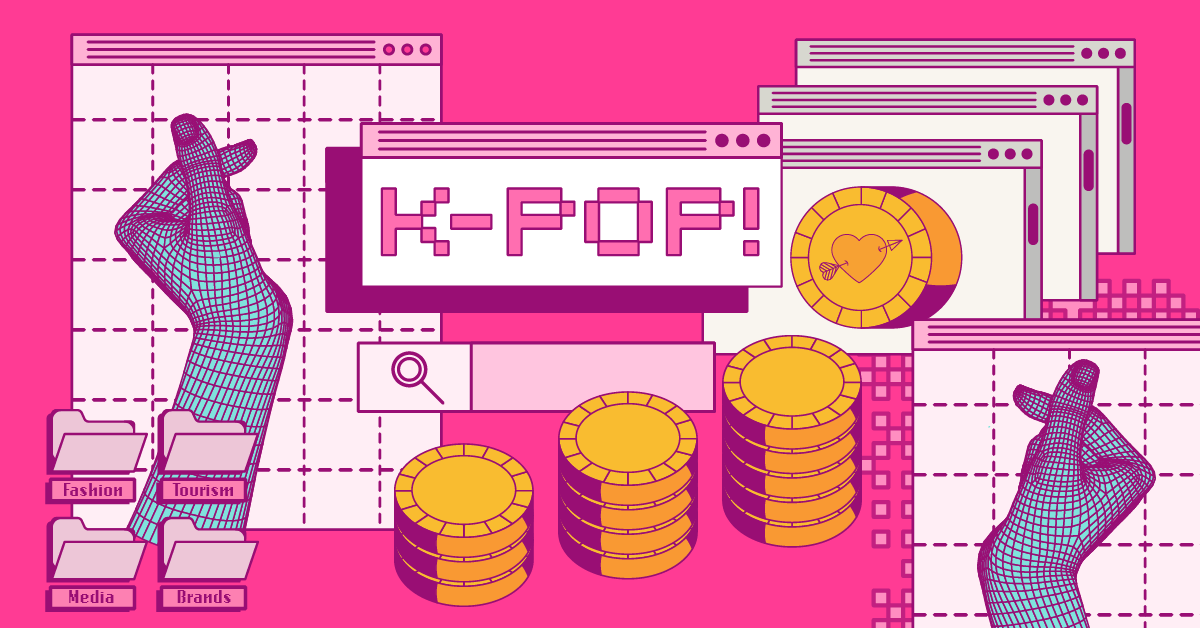 Reading Time: 6 minutes
From the heartthrobs of BTS to the addictive beats of Blackpink, the Korean pop culture industry has taken the world by storm, capturing hearts, breaking records, and giving us all an excuse to perfect our fan chants. But did you know that this phenomenon goes beyond just catchy tunes and killer dance moves? It's time to uncover the jaw-dropping impact of K-pop on the global economy!
But hold on tight, because it's not just about the music. We'll be exploring the growth of Korean dramas that have us all hooked, the rise of Korean beauty and skincare that has transformed our skincare routines, and even the world of Korean cuisine that has us craving some delicious bibimbap and kimchi.
With global partnerships of BTS x McDonalds to Park Seo Joon's debut in the world of Marvel, let's explore how the K-pop wave came to be.
The emergence of K-Pop
The roots of K-Pop can be traced back to the early 1990s when South Korea experienced a wave of cultural and economic transformations.
In the late 1990s and early 2000s, first-generation K-Pop groups like H.O.T and Seo Taiji and Boys gained popularity not only in South Korea but also in neighbouring countries. However, it was in the late 2000s and early 2010s that K-Pop truly exploded onto the global stage, driven by the rise of social media platforms and the accessibility of online content.
Over the past decade, South Korea's status evolved to be a content powerhouse with popularity of "K-Wave" dramas, film, and music.
"Parasite", one of the notable examples of the globalization of K-film won the 2020 Oscar's for best picture. In 2021, "Squid Game" drew fans from all over the world and became most-watched TV series on Netflix ever.
What is the economic impact of K-Pop?
K-Pop has not only revolutionised the global music industry but has also become a significant economic powerhouse. The global K-Pop industry was valued at over $5 billion in 2020, with expectations for continued growth in the coming years.
Hallyu, the "Korean wave", has had an immense positive effect on the South Korean economy. For example, a report estimates that the three concerts held by the boy group BTS in Seoul in 2019 have a total direct and indirect impact of around 923 billion South Korean won.
South Korea's GDP in 2020 was about $1.64 trillion. That means one boy band helped produce some 0.30% percent of the country's economic output.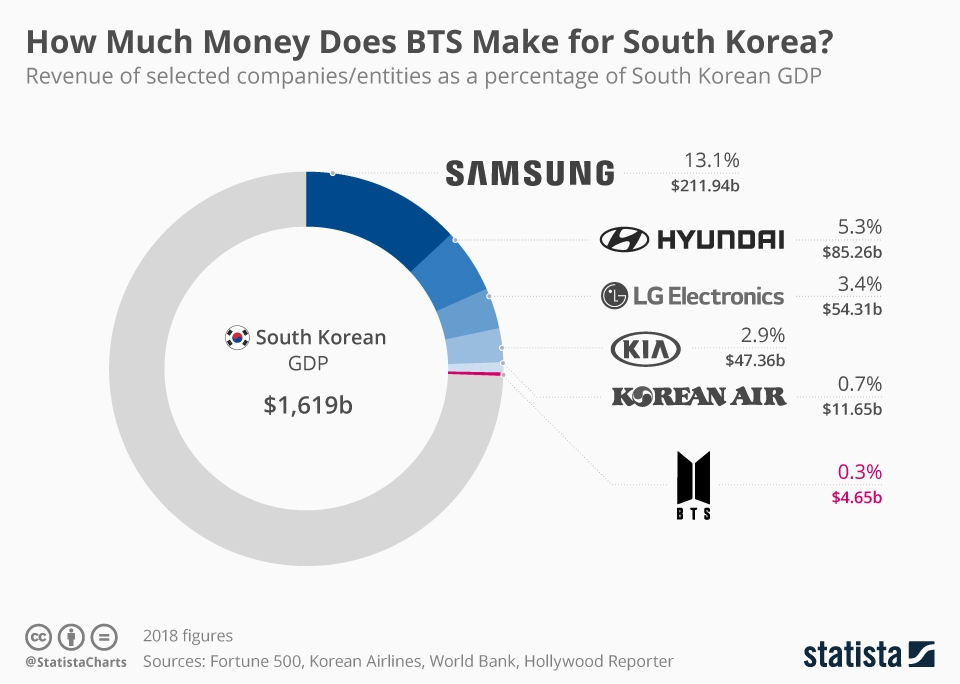 Hallyu exports – e.g., from games to music and broadcast, have a tremendous impact on South Korea's economy. In 2004, it contributed 0.2% of the gross domestic product (GDP) – approximately $1.87 bn. In 2021, it reached a record high of $12.4 billion, according to government data, eclipsing the export volume of home appliances and rechargeable batteries.
The BTS Wave
According to a report by Fortune magazine, between 2014 and 2023, BTS would have contributed $29.1 trillion to the South Korean economy.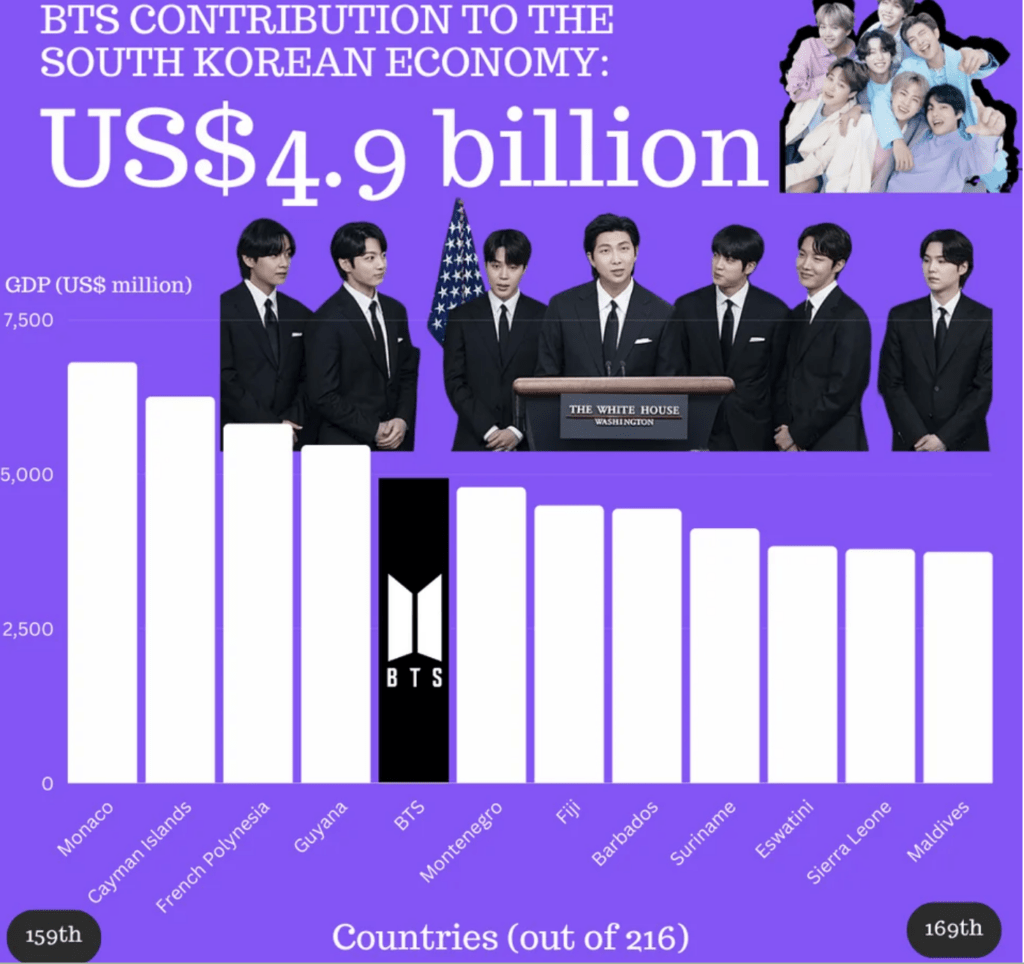 The success of K-Pop groups has led to the growth of entertainment agencies, talent management companies, and music production studios, creating a thriving ecosystem of professionals working in the K-Pop industry.
Hybe, BTS's label, which was formerly known as Big Hit Entertainment was on the verge of bankruptcy in 2007 and barely managed to survive in the competitive oligopoly market until their main band – BTS got launched in 2013.
By 2019, Hybe's profit soared 97% from the year prior, hauling in around $57 million in pre-tax income – which made them the 43rd highest-paid entertainers in the Forbes list.
Hybe also agreed upon a $1bn deal to buy the US company that manages Justin Bieber, Ariana Grande and Demi Lovato.
With a whopping market capital of $11.3 billion, Hybe is the richest K-pop company of 2022.
---
The rise of K-Pop has also led to job creation and industry growth, providing employment opportunities across various sectors.
BTS' single 'Dynamite', launched in 2020, peaked at number one on the Billboard Global Chart for 18 weeks. This song alone generated a stunning $1.43 bn in economic activity and about 8.000 new jobs, according to a study by the Ministry of Culture, Sports and Tourism and the Korea Culture & Tourism board.
K-Pop-related tourism, known as "Hallyu tourism" has seen a significant increase, with fans travelling to South Korea to attend concerts and more. One in every 13 tourists arriving in South Korea was there because of BTS. The economic benefits extend to areas such as accommodations, transportation, dining, and shopping, creating a ripple effect on the local economy.
If BTS normally holds a concert in Korea during the post-coronavirus period, the economic ripple effect will reach $550 million to $989 million for one performance.

K-Pop's global reach has made its idols highly sought after for brand endorsements and collaborations. In the car industry, BTS are currently the global ambassadors of Hyundai Motor's SUV "Palisade". According to SM2 Networks, Hyundai Motor received 600 billion won ($504 million) in promotional results from the collaboration with the group, proving the power of the "BTS Effect".
As of January 2023, YouTube videos from the popular K-pop boyband BTS were among the most-viewed K-pop videos on YouTube. Over the past year, Japanese viewers made up the largest share of watchers with around 918 million views on the band's videos, followed by 778 million views from India and 658 million views from Mexico.
K-Pop's international reach has sparked an interest in learning the Korean language and understanding Korean culture. Korean is not even in the top 10 of the world's most spoken languages, and still has become globalised in the last 10 years. Many fans actively engage in learning Korean to better appreciate the lyrics and connect with their favourite K-Pop songs.
As K-Pop's influence continues to grow, its impact on different sectors is expected to evolve and expand, shaping the cultural and economic landscape.
K-Pop has a major impact on India
K-pop, Korean dramas, and Korean food are all becoming increasingly popular, and India is no exception. A recent study by the Korea Foundation found that the economic impact of Hallyu in India is estimated to be worth $1 billion annually.
The increase in the viewership of K-dramas and K-pop influenced the uptake and consumption of Korean noodles in India. The viewership of K-dramas and K-pop on Netflix, an online streaming platform, reported a YoY 370% jump in 2020 and the import of Korean Noodles in India also witnessed a volume growth of 162% in 2020.
A dramatic rise in consumption of Korean food in India after the 2020 lockdown saw Korean noodles alone enjoy sales growth of 178 per cent in 2021.
Click To Tweet
South Korean food company Orion is investing a significant amount of money in India. They believe that Korean food is becoming popular in the country. Orion has decided to build a manufacturing facility in Rajasthan with an investment of about ₹200 crore. They also plan to grow their business in India by expanding their distribution network. In India, Orion sells products like Choco-pie, O'Rice cracker, and Custas Cup Cake.
McDonald's introduced themed meals in South and West India to celebrate K-pop boy band BTS as part of its global campaign.
The well-known South Korean noodle brand, Nong Shim, found that they made sales of $1 million in 2020, which is a 130% increase from 2019. They are also looking at India as an important market and developing products specifically for Indian consumers. Another popular Korean noodle brand Samyang, is currently focusing on Tier 1 cities in India because of the higher income levels and customer awareness in those areas.
If you think, Indians are only crazy about Korean food, you are in for a surprise.
In 2019 as per a survey conducted by Rakuten Insight, about 35% of Indian women stated that their skincare routine consists of 25% K-beauty products. About 3% of surveyed women in India said that all their skincare products were from Korean brands.
The average time spent engaging with K-pop, was highest among Indian fans, followed by Indonesian and UAE consumers.
Click To Tweet
The economic impact of K-pop in India is likely to continue to grow in the years to come. The growth of K-pop in India is also being driven by the increasing popularity of Korean culture in general. This is creating new opportunities for Korean businesses to expand into the Indian market. As K-pop becomes more popular in India, it is likely to generate even more revenue for the Indian economy.