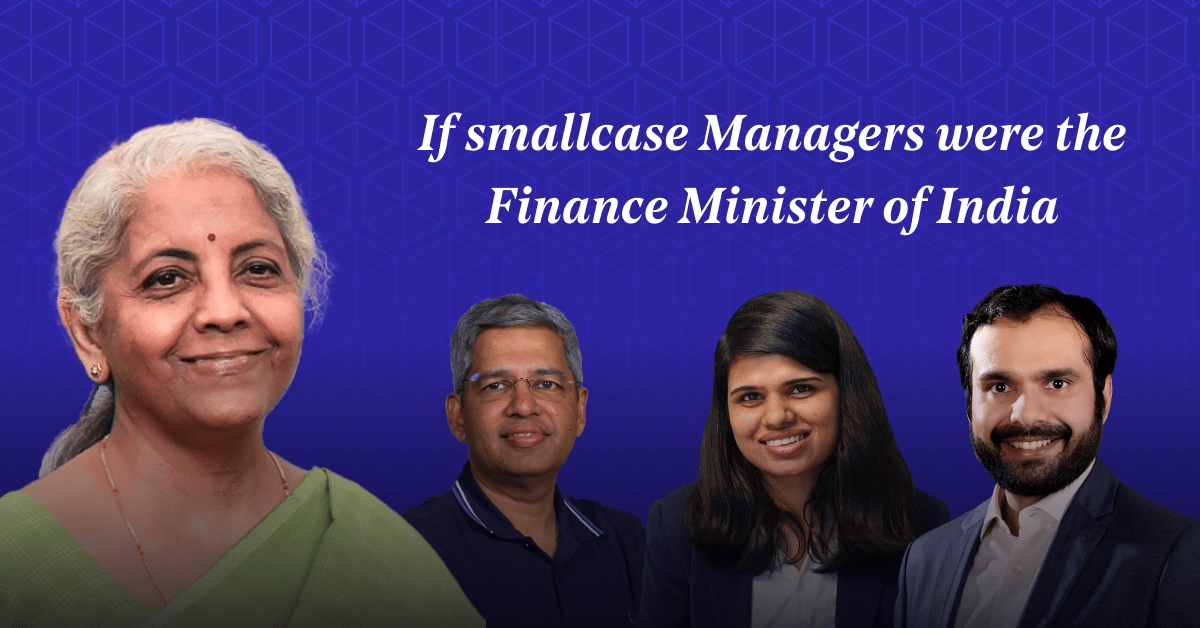 Reading Time: 7 minutes
What would happen if our smallcase managers were Finance Ministers for a day? Imagine if Alok Jain from Weekend Investing and Sonam Srivastava from Wright Momentum were given the opportunity to serve as Finance Ministers for a day. As experienced smallcase managers, they bring a unique perspective to the role, combining a deep understanding of financial markets with a passion for making investments accessible to all. Let's hear their thoughts on what changes they would bring to the financial landscape if given the chance to lead the country's financial policy for a day.
Thinking of the budget, here are some smallcases we curated that are favoured among investors.
Explore the Trending before Budget 2023 collection
Explore now
Let's look at some pointers from Alok Jain;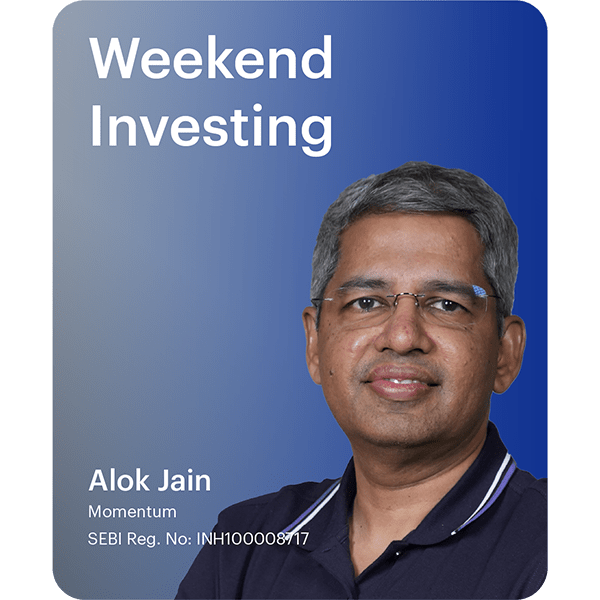 Address the issue of high inflation: India has been facing high inflation for several years, and this has led to an increase in the cost of living for citizens and a decrease in the purchasing power of their money. To combat this, if I was the finance minister I would focus on reducing food and fuel prices by implementing policies such as reducing taxes for these items and improving supply chain efficiencies. Energy security is one area that has been lacking in India for a long while.
Create employment: India has a high unemployment rate, and this has led to a number of social and economic problems. To address this, if I was the finance minister, I would focus on creating jobs in various sectors of the economy, such as manufacturing, agriculture, and service industries. This can be achieved by implementing policies such as tax incentives for companies that create new jobs, providing subsidies to small and medium-sized enterprises and investing in infrastructure development.
Increase foreign investment: India has a large market and a growing economy, but it is still not attracting as much foreign investment as it should. To attract more foreign investment, as the finance minister I would implement policies such as reducing red tape and bureaucracy, providing tax incentives for foreign companies, and improving the overall business environment.
Improve infrastructure: India's infrastructure is in dire need of improvement, and this is holding back economic growth. To address this, the government can push more FDI into investing in the development of roads, ports, airports, and power plants and invest in new technologies such as renewable energy.
Tax net reforms: The poor tax net of India remains a concern as the parallel economy continues to thrive. There is an urgent need to rejig the indirect tax collection and implement it in such a way that direct taxes may become less important in the times to come. Also, some tax incentives to use digital payment systems combined with a gradual reduction of paper money using CBDCs can widen the tax net and improve the tax-to-GDP ratios.
"By addressing the issues of high inflation, unemployment, increasing foreign investment, improving infrastructure and implementing capital market reforms, the finance minister can help to promote economic growth and improve the lives of citizens."
What would Divam Sharma from Green Portfolio do if he was Finance Minister for a day?
"If you consider the high fiscal deficit for FY23 and high expected fiscal deficit in FY24, the room for the Finance minister to spend is less in this budget."
Income Tax: Retail investors have not seen the benefits of the increase in tax slab or deductions over the last many years. Also, the attempt to simplify personal taxes by giving a standard deduction under the new tax regime found very less takers. Considering less fiscal space for the Government, we would want the retail investors to have a higher standard deduction u/s 80C, the limit should be raised to Rs. 2 lakhs.
Capital Gains: There is a lot of noise around the standardization of capital gains tax across asset classes. However, this simplifies the taxation and is in sync with the government's efforts towards simplification of taxes, the markets would be better off if we maintain the status quo this time considering the volatility and macro factors affecting the markets currently. Markets faced a huge impact when the LTCG tax of 10% on stocks was introduced.
Defence, Manufacturing, Infrastructure and Energy: As the world is moving towards re-globalization, and as the thrust shifts towards securing resources, energy and supply chains, the world will be entering a capex mode over the coming years. This will not only help India substitute its imports, boost its export market share, and support India's GDP growth but will also attract foreign institutions to invest in India.
The PLI scheme: There has been a success for the Government, we have seen announcements around 14 sectors, where lots of large corporates applied and got licences. We are also witnessing a high capex from corporates. The government should continue this trend by including more sectors, higher allocations and smaller capex requirements to support MSME and SME companies to also come forward and participate.
"The disinvestment target should be rationalized this time, considering that we have consistently missed on the targets in the past 4 years, and also considering that it will be difficult to move the disinvestment process smoothly in an election year also considering volatile macro factors for the markets."
What would Sonam Srivastava do if she was the Finance Minister? Let's look at her perspective!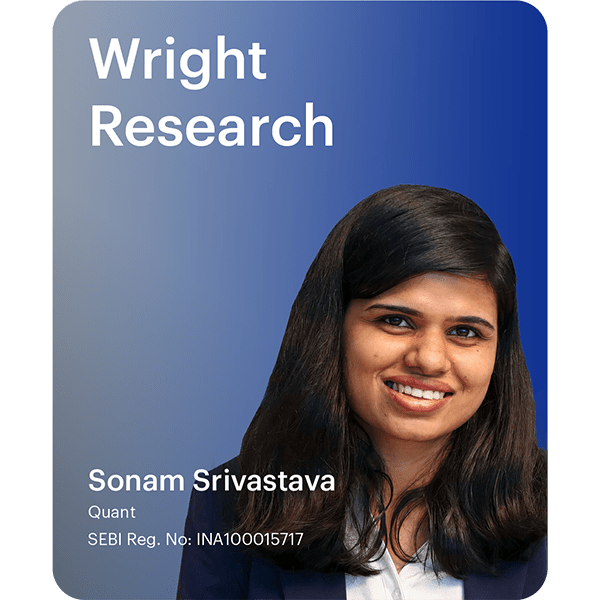 "I would focus on promoting economic growth and manufacturing, addressing income inequality and poverty, expanding credit in the banking sector, improving the ease of doing business in India and making sure that we walk on the path of fiscal consolidation."
Prioritise capital expenditure: To boost India's manufacturing, I would suggest reforms to boost the rural sector and SMEs, continue work on bank reforms and focus on enhancing the ease of doing business in India. Furthermore, even though this is the last budget before the elections, I would exercise fiscal prudence and continue with the post-pandemic fiscal consolidation in light of the potential global economic slowdown.
2. Expanding PLI schemes: The growth of India's manufacturing sector will prove crucial to helping it weather the global turmoil. India is becoming a strong competitor in the China-plus one strategy, and even if global growth may slow, India's increasing share of global manufacturing could provide a buffer. The PLI schemes can be significant drivers of incremental revenues for India Inc in the next few years. I would expand the scope of PLI schemes to include more sectors and further incentivise the industries which are seeing a positive impact of PLI, like mobile phone manufacturing, chemicals, auto components etc. Investing in roads, railways, defence manufacturing and other infrastructure products would also be essential to support emerging industries.
3. Suggest reforms to boost the rural sector and SMEs: The rural sector has been struggling since the Pandemic, and many call the recovery K shaped – where the rural sector did not recover, but the urban sector did. I would bring better connectivity, digital inclusion, and credit expansion to the rural economy and support struggling industries. I would not overdo the welfare spending for the rural market with an eye on the election. I would also expand the tax relief for MSMEs, rationalise GST and boost credit growth in small and medium enterprises. In addition, I would expand the scope of the Emergency Credit Line Guarantee Scheme (ECLGS) for emergency help for SMEs.
"Measures in recent budgets improved NPA and bank profitability/asset quality. No more capitalization, focus on credit expansion. I would incentivise the use of technology to expand the credit in the economy and prioritise tools like OCEN for accelerating the credit economy."
Focusing on sustainability and Green Energy: I would focus intensely on sustainability and green financing and ensure that India is walking towards a more sustainable future. We aim to become Net Zero by 2070, halve our greenhouse gas emissions, and transition to non-fossil-based energy sources by 2030. Therefore, investments in renewable energy, electric vehicles, green hydrogen, and other related sectors should be a priority.
Increasing ease of doing business in India: I would improve the overall ease of doing business in India. India needs to be ranked better in ease of doing business rankings, which can make it difficult for companies to operate and invest in the country. In addition, I would streamline regulations and procedures for starting and running a business and invest in infrastructure to improve connectivity and logistics.
"I would be fiscally conservative instead of populist in the budget announcements. I would suggest a clear glide path to reduce the fiscal deficit to a target of 4.5%. Trimming subsidies, and pushing for asset monetisation considering we have state elections soon, spending too much on welfare would not be a priority but to keep the books strong for India Inc in a high-interest rate environment where the rest of the world is struggling should be."
This is the perspective of our smallcase Managers, Alok and Sonam! With the anticipation of the Budget 2023, we have curated a list of smallcases which are Trending before the Budget among investors. Explore the collection, and let us know if you think we missed any.
Explore the Trending before Budget 2023 collection
Explore now