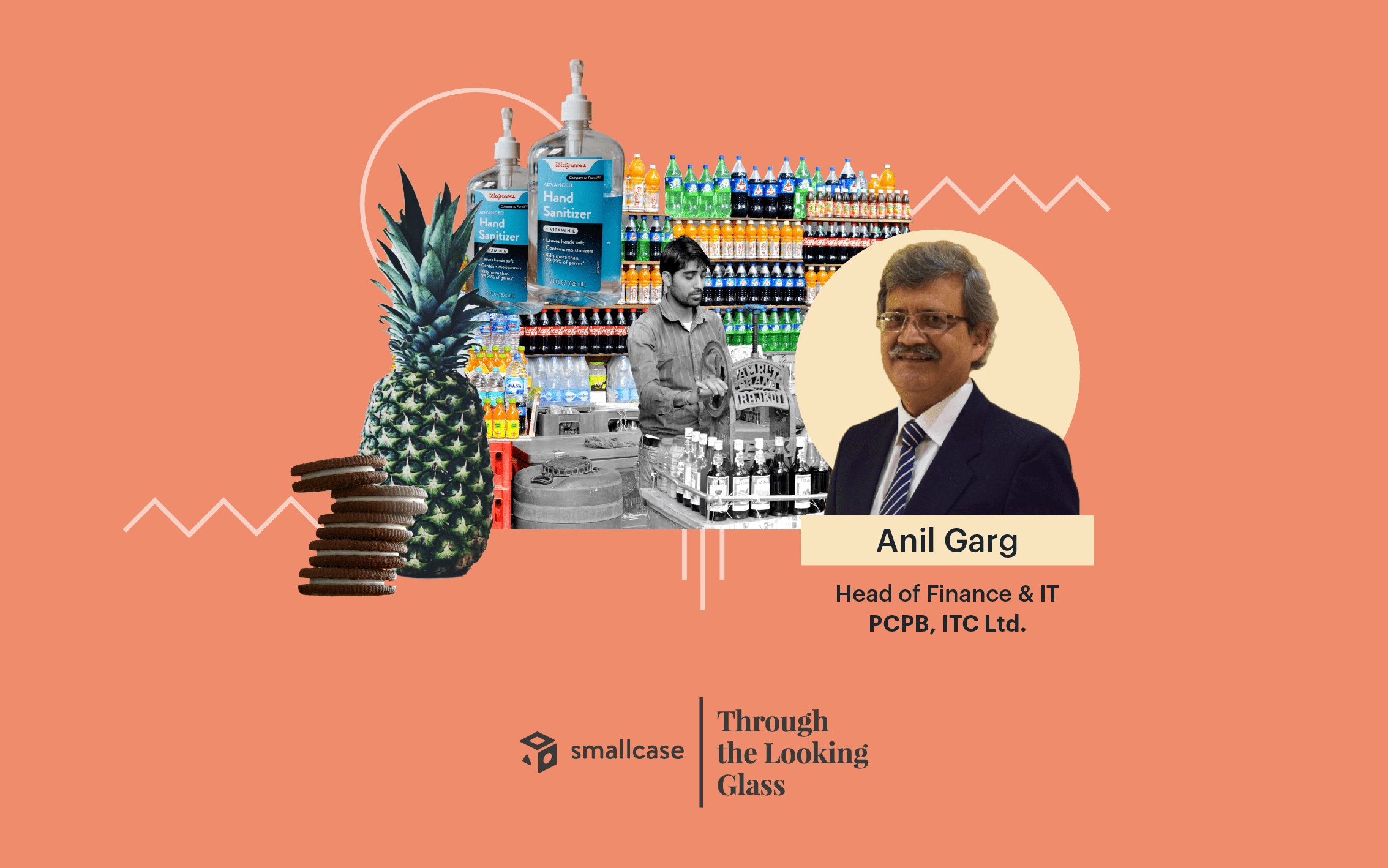 Reading Time: 10 minutes
Anil Garg has 35 years of corporate experience – he is currently Head of Finance & IT of the Personal Care Products Business (PCPB) at ITC Limited. ITC Limited is an Indian conglomerate with businesses in Tobacco, PCPB, Hotels, among others. Borrowing from his deep insight into the industry, Anil writes about the impact of Covid-19 on the FMCG sector.
The views expressed in the article are those of the authors' and do not necessarily reflect the views of ITC Limited or smallcase Technologies.
Since the very beginning, humanity has faced a lot of challenges. The magnitude of these challenges have been different and have come at us in different forms. From famines to world wars, from pandemics to economic turmoils, and all the way to climate change. Fortunately, humanity has come out of most of them – stronger and more resilient. The advent of the novel coronavirus is another such challenge that sweeps the globe today. Among all of these crises that we've faced, there are only a handful of them that have impacted, or have had the potential to impact every human being out there – Covid-19 is one of them. We will definitely get through this as well.
While this crisis has disrupted a large part of our lifestyles, this disruption opens up scope for newer opportunities – the people and organisations that grab these opportunities are set to emerge winners in the long run. This is as true as it could be for Fast Moving Consumer Goods (FMCG) space – the industry that I work in.
I've been a part of the FMCG industry for over 35 years now, and even today I'm learning the dynamics of this ever-changing sector. Fast Moving Consumer Goods are those goods that move through the value chain very quickly – from production, distribution and marketing to final consumption. These relatively low-priced goods are sold quickly because either they're always in high demand (sanitizers, cold drinks, etc.) or because they're perishable (confectioneries, dairy products, packages foods, etc.).
One reason why this industry is particularly different is that at the centre of what we do, is the average common man. In order to survive in this space, with ever-changing consumer preferences, it's imperative that constant innovation be a part of our strategy to retain consumers and attract potential customers. Those who adapt to the new normal faster than the others will be the ones who come out on top. As an investor, it is critical to keep looking for organisations that are able to capitalise on opportunities in such a chaotic environment, innovate and deliver products quicker to the consumer by effectively navigating through the maze of logistical and regulatory hurdles. These would be the companies who truly would not have 'let this crisis go to waste'.
[poll id="3″]
Editorial Note: Siddhartha Rastogi wrote about investing during Covid-19 and all things capital markets, a handy guide for retail investors.
FMCG during the pre-COVID world
The FMCG industry in India has been dynamic and was undergoing significant changes in the years leading up to the pandemic. The sector had been seeing a slow-down since mid-2018, with growth rates steadily declining for the past 15-18 months from the mid-teens to around half of that by Jan/Feb 2020. In this scenario, FMCG players had been trying to compete by way of price cuts and greater offers to consumers in the hope of gaining market share. This is especially true for urban India.
However, the rural India story is one that cannot be ignored. Of late, the FMCG sector in rural India has grown at a faster pace than its urban counterpart with FMCG products accounting for about half of total rural spending. Semi-urban and rural segments contribute over 40% of the overall revenues of the FMCG sector in India and with about 12% of the world's population living in the villages of India, the Indian rural FMCG market is set to be a driving force for the industry at large. To deepen their rural reach, FMCG companies are contemplating the introduction of smaller packages for goods that will likely match the lower incomes of people in rural India. This is a prime example of how businesses keep coming up with newer strategies to ensure growth.
Editorial note: The Rising Rural Demand smallcase constitutes of companies that stand to benefit from increasing rural consumption. Investors can view all the stocks in the portfolio by clicking on the link.
For those unfamiliar, a smallcase is a basket of stocks or ETFs that is based on an idea, theme or strategy. smallcases are managed by SEBI-registered professionals/entities and are offered through India's leading brokerages including HDFC securities, Zerodha, Kotak securities, IIFL and others. Investors can also make use of the smallcase App and log in using their respective broker account for a seamless experience.
Modern trade and organised retail had resulted in a rather pernicious outcome for the neighbourhood Kirana store – primarily because of distorted buying power and unorganized pricing capabilities by the kiranas. That's set to change, as there are initiatives taken to digitise Kirana stores that will enable them to compete with the larger retail counterparts.
Editorial note: The recent chemistry between big tech and Indian telecom giants has garnered some attention. Sajith Pai of Blume Ventures takes a stab at dissecting the recent Jio-Facebook deal which could have implications on the entire FMCG sector.
Digitizing Kirana stores reminds me of one of the biggest trends that are sweeping across a host of industries including FMCG – Digital India. This initiative has far-reaching consequences for the FMCG industry. The skyrocketing smartphone penetration in the country, coupled with one of the lowest data charges in the world, has helped bring India online. This has changed the face of consumer behaviour in the country. With the majority of the population expected to be online, the e-commerce sector is flourishing. While Covid-19 has accelerated the pace at which India adopts digital means of buying FMCG products, the trend has been upward for a while now, with e-commerce expected to contribute to about 11% of FMCG sales by 2030. Therefore, India stands to immensely benefit from the power of the internet.
Impact of Covid-19 on FMCG sector & consumer behaviour
The novel coronavirus will be around for a while. It has established that life and our approach towards it will never be the same again. Naturally, such a change impacts some businesses adversely while giving an impetus to others.
Editorial Note: For insight into the 'New Normal', read the article by Siddhartha Rastogi which outlines his thoughts on the impact of Covid-19 on the Indian economy, businesses and society at large.
In the immediate to medium term, I see a lot of changes in consumer behaviour, due to which FMCG companies will be forced to adapt their strategy for customer acquisition and retention. The composition of the consumption basket has changed due to COVID and some of these changes will be more permanent than others. An increased focus on health and hygiene will become the norm. Demand in the discretionary categories is likely to come back slowly but not immediately.
For the average consumer, we are seeing a surge in demand for products that enhance personal hygiene in and around homes and workplaces. Products such as soaps, handwashes, sanitisers, disinfectants, wipes, masks, home cleaning products such as floor cleaners, kitchen cleaners, toilet cleaners are seeing a surge in demand and this trend is expected to continue into the future as cleanliness and hygiene are going to be the new mantras. FMCG companies servicing these requirements are likely to do well. Similarly, companies which focus on food staples, and convenience foods such as instant noodles, biscuits, frozen foods, flour, cooking oils, instant mixes, and nutrition are going to be in demand. Products that help in building immunity against illnesses are also in significant demand from the consumers.
Having said that, some categories within the FMCG sector are likely to take a back seat for a while. It will be wise for companies to shift their focus from non-essential categories such as deodorants, fragrances, skincare and other cosmetics, gourmet foods, etc. It will also be imperative to manage inventory better to avoid concerns surrounding freshness and expiry of products.
The shopping behaviour of consumers is also set to see a change in 2 broad ways :
Consumers will try as hard as possible to reduce their trips to supermarkets. This would mean that the average amount an individual would spend on each trip is likely to increase as they would want to avoid making frequent trips to the supermarket.
Online shopping is going to be the new norm. Initiatives like 'no-contact delivery' by key players are going to accelerate this trend in online shopping and people will have the luxury of procuring the goods from the comfort of their homes.
Editorial Note: The FMCG Sector Tracker consists of companies that can be efficiently tracked in the FMCG sector and is an indicator of the sector's performance. Investors can view all the stocks in the portfolio by clicking on the link.
What does it mean for business?
A major trend that will be seen across the industry is immediate to a short-term rise in rural demand. This is primarily due to the migrant labour community returning to their homes. While they are mostly daily wage workers with low incomes, government schemes such as the Mahatma Gandhi National Rural Employment Guarantee Act (MGNREGA) are expected to provide employment to households in rural India, and this will set the stage for an increase in rural demand, at least as long as the migrants do not return to cities for work.
The immediate challenge faced by businesses will be to capitalise on this shift in consumer preferences. It will be necessary to make a strategic shift in business segments such that resources are allocated to those categories that will see a surge in demand and remove focus from categories that are set to take a back seat.
What is the government doing?
Fortunately, the government seems to have been proactive in terms of the measures adopted to contain the adversity of the crisis – enhancing liquidity in the hands of consumers, focusing on social schemes such as MGNREGA, providing food to the vulnerable sections of society, enabling timely harvesting of crops by farmers, ensuring that the foodgrain procurement programmes of the government are completed on time, announcing measures to protect MSMEs, and taking key decisions related to agricultural reforms are some of the positive steps taken by the government, which I'm confident will benefit the business as well as the consumers.
Editorial Note: In the wake of the crisis caused by Covid-19, the government announced a slew of measures to revive various sects of the bogged down economy. We wrote a series of posts to dissect what these measures were and their respective implications.
Conclusion
We are witnessing a paradigm shift in consumer behaviour, businesses and business models, wherein there will be a decline of certain businesses, and slow down in others. A pandemic of this nature has opened our eyes to how vulnerable human life can really be – these are those rare times when every human being is on a quest for survival. Those who come out of this victorious, businesses and people alike, will be the ones who would have adapted to the new normal faster than others. The impact of Covid-19 on the FMCG sector can be felt – organisations which can adapt quickly to the changing demand patterns and show agility in thought and execution will be the ones who gain market advantage.
Disclaimer: This is a guest article. The views and opinions expressed are those of the author in his personal capacity and do not necessarily reflect the views of ITC Limited or smallcase Technologies. None of the opinions in this article should be construed as investment advice.
This article is a part of a new series – Through the Looking Glass. It will explore trending topics in business + finance, the impact of COVID-19 on the Indian economy, and other relevant topics to help you see beyond the news. The series will feature insights from industry leaders, experts, and our editorial team.
[cta color="blue" title="Find and invest in trending themes" url="https://www.smallcase.com/discover/explore?utm_source=smalltalk&utm_medium=cta-button&utm_content=article-05&utm_campaign=ttlg" button_text="Start Exploring"]50+ professionally-managed stock/ETF portfolios[/cta]