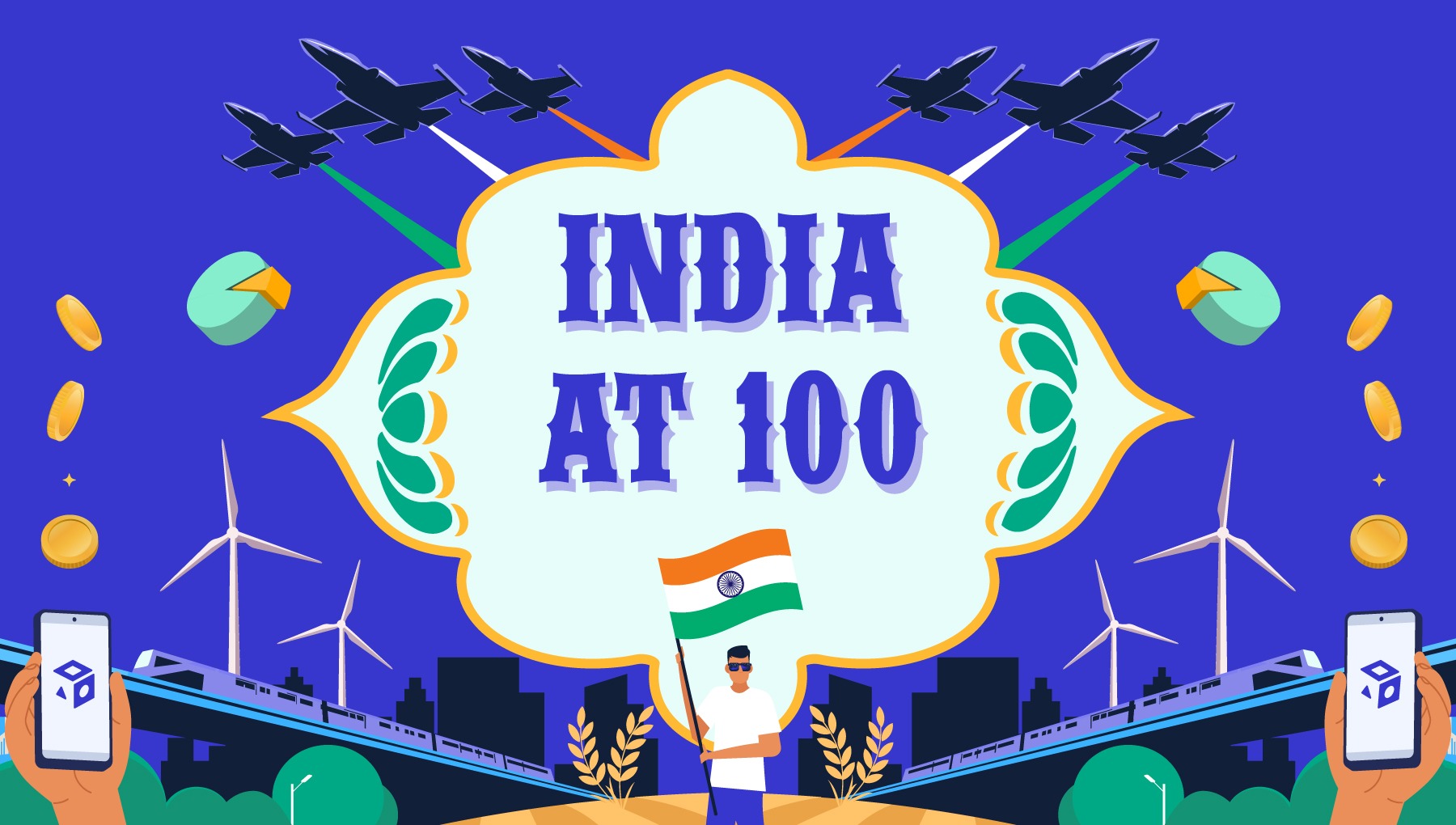 Reading Time: 7 minutes
"And so we have to labour and to work, and work hard, to give reality to our dreams. Those dreams are for India, but they are also for the world."
Jawaharlal Nehru, A Tryst of Destiny, 14th August, 1947
When 34 crore people woke up on free land and called themselves Indians, little did they know that they were going to spearhead a movement – a movement that would revolutionise not just the scientific and cultural aspects of the nation, but also transition us into an era of economic growth and development.
75 years. 140 crore Indians. Gazillion dreams. One Nation.
The last 75 years have seen tremendous progress in every aspect of India's existence and its contribution to the world economy. We're now a global force to reckon with. So, how did we get here and where do we go from here? Let's take a look –
India@25: The Fight for a Resilient Nation
The year 1972-73 was a difficult time in the Indian economy.
The years preceding 1972 saw a lot of tumults which eventually led to widespread poverty and economic crisis. The Vietnam War and the drought in the late sixties continued to have an impact even into the 70s.
With food production going down by almost 4%, it was natural for an agriculture-heavy economy like India to face economic challenges.
Agriculture accounted for 68.3% of all employment when our total workforce stood at 184 million workers in 1971.
Compared to 1961, when it was at 24%, the percentage of labour employed in agriculture increased dramatically by 37.8%. This meant that marginal farmers were losing land. It's possible that this was a consequence of the Green Revolution, which was localised and increased disparities.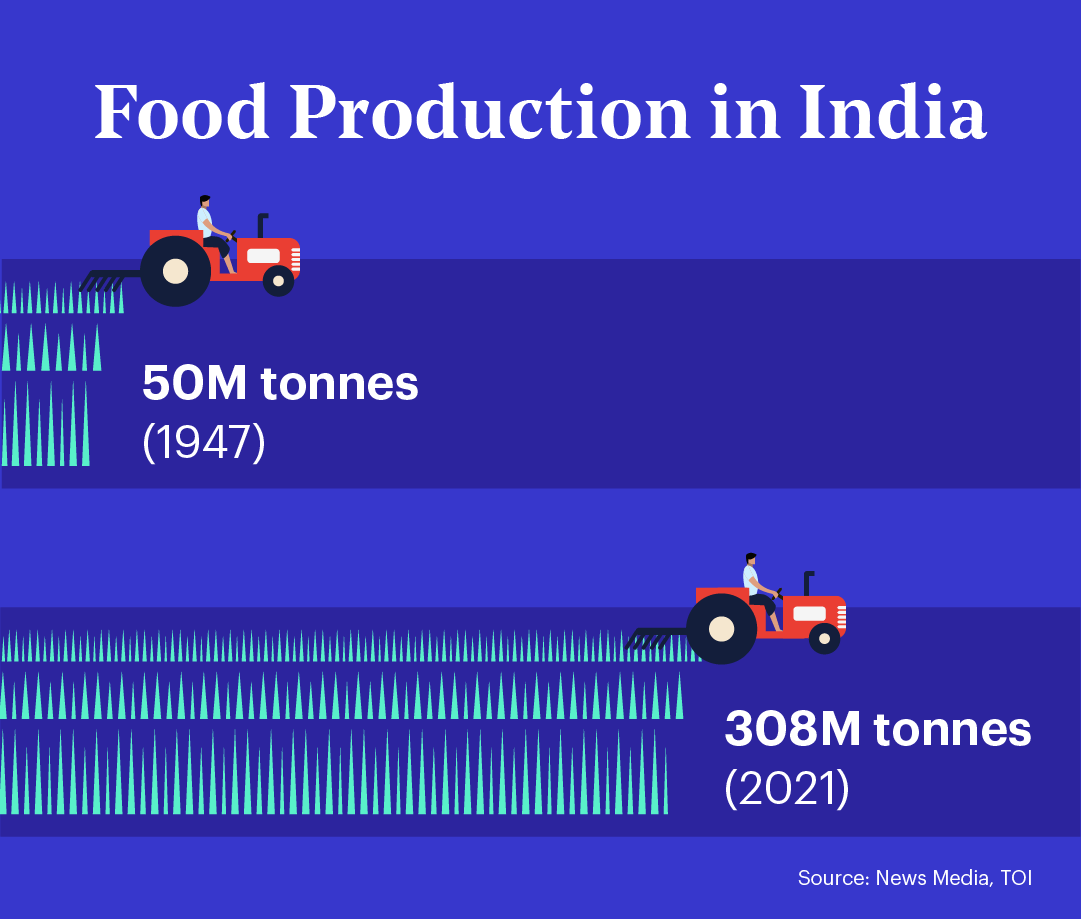 At 18.75 million, the organised sector employed 10.2% of the total workforce.
While the primary sector, which includes agriculture, grew slower at 49.4%, the services sector grew much faster at 30.4%. This indicated the continuing structural change in the economy with the share of agriculture in output falling rapidly ensured that its share in employment declined slowly. The Indian economy kept diversifying as industrialisation grew very rapidly.
A major chunk of the economy was focused on defence budgets, as is the case with in-conflict countries. India parked $2.50 billion (3.72% of the GDP) as part of the defence budget in 1972.
India@50: The Golden Era for India Inc.
India in 1997 was reeling from the impact of two things – the Liberalisation of Markets in 1991, and the Asian Economic Crisis of 1997. This period in history is often regarded as the turning point for finances and commerce in India. It saw the capitalist boom in India and changed the growth course for many industries and companies. The period after this was a golden era for India Inc.

The decade after this saw a recession turn around and economic progress. While India's GDP grew at 7.5% between 1994-97, the Asian Economic Crisis slumped this growth to just 5.5% in the next five years. Although it wasn't as bad when you compare this figure with that of other nations, it made a dent in India's unhindered growth.
The Birth of Demat Accounts
In fact, this period is also significant because 1996 saw the birth of Demat accounts. To facilitate better transparency and tracking, SEBI introduced Demat accounts for trading.
While the stock markets saw a rise during the first half of 1997-98, the latter half saw a downturn with net FII inflow going negative from November 1997 to January 1998.
However, what seemed like a rough patch in Indian economic history, actually turned out to be the silver lining behind dark clouds.
Since the financial crisis on 1997, Indian equity markets have posted the second highest annualized returns after Indonesia.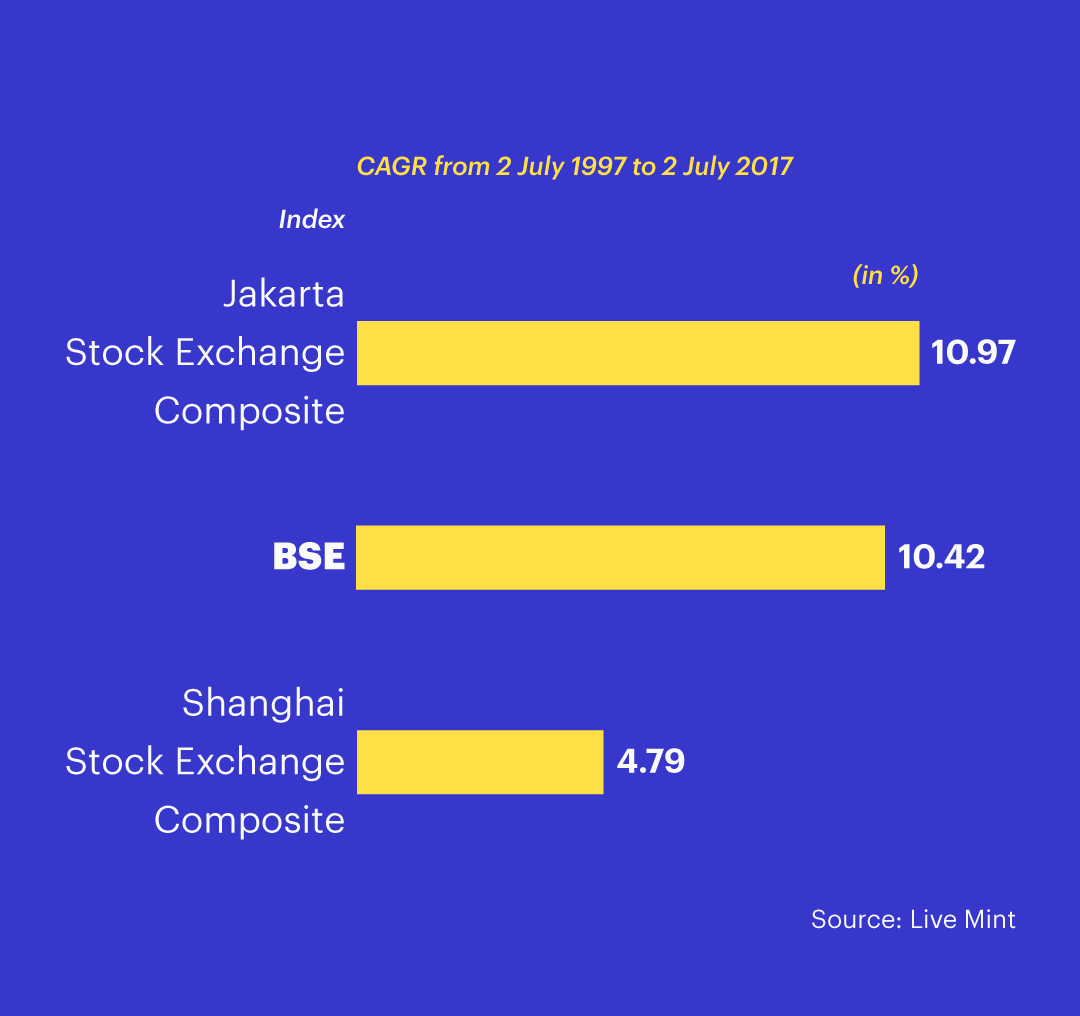 India@75: On Track to Become the Fastest Growing Economy
Today India stands tall, proud, and strong.
u003cstrongu003eRanked 6th largest economy in the world, India's current GDP stands at ₹147.35 lakh crores – behind only the US, China, Germany, UK, and Japan. u003c/strongu003e
Click To Tweet
Moreover, the past two years have seen phenomenal growth in retail investing; over 14 million new Demat accounts were opened in FY2021.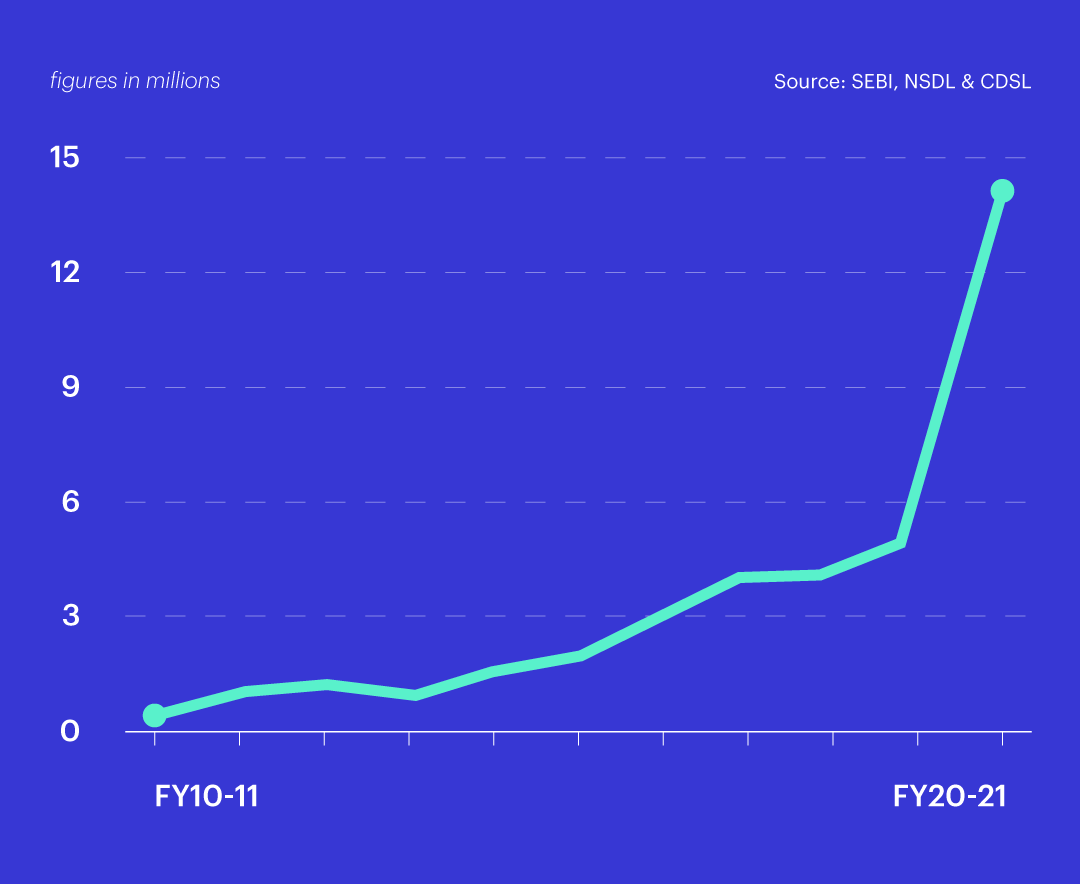 While the agricultural sector is still a significant contributor, the Indian economy has diversified. Several sectors and themes came to the fore that saw a massive boom during the glory years after the global recession of 2008.
Yes, the pandemic did slow down the meteoric growth in some aspects, but overall, the Indian economy has been making a healthy recovery. India saw an 8.7% growth in GDP after the economic downturn in 2020. And given the rate we're growing, we might just become a $5 trillion economy in the next three years.
Several megatrends have emerged due to the pandemic and its preceding years; India is now bullish on ideas like Atmanirbhar Bharat, China Plus One, and the likes.
So, what are some of these industries that are taking investors on a joyride?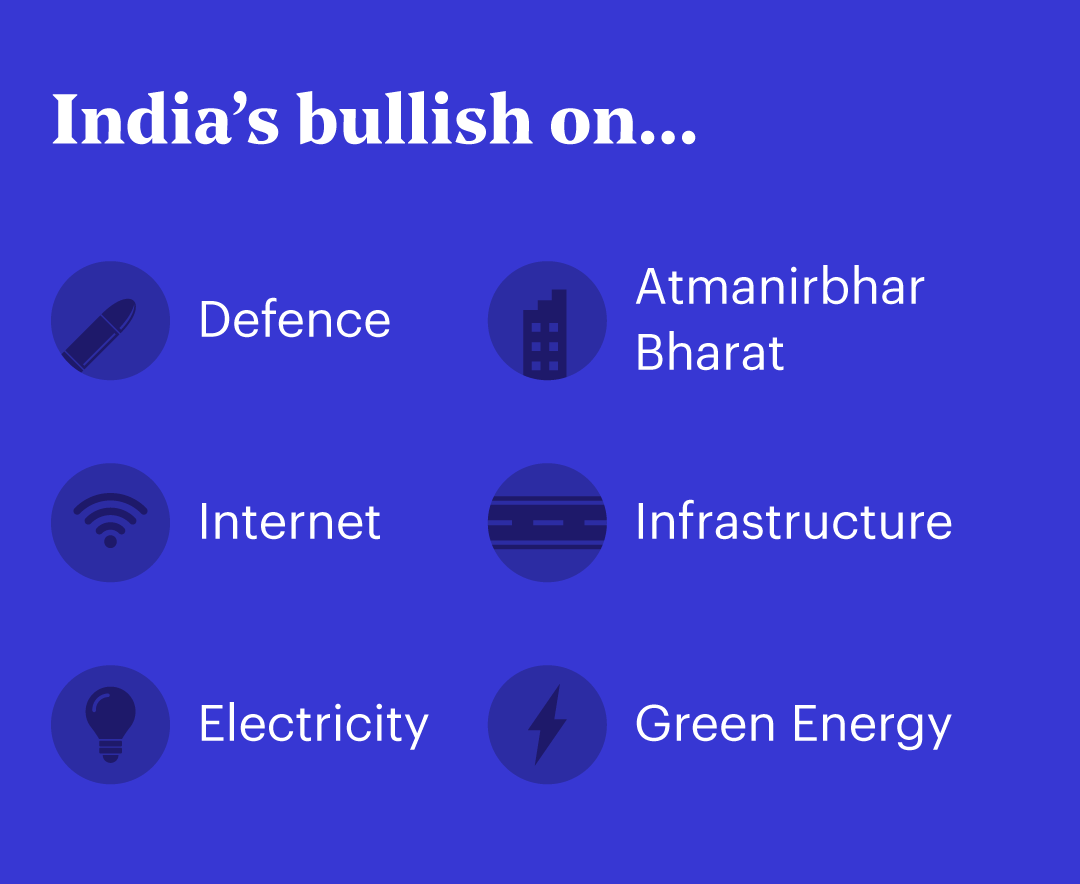 Atmanirbhar Bharat: The manufacturing sector is key to any developing country's growth story. After the pandemic, India's manufacturing sector benefited greatly from an increased focus on three main aspects –
Higher Capex activities supported by the PLI scheme
Increased confidence in the China Plus One theory
Constant government focus on and push for Atmanirbhar Bharat
We have the youngest population and a government that's prioritizing infrastructure development and entrepreneurship. With time, the efforts could translate into tangible results – whether it's an expansion in production capacity, employment or manufacturing. Combine this with the inherent cost advantages Indian industries can offer to the world. We have become a key beneficiary to the world's need to diversify its supply chain out of China.
Green Portfolio, smallcase Manager
The Defence Industry: As of 2021, India has the world's third-largest defence expenditure. The Indian government has set the defence production target at $25 billion by 2025, which was at $11.85 billion in March 2022. A total of $12.5 million have been invested into India's defence sector by Foreign entities, between 2000 to 2022.
Infrastructure: The Smart Cities initiative, launched in 2015, has completed 4161 infrastructure projects worth nearly ₹68,000 crores, covering 100+ cities.
India plans to spend over $1.4 trillion on infrastructure between FY19 till FY23.
Green Portfolio, smallcase Manager
Digital India: India's internet users have grown by an impressive 75%, from about 375 million to 658 million users in the last 6 years.
Electricity: Project Saubhagya, an initiative by the Ministry of Power, is one of the largest household electrification drives in the world; ~2.8 crore households have been electrified between 2017 and 2021. The Budget outlay for this project stands at a whopping ₹16,320 crores, close to the combined allocation of civil aviation and commerce!
Renewable/Green Energy: India added 15.5 GW of renewable energy capacity in FY22, which brought the total installed renewable capacity (exclusive of large hydro projects) to 110 GW as of March 2022.
Investment in the renewable energy sector in India surged more than 125% year-on-year to touch a record $14.5 billion in the financial year 2021-22. More than ₹5.2 lakh crore has been invested in India's renewable energy sector since 2014. According to the analytics firm British Business Energy, India ranked 3rd globally regarding its renewable energy investments and plans in 2020.
The current capacity for solar glass capacity expansion (ex: Borosil renewables) is around 450 GW which is expected to reach 1000GW in the Phase 1 expansion plan and 2100 GW in the second phase.
Niveshaay, smallcase Manager
India is growing by leaps and bounds across sectors. If you wish to explore investment opportunities in the above-mentioned sectors, check out our Independence Day special collection – Celebrating India @ 75.
Despite all challenges and exigencies, it looks like this roller coaster is set to go only further up. So, what could the future have in store for us?
India@100: A Potential Superpower?
Today we stand on the threshold of the Amrit Kaal, as the government refers to it. The Amrit Kaal (literally translating into nectar-laden era) marks the beginning of our journey as a nation towards the next 25 years. And if we were to believe the experts, the years ahead sure look nectar-laden for investors!
In an interview, a couple of months back, Union Civil Aviation Minister Jyotiraditya Scindia stated that by 2047, India could become the world's fourth largest economy! We have the growth path to be an infrastructure powerhouse contributing to over 15% of the global GDP.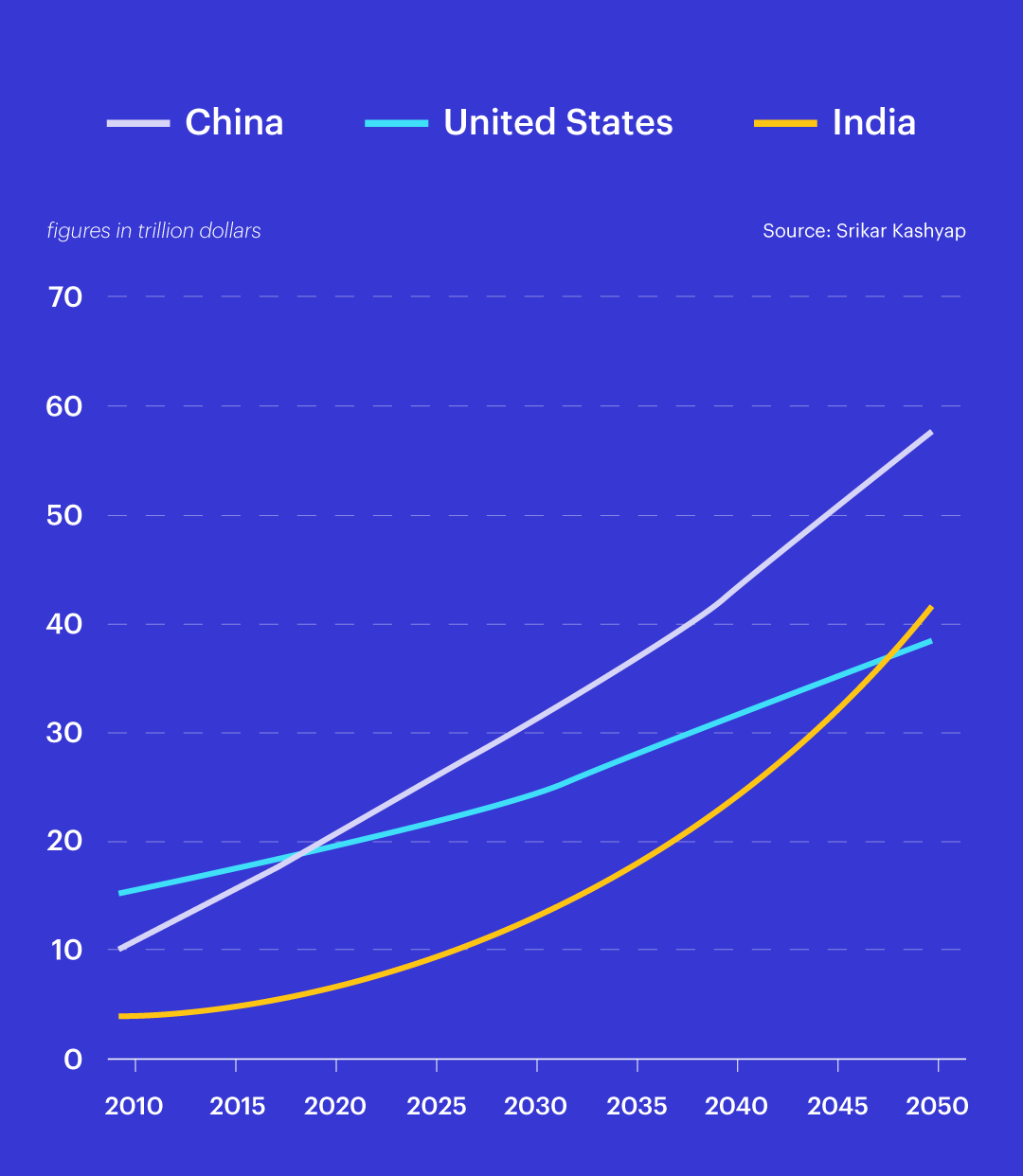 The per capita income recorded at ₹53,000 in 2010-11, is expected to climb to over ₹4 lakh per person by 2047. CII Chief Sanjiv Bajaj stated that the GDP is projected to grow in a range of 7.4-8.2% in 2022-23, with the outlook critically hinging on the trajectory of global crude oil prices.
---
So, what after independence, you ask? Probably the will to write your own tomorrow. And with 140 crore Indians dreaming towards a unified cause, this could turn into an economic growth story that the world has never seen.
So, what after independence, you ask? Definitely the will to fight for economic and financial freedom for all.
In that spirit, we at smallcase have curated a collection of 10 smallcases encapsulating what India is bullish on; what you are bullish on.
On that note, wishing you a very happy 75th independence day; today, let's invest in India.