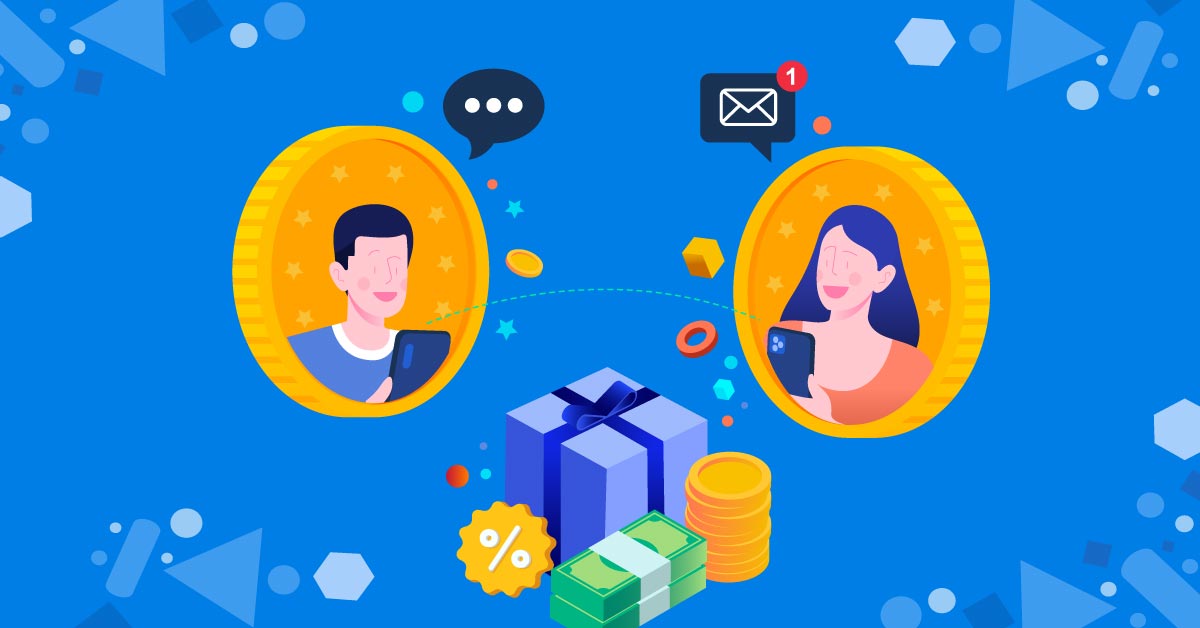 Reading Time: 4 minutes
We're back with our referral program on smallcase! After having temporarily paused the same due to certain unforeseen circumstances, the feature shall resume on our platform starting 27th March, 2023.
The right to Invite and Earn is now exclusive and available only to a select set of users. We've also made a couple of tweaks and updated the terms and conditions for more clarity and transparency in the process. Read on to know more.
Besides coming up with new features, we also update and revamp existing features and processes at smallcase to provide you with an evolved and seamless investing experience.
To add to this list of features, we're launching a freshly-revamped version of our Invite & Earn program! After all, what's any aspect of life if we can't share it with others?
The Invite & Earn feature allows you to invite your friends and family to the world of simple investing and earn rewards for the same!
It's as simple as it sounds, but it never hurts to understand its nitty-gritty. For your ease, let's break this feature into two parts – inviting someone you know and, second, the rewards you earn for it.
Disclaimer – you can only start inviting and earning if you're on app version 5.4.2 or above. If you're on a lower version, now would be a good time to update your app.
How do I "invite" my friend to smallcase?
There could be two scenarios here – either you are an existing smallcase user who wants to invite a friend (Inviter), or you have received the invite to join smallcase through a friend (Invitee). Let's talk about both –
If you're part of the exclusive group of users who are eligible to refer, you will see a banner which says "Invite friends, get rewards" on the dashboard and an option in the Accounts menu.
Hitting the Invite Now button generates a code that is unique to you. You earn rewards when your friends use this unique code to start their investment journey with smallcase! Inviting is pretty simple, like all our other features –
Just two steps –
Share the unique invite link with your friend
Get ₹300 and unlock discounts as soon as your friend invests more than ₹4000 in smallcases
When receiving the reward of ₹300, you, as the Inviter, can also view the friends you've invited historically to smallcase. Inviting more friends will keep increasing that list. Here, you'll see the status of the invite you've shared with your friends and family and whether they've signed up yet. We've put in an upper cap on the number of people you can invite to smallcase and earn rewards for. For now, you can invite a maximum of 5 people using your unique referral code.
A small reiteration – please ensure that you're on app version 5.4.2 or above. If you're on a lower version, now would be a good time to update your app.
What do I "earn" when I invite someone?
More friends = more rewards!
There are two types of rewards to redeem –
₹300 into your bank account: If you're the Inviter, a cash reward of ₹300 is credited into your account for each friend who signs up and invests more than ₹4000 using your unique link. This cash payout will be credited to the Inviter's linked UPI account. However, to redeem this reward, you will have to have invested ₹4000 or more in smallcases for more than 30 days.
Important: While the cash rewards are assigned as soon as the Invitee starts their investment journey, each of the Inviter and the Invitee will have to have invested ₹4000 or more in smallcases for more than 30 days to redeem their respective gift (i.e., get the amount credited into your bank account).
Discount Coupons: Because who doesn't like discounts? After every successful referral where the Invitee has connected their broker account, the Inviter will be rewarded with discount coupons for subscriptions.
Here's what you get a discount on –
Subscription to your first fee-based smallcase! If the Inviter isn't invested in any fee-based smallcase, they get a brand new coupon to subscribe to smallcases from one of our top finance experts.
If the Inviter has already purchased a subscription, they get a coupon to discount their next renewal for the currently subscribed to manager/smallcase (if applicable). Otherwise, they get a subscription coupon to discount their next subscription purchase (with applicable managers).
States of a reward:
Locked (in progress): These are rewards that you've already earned, waiting to be unlocked. You will have to have invested ₹4000 or more in smallcases for more than 30 days to unlock this gift.
Note that you will not receive your reward if the person you've invited is already a smallcase user. The reward will show as locked.
Unlocked: Rewards you've earned that are ready to be redeemed.
Redeemed: Rewards that the Inviter has already used. Cash rewards will be redeemed only once the Inviter has verified a transfer method with the bank.
Expired: Rewards that were not redeemed within the given timeframe.
Note: Management has the discretion to add or remove rewards as they see fit.
To see all your past and existing rewards, click on the "Your Rewards" banner.

Let's start inviting friends, shall we?
With this article, we've tried to address any concerns you might have about Invite & Earn on smallcase. For any further questions, drop us an email at help@smallcase.com, and we'll be more than happy to chat.
So, what are you waiting for? Start inviting your friends and family to simple, smart investing!