Reading Time: 6 minutes
In one of our stock recommendations last year (Prime Stock recommendation: From Tonnage to Technology), we analysed a company that was moving from 'tonnage to technology'. We spoke briefly about the company transforming itself from a manufacturer of forged components to a supplier of products, systems and assemblies to defence and electric vehicles. The stock delivered 27% since our call (index 8.5%) and we retain a buy. In this report we detail further on the above opportunities based on the information that the company shared with analysts last month.
The core of Bharat Forge's transformation will be led by two of its recently incorporated wholly owned subsidiaries:
Kalyani Strategic Systems Limited
Kalyani Powertrain Solutions Limited
Before we get into details about these subsidiaries, lets' take a look at extracts of some slides that the company shared in its analyst day presentation about its key financial metrics. This will help explain the change that has transpired in the past decade.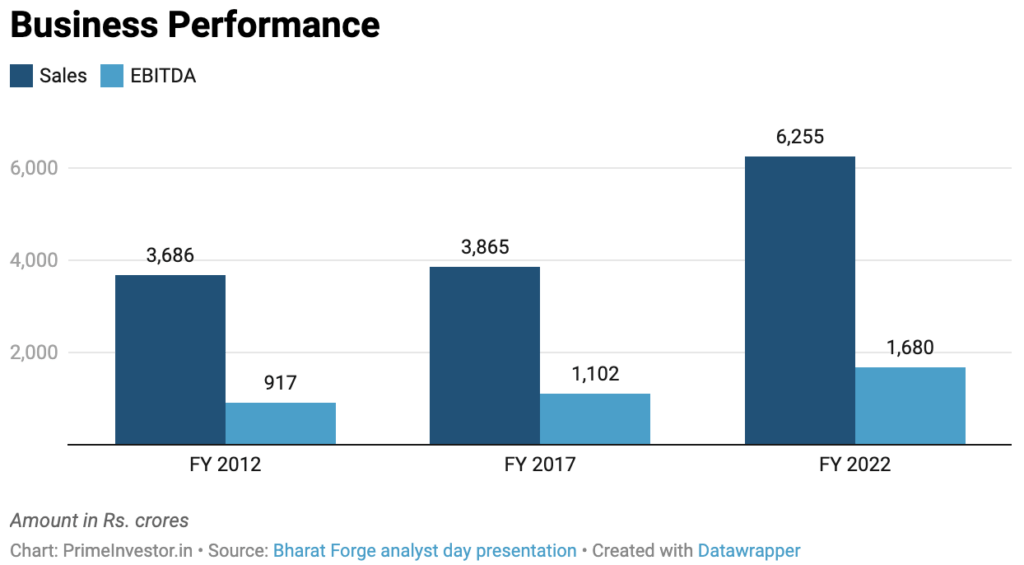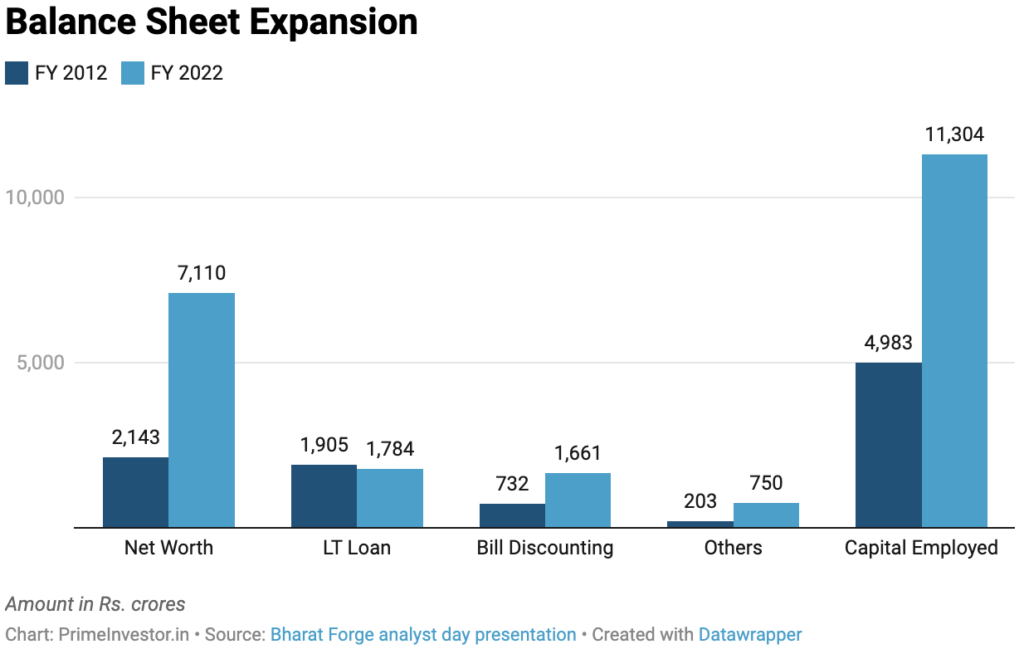 Even though the last decade has not been that great for capex related sectors, especially on stock price performance, Bharat Forge has gone through a phase of building up its business and financial strength over the last decade as reflected from the profitable business growth and net worth accumulation without adding any debt.
This apart, in the last few years, Bharat Forge has made investments of Rs.1,837 crore in areas such as defence, aluminium casting, light weighting and EV transition to future proof its business and grow. This includes US and European aluminium casting businesses. Most of these businesses are at the early stages of take-off. While meaningful revenue contribution is still away, these are big strides that the company is making. Let's discuss in detail about a couple of its key investments and how the business of the company is shaping up for the future.
Kalyani Strategic Systems Ltd
This is a subsidiary separately incorporated for defence business with an investment of ~Rs.47 crore. While the investment per se may seem insignificant, this subsidiary was only recently incorporated. Thus far, Bharat Forge was carrying out defence product development for a decade, spending from its own P&L. In future, all the businesses related to defence will come under this subsidiary.
To throw light on what Bharat Forge has achieved so far, the first two products that have completed trials and awaiting order are the 155 mm advanced towed artillery gun system (ATAGS) and the Kalyani M4 Mine protected vehicle. The indigenous 155mm/52 caliber ATAGS, with a maximum strike range of 48-km, has been developed by DRDO with Bharat Forge and Tata Advanced Systems being the production partners. This one product for which trials have been completed addresses an opportunity size of Rs.24,000-Rs.35,000 crores over a decade, split between Bharat Forge and Tata Advanced Systems. Recently, Bharat Forge bagged an export order worth $155 million (Rs. 1,200 crore) for these guns, vindicating its potential further.
The mine-protected vehicle, Kalyani M4, for which it has recently completed trials at high altitudes has received Rs.177 crore worth of initial orders as well. This is the first from the collaboration that Bharat Forge has inked with Paramount Group of South Africa, a specialist in armoured vehicles. An outcome of a Joint R&D to suit the needs of India, this vehicle has caught global attention and Paramount Group is eyeing at Bharat Forge as a sourcing partner for its global clients, addressing huge export potential.
These are two of the flagship products from the Bharat Forge's defence products line up for the next decade; a glimpse of the line-up is as shown in the below images.
While revenues are yet to start flowing in, the size of initial orders for its flag ship products throws light on what the future potential of this business could be. This apart, Bharat Forge is also part of a critical aerospace component ecosystem, in India's indigenisation drive, working with players like Hindustan Aeronautics Ltd (HAL).
Kalyani Powertrain Solutions Limited
This is the subsidiary spearheading the electric vehicle (EV) component ambition of Bharat Forge. It has so far invested close to Rs 162 crore in this subsidiary directly. Both Bharat Forge, directly as well as this subsidiary have inked several deals and ventures. They are as follows:
Bharat Forge directly invested Rs 280 crore in UK based electric truck platform manufacturer Tevva Motors and Rs 92 crore in REFU Electrnoik GMBH, a German company focusing on EV electronics.
Kalyani Powertrain Solutions hold majority stake in Tork Motors, which recently launched the electric bike Tork Kratos R. The bike was ready for launch when it made this acquisition. Tork Motors is also a supplier of key EV components to 2 & 3 wheelers, a focus area for Bharat Forge
Bharat Forge also recently inked a JV with Harbinger Motors of US as a manufacturing partner for its electric truck platform. This firm exhibited its capability in India by recently unveiling a CV retrofit solution for LCVs (Light Commercial Vehicles) up to 11 tonnes load capacity.
All these put together throws light on how Bharat Forge can become a key player in the supply chain of electric vehicle systems and sub-systems. This subsidiary is going to be complemented by Kalyani Light Weighting Solutions (another subsidiary) that will focus on light weighting solutions using aluminium castings, which is critical in the EV era. It has also put a plant in Europe as well for aluminium forgings.
This EV component business is one that is yet to take-off, where Bharat Forge has acquired critical capabilities to serve a wider base of domestic and global customers. These strategic initiatives provide comfort that the company is getting future ready for the EV era.
Impact of this transformation
These two new subsidiaries, well complemented by its forging, aluminium castings, light-weighting, and components businesses, address a huge opportunity for Bharat Forge in the coming decade, although it may be too early to put numbers. It would not be an exaggeration for us to believe at this point that these businesses put together could create another Bharat Forge over time.
Another critical change is the transformation from a hard-core manufacturing company to a R&D focused products and solutions focused company. These subsidiaries can carry a fixed-asset-light balance sheet, consume less energy, and focus more on products and technology, leading to a significant change in perception about the company. And this is the "tonnage to technology" transformation we spoke of in our stock coverage.
Evolution of these businesses to a larger scale will make Bharat Forge less dependent on the cyclical commercial vehicle sector and have its wings spread across high value-added business opportunities including defence and electric vehicle sub-systems apart from other emerging verticals such as aerospace and renewables. We expect this to have positive implications on valuations as well.
All said, the reflection of these changes in numbers could be a few years away while it could be a decade before these businesses make a substantial change to the company. So, this update is primarily intended to provide a detailed insight into the transformation, which long-term investors may look to exploit. This may be of less relevance to short-term investors. Please read the earlier report named 'Tonnage to Technology' that we issued at the time of our first call that has a detailed investment thesis.
Check out Prime Investor's Auto++ smallcase here
Explore Now