smallcase Specials
Muhurat Magic: Why Diwali 2023 Calls for Some Tradition-Fueled Investing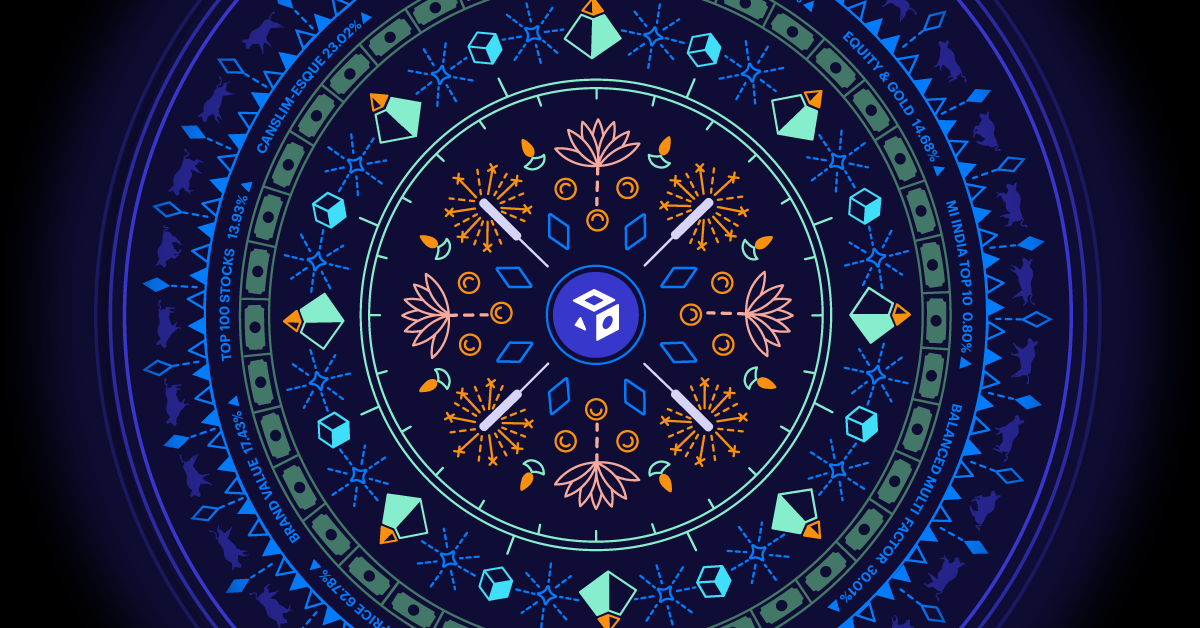 Reading Time: 3 minutes
Diwali is not just about dazzling lights and festive cheer; it's also the time when Indians wholeheartedly embrace their inner wealth creators. Materialistic aspirations aren't taboo during this celebration; in fact, they're celebrated without a hint of greed. But amidst the shopping, pujas, and sweets, don't forget about your investments. Diwali's hidden gem is the Muhurat trading hour, a financial tradition that sparkles with auspicious opportunities. In this article, let's explore why investing during Muhurat in 2023 is not only smart but also a lot of fun.
The Festive Finance Frenzy
While you're busy decking the halls and lighting up the neighborhood, your investments shouldn't be left in the dark. Muhurat trading is the hour where investors hit the buy button with a touch of Diwali magic. It's the time when everyone pays their respects to Goddess Lakshmi, the wealth-bringer herself.
Understanding Muhurat Magic
Muhurat, in its Indian context, refers to that moment when the cosmos supposedly aligns in your favor. The Muhurat Investing hour is a unique window of one hour during Diwali when you can place your investments in the stock market. While most of the financial world is taking a breather, you have this exclusive hour to invest like it's just another trading day.
It's widely believed that investments made during this magical hour are sprinkled with extra stardust, ensuring a year of wealth and prosperity. Many investors buy equities during this time as a way to worship Goddess Lakshmi. This tradition is the stock market's own secret recipe and investors across India can't get enough of it.
From BSE to NSE: The Muhurat Trading Tale
The Bombay Stock Exchange (BSE), Asia's original stock exchange, introduced the BSE Muhurat Trading tradition in 1957. The National Stock Exchange (NSE) joined the party in 1992. What began as a symbolic gesture is now a full-blown Diwali tradition. It's like India's way of telling the financial world, "We don't just trade; we celebrate wealth creation."
It's Time to Celebrate with Your Portfolio
On Diwali, businesses and traders in India mark the beginning of their financial year according to the Vikram Samvat calendar. New accounts are opened, and Chopda Pujan – the financial ledger worship ceremony – takes place. Muhurat trading is all about celebrating and giving a nod to Goddess Lakshmi, the maven of wealth, fortune, and prosperity.
How to Have a Muhurat Blast in 2023
To make the most of Muhurat investing in 2023, do make a note of the following:
Muhurat Timings in 2023 (Sunday, November 12, 2023)
Block Deal Session: 5.45 PM to 6.00 PM
Pre-Open Market: 6.00 PM to 6.08 PM
Normal Market: 6.15 PM to 7.15 PM
Call Auction Session: 6.20 PM to 7.05 PM
Closing Session: 7.25 PM to 7.35 PM
Hassle-Free Participation: Skip the stress of picking individual stocks; let experts curate diversified stock portfolios for you.
Quick and Easy: Investing in smallcases during Muhurat is faster than you can say "Happy Diwali!" In just a few clicks, you can invest in your favourite stock portfolios.
Set a Reminder: Don't let time slip away; set a reminder to ensure you're right on time to place your order during the Muhurat hour.
Trending smallcases: There's no need to scour the market; simply browse our collection of Muhurat stock portfolios to find what suits your investment style.
With minimum investment amounts starting as low as ₹300, everyone can be a part of this Diwali Investing phenomenon.
In a Nutshell
Muhurat investing during Diwali in 2023 isn't just a nod to tradition; it's a smart financial move with an extra sprinkle of optimism. By participating in this unique tradition, you're not just investing; you're inviting Goddess Lakshmi herself to bless your financial journey. So, set your reminders, explore these Diwali 2023 Special Picks, and make investing during Muhurat in 2023 a celebration you don't want to miss!
Check out the Top Diwali Picks collection here
Explore Now
Disclaimer: Investments in securities market are subject to market risks. Read all the related documents carefully before investing. Registration granted by SEBI and certification from NISM in no way guarantee performance of the intermediary or provide any assurance of returns to investors.