Reading Time: 2 minutes
Introduction
In a remarkable turn of events, India's Q1 FY24 GDP growth has surged to an impressive 7.8%. A beacon of hope in a challenging economic landscape, this growth is attributed to the promising signs of revival in private sector investments. In this blog, we'll explore what private capex is, why it matters, and the factors that have influenced its resurgence.
What is Private Capex?
Private capex, short for private capital expenditure, encompasses the investments that businesses make in acquiring, upgrading, and maintaining assets such as property, technology, and equipment. These investments are crucial drivers of economic growth and productivity because they create jobs and enhance operational efficiency.
Measuring Private Capex
Tracking private capex involves various methods, including:
Financial Statements: Monitoring capex through income statements and balance sheets.
Surveys: Gathering data from businesses regarding their investment plans.
Government Data: Analyzing trends in private capex using government-provided data.
Factors that Affected Private Capex
Private capex in India experienced a significant downturn, influenced by factors like the COVID-19 pandemic, political uncertainty, and rising interest rates. In 2021-22, it accounted for 36% of gross fixed capital formation, down from 42% in 2019-20.
Reasons for the Resurgence of Private Capex
Several factors have contributed to the revival of private capex:
Government Initiatives: In FY23, government capex surged by 22.9%, reaching an all-time high of ₹13.3 trillion. This relentless push from authorities fueled optimism in India's private capex revival.
Rise in Corporate Investments: Businesses have transitioned from 'maintenance capex' to 'discretionary capex,' significantly increasing their investments. Year-on-year, capex rose by 21% to ₹7.6 trillion in FY23.
Credit Growth: Indian banks have ample capital reserves, leading to a robust credit growth of 15.6% in May 2023. This abundance of funds has empowered businesses for growth.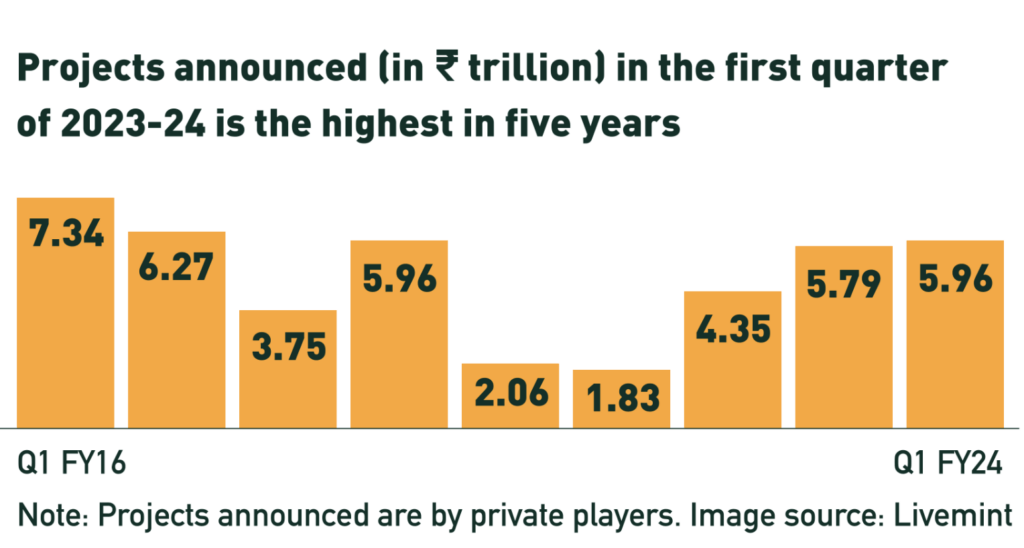 Which Sectors Will Benefit?
The resurgence of private capex offers opportunities across various sectors:
Industrials: Companies like Larsen & Toubro and BHEL stand to benefit.
Discretionary Consumption: Keep an eye on companies such as Interglobe Aviation, M&M, and Jubilant Foodworks.
Credit Growth: Consider potential gains in banks like Axis Bank and SBI.
Conclusion
The resurgence of private capex in India is not just a statistic; it's a testament to the nation's resilience and determination to thrive. As the private sector continues to invest and grow, it creates a ripple effect that boosts economic growth, employment, and prosperity. The future looks promising, with opportunities aplenty for businesses and investors alike to capitalize on this economic revival.
Explore Infra Tracker smallcase to view companies which can potentially benefit from a rise in private capex.
Liked this story and want to continue receiving interesting content? Watchlist Windmill Capital smallcases to receive exclusive and curated stories!
Disclaimer: Investment in securities market are subject to market risks. Read all the related documents carefully before investing. Registration granted by SEBI, membership of BASL (in case of IAs) and certification from NISM in no way guarantee performance of the intermediary or provide any assurance of returns to investors.
Windmill Capital Private Limited is a SEBI registered research analyst (Regn. No. INH200007645) based in Bengaluru at No 51 Le Parc Richmonde, Richmond Road, Shanthala Nagar, Bangalore, Karnataka – 560025 creating Thematic & Quantamental curated stock/ETF portfolios. Data analysis is the heart and soul behind our portfolio construction & with 50+ offerings, we have something for everyone. CIN of the company is U74999KA2020PTC132398. For more information and disclosures, visit our disclosures page here – https://windmillcapital.smallcase.com/#disclosures