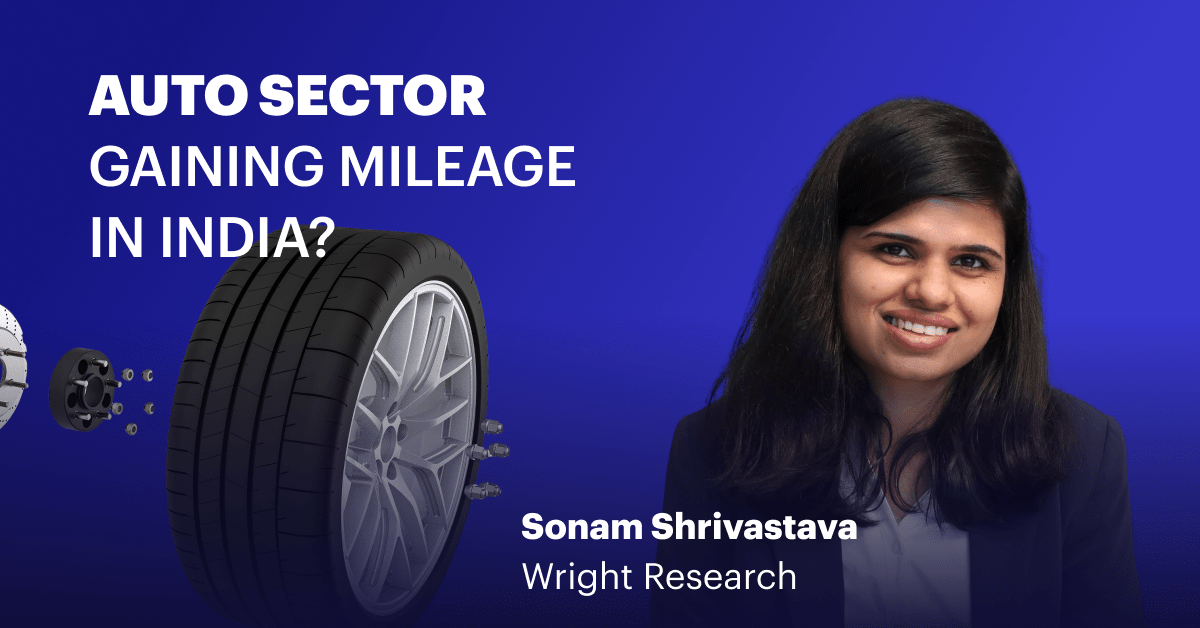 Reading Time: 3 minutes
Sonam Srivastava, Founder and CEO of Wright Research (SEBI registration number: INA100015717) is a distinguished expert to discuss all things about India's Auto sector. Here are some highlights for you:
What were the reasons for the Auto sector's growth in FY 23?
With positive demand, robust growth, and a promising earnings cycle, the automobile industry has showcased its resilience and adaptability in the face of challenges.
Which are the fastest growing auto stocks of the year?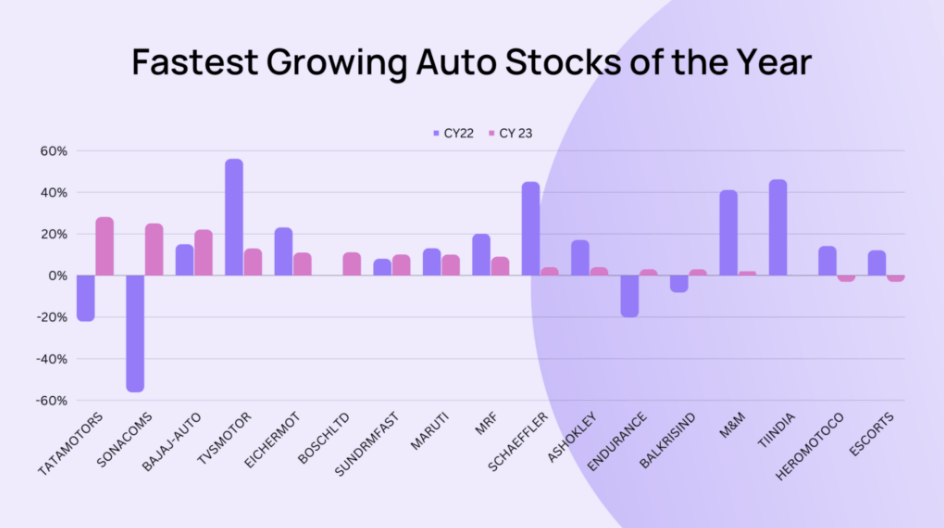 How is the passenger vehicles segment performing and why?
The PV sector is setting new records and raising the benchmarks
There was a 27% growth in FY23 compared to the previous year
A shift in consumer preferences has contributed to this growth with SUVs taking the lead
What about the performance of the two-wheeler segment?
While FY19 was a peak for the segment, it did grow 19% YOY in FY23 from the previous years.
Financial challenges, rising entry-level prices, etc., have been causing some hindrances in the segment's growth.
Which companies have done well and which have not in Commercial Vehicles & Three-Wheelers segment?
Commercial vehicle manufacturers experienced a mixed ride in April 2023.
While Tata Motors faced a decline in domestic sales, companies like Mahindra & Mahindra and Bajaj Auto witnessed substantial YoY growth.
The three-wheeler market also revved up, with Bajaj Auto leading the charge.
These positive trends indicate a promising future for the commercial vehicle segment, signaling opportunities for expansion and consolidation.
What is the outlook for Tractors sales, given its impact on agriculture sector?
The tractor segment encountered a temporary obstacle due to the absence of the festive season and unseasonal rains.
However, with harvesting in full swing, improved crop prices, and positive sentiment in rural markets, the tractor segment is expected to regain momentum.
This segment plays a crucial role in supporting the agricultural sector and is poised for growth in the coming quarters.
What are the challenges and opportunities for the Auto sector?
Chip shortages, rising inflation, semiconductor supply chain and unexpected weather conditions
With increasing demand for electric vehicles, positive rural sentiment, and the anticipation of better sales during the upcoming marriage season, the industry is set to conquer new milestones.
Collaborations with global partners, government support, and investments in EV manufacturing highlight the industry's commitment to sustainable and greener mobility solutions.
Why is Auto Ancillary sector as important as the main Auto sector. What are some key companies in the auto ancillary industry?
The auto ancillary industry, an integral part of the automotive value chain, is heavily reliant on the domestic automobile sector for growth.
Companies like MRF Limited, CEAT, Exide Industries, Ramakrishna Forgings, Sundram Fasteners Ltd, and Amara Raja Batteries have reported varying performances in recent quarters.
These players hold the key to supporting the growth and development of the automobile industry with their innovative and technologically advanced products.
Liked this story and want to continue receiving interesting content? Watchlist Wright Research's smallcases to receive exclusive and curated stories!
Disclaimer: Investment in securities market are subject to market risks. Read all the related documents carefully before investing. Registration granted by SEBI, membership of BASL and certification from NISM in no way guarantee performance of the intermediary or provide any assurance of returns to investors. The content in these posts/articles is for informational and educational purposes only and should not be construed as professional financial advice and nor to be construed as an offer to buy/sell or the solicitation of an offer to buy/sell any security or financial products. Users must make their own investment decisions based on their specific investment objective and financial position and use such independent advisors as they believe necessary. Refer to our disclosures page, here.
Wryght Research & Capital Pvt Ltd•SEBI Registration No: INA100015717
103, Shagun Vatika Prag Narayan Road, Lucknow, UP 226001 IN
CIN: U67100UP2019PTC123244