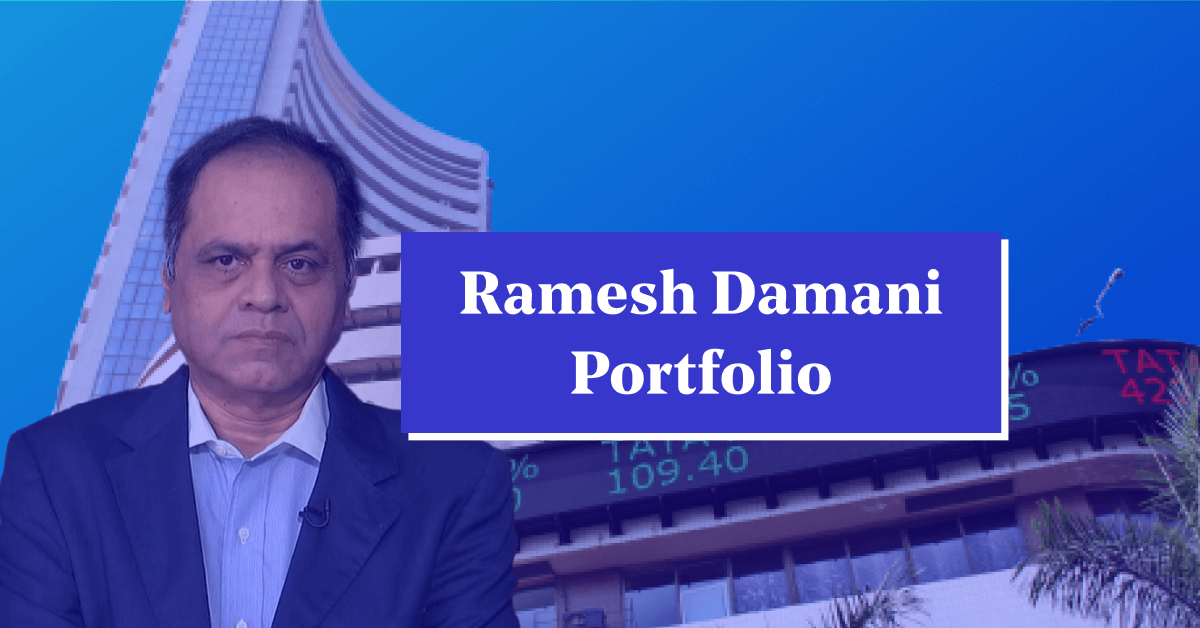 Reading Time: 7 minutes
In the vibrant tapestry of India's financial landscape, there's a legacy of legendary investors who left their indelible mark. From visionary visionaries like Tata and Birla to modern-age financial wizards, the Indian soil has nurtured wealth creators of exceptional calibre. Among the new-age titans who have risen through the ranks, one name shines brilliantly – Ramesh Damani. Today, let's delve into the remarkable journey of this ace investor, unraveling the secrets behind Ramesh Damani portfolio's success and exploring the wisdom he imparts to aspiring wealth builders.
Who is Ramesh Damani?
Ramesh Damani is a veteran broker at BSE. He is often hailed as an ace investor, investing in Indian & US markets through its proprietary portfolio. He is the managing director (MD) of Damani Finance Pvt Ltd and Chairman at D-Mart. However, his journey isn't similar to a rags to riches story. He came from a well-to-do family, with his father earning regularly from the financial markets.
Being an ardent follower of Warren Buffett investing style, Damani made his name by investing in undervalued stocks for the longer run. Additionally, he liked the idea of investing in Indian markets and therefore, said in an interview,
For retail investors who don't have time to focus, they should buy index funds.
By index funds, he meant funds that could replicate Sensex & Nifty.
(Read about the differences between Sensex vs Nifty)
Hidden beneath the covers of fame, Ramesh Damani shot to fame when his stocks on Infosys & CMCs became multibagger stocks. His life story, financial triumphs & investing strategy can be a complete guidebook for new-age investors.
Ramesh Damani's Stock Market Journey
Earlier, Damani's father offered him US $10,000 to invest in the stock market as a sort of challenge. Unfortunately, he lost the challenge & money. Soon after completing his Bachelor in India, he moved to the USA to do his MBA. However, Damani's father wanted him to continue living in the homeland and participate in stock markets. Being an astute stock market trader himself, he wanted his son to do much bigger.
Upon returning to India, Ramesh Damani initially pursued a career in brokerage with plans to profit. However, his interests soon gravitated towards long-term investments. In the early 1990s, he achieved substantial returns for his clients, though his own earnings were relatively modest. It wasn't until 1993 that he decided to invest personally, putting Rs. 10 lakh into Infosys and CMC. This investment multiplied a hundredfold, propelling Ramesh Damani into the billionaire league. Notably, lucrative early bets on the liquor industry further enhanced Ramesh Damani portfolio & wealth.
Ramesh Damani Latest Stock Pick
Known for his hundredfold returns in financial markets, he has a keen eye for undervalued stocks. Thus, you can check out Ramesh Damani stocks by tapping into his latest stock picks.
As per the latest corporate shareholdings filed in July 2023, Ramesh Damani share portfolio publicly holds 4 stocks with a net worth of over ₹143.8 Cr.
Overview of Stocks in Ramesh Damani Portfolio
Here is detailed overview of Ramesh Damani holdings:
1. Goldiam International Ltd
A prominent player in the global diamond industry, specializing in diamond processing and trading.
High Risk: Stock is 3.61x as volatile as Nifty
Smallcap: With a market cap of ₹1,357 cr, the stock is ranked 1,054
2. Panama Petrochem Ltd
A leading manufacturer of specialty chemicals, offering a diverse range of products, including petroleum-based products, chemicals, and lubricants.
High Risk: Stock is 3.51x as volatile as Nifty
Smallcap: With a market cap of ₹1,958 cr, the stock is ranked 919
3. Vadivarhe Speciality Chemicals Ltd
Known for its expertise in manufacturing and supplying a wide spectrum of specialty chemicals used in various industrial applications.
High Risk: Stock is 6.20x as volatile as Nifty
Smallcap: With a market cap of ₹52 cr, the stock is ranked 2,810
4. Garden Reach Shipbuilders & Engineers Ltd
It is a renowned Indian shipbuilding company that contributes to the nation's defense by building a range of naval and commercial vessels.
High Risk: Stock is 5.35x as volatile as Nifty
Smallcap: With a market cap of ₹9,333 cr, the stock is ranked 427
Ramesh Damani Portfolio List – Sector Split Overview
The Ramesh Damani portfolio has the majority of holdings in the following sectors: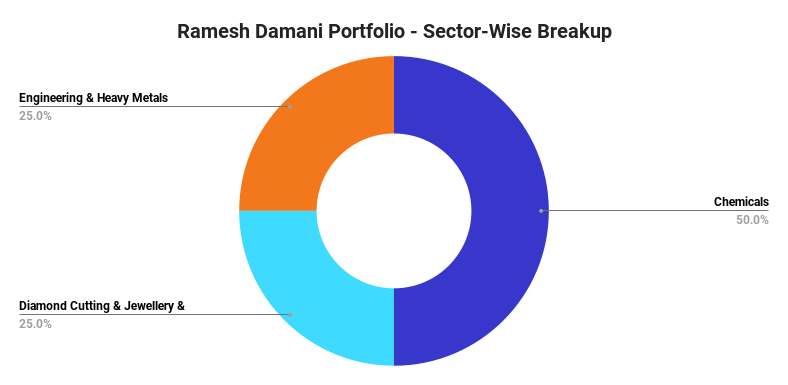 Chemicals: Ramesh Damani recognizes the significance of the chemical stocks in today's industrial landscape. Therefore, this is the reason his portfolio is dominated by the chemical sector i.e. 50%. Ramesh Damani's latest stock picks include companies involved in the production of crucial chemical components used in a wide array of industries, from pharmaceuticals to agriculture, underlining his strategic approach to diversification.
Engineering Heavy: The heavy engineering sector plays a vital role in infrastructure development and manufacturing. Ramesh Damani portfolio investments in this sector could encompass companies involved in the design, manufacturing, and servicing of heavy machinery and equipment. These metal stocks might be aligned with India's infrastructure growth story, positioning him to benefit from the nation's increasing demand for industrial machinery and construction equipment.
Diamond Cutting & Jewellery: Ramesh Damani portfolio involvement in the diamond cutting and jewelry sector aligns with his reputation as a savvy investor in the gems and jewelry industry. This sector may include investments in companies engaged in diamond processing, jewelry manufacturing, and retailing. His keen eye for trends in the global luxury market likely informs his choices in this sector i.e. 25% of his portfolio.
Ramesh Damani Stocks Traded
In 2023, Ramesh Damani hasn't been actively engaged in the shopping spree, therefore, he hasn't bought/sold any new stocks lately. However, he has raised a stake in an existing stock, Panama Petrochem Ltd during the second quarter ended September 2022.
Panama Petrochem Ltd: Due to promising returns & impressive results, Ramesh Damani has increased his holdings by 1% in Panama Petrochem Ltd, the petroleum lubricating oil and grease manufacturing company, during the second quarter ended September 2022 for the current fiscal year or Q2 FY23.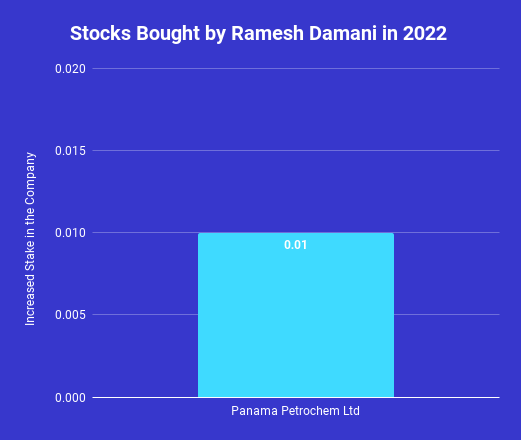 Rakesh Damani Net Worth Trend
As of the quarter ended September, Ramesh Damani held four stocks. These summed up to a net worth of over Rs.143.8 Cr. The stock portfolio of Ramesh Damani net worth trend is highly volatile as seen in the graph below.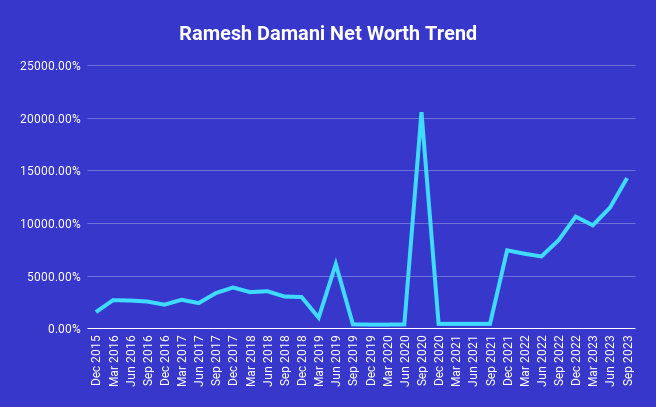 Ramesh Damani Portfolio Investing Strategy
Ramesh Damani does not believe in theoretical ways of building an investment portfolio. One could easily gather from Ramesh Damani portfolio that his investment strategy has changed from the 2000s. He started looking for mega themes. Therefore, towards the end of the bear market in 2003, he went on and bought shares of McDowell, United Breweries, and some PSU stocks. Less concerned about the P/E ratios as it had complete confidence in the market capitalization of those stocks.
Additionally, known for his value investing approach, which involves identifying stocks that are trading below their intrinsic value, he said:
'Rather than buying high-flying shares, look for shares which have low risks but high rewarding patterns which means heads and I win & tails that I don't lose too much.'
By low-risk, he means investing in companies with good fundamentals and strong management. Invest in stocks when they are undervalued to potentially achieve compounded returns over the next 5-10 years. Ramesh Damani, in the past, has emphasized the importance of diversification since it's challenging to predict which businesses will excel. He invests in sectors and themes that he believes have significant growth potential. This can include sectors such as chemicals, engineering, and diamond cutting & jewelry, as well as other areas he identifies as promising.
Learnings from Ramesh Damani Portfolio
There are several valuable learnings that one can draw from observing Ramesh Damani latest portfolio:
Damani is known for high-quality value picks. Therefore, your portfolio need not necessarily be stuffed with too many stocks.
He frequently advises investors to consider investing in the equity markets even during times of economic prosperity, as he firmly believes that equities should be approached as a long-term endeavor.
Invest in stocks when they are undervalued, aiming for compounded returns over the next 5-10 years.
And lastly, as Ramesh Damani has said many times about the stock market, "There are no losses, only lessons earned".
To Wrap It Up…
No one is a born investor and Ramesh Damani is an example. A slow and steady approach to investing can improve your net worth just like it has improved Ramesh Damani net worth. Ramesh Damani portfolio, rich with a variety of sectors, underscores his dynamic approach to wealth creation, with a blend of value investing and a long-term perspective. Thus, this will help investors to build the confidence of investing in stock market without being afraid of losses.