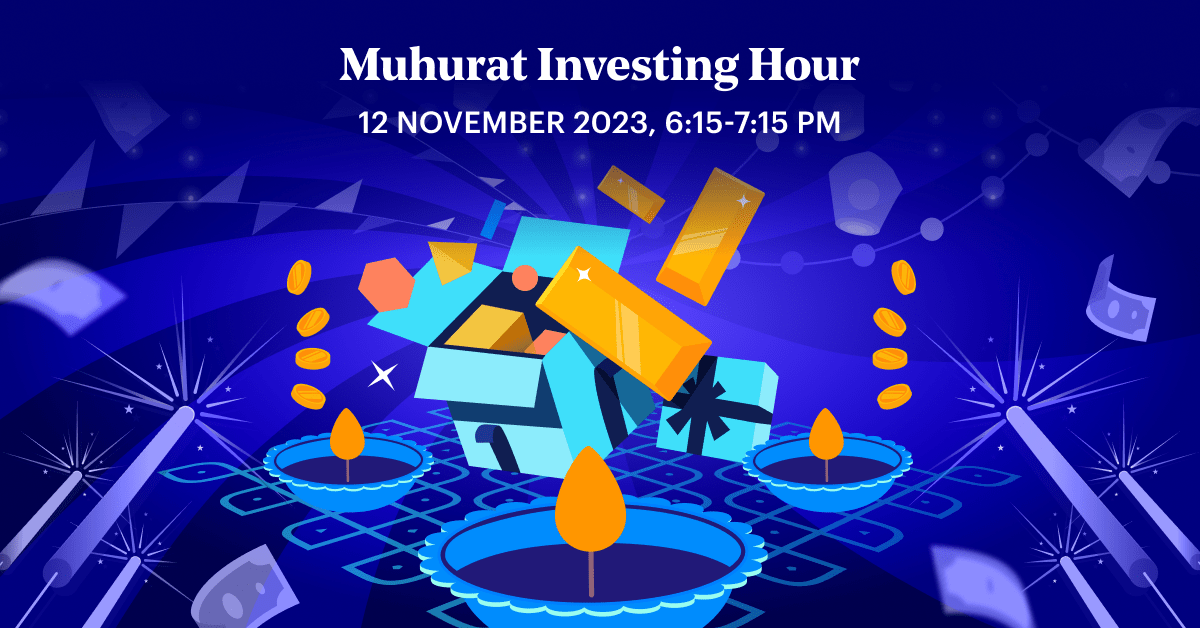 Reading Time: 2 minutes
Happy Diwali!
Beyond the usual Diwali excitement, there's a whole other level of buzz for a tradition all investors share – the Muhurat. Now, if you're thinking, 'What on earth is Muhurat?' – fear not, we've got the lowdown for you.
While markets are usually closed on holidays, weekends, and festivities, Diwali is that special exception during which the stock exchange swings open its doors for just one hour.
Now, let's dive into a bit of the history of the Muhurat.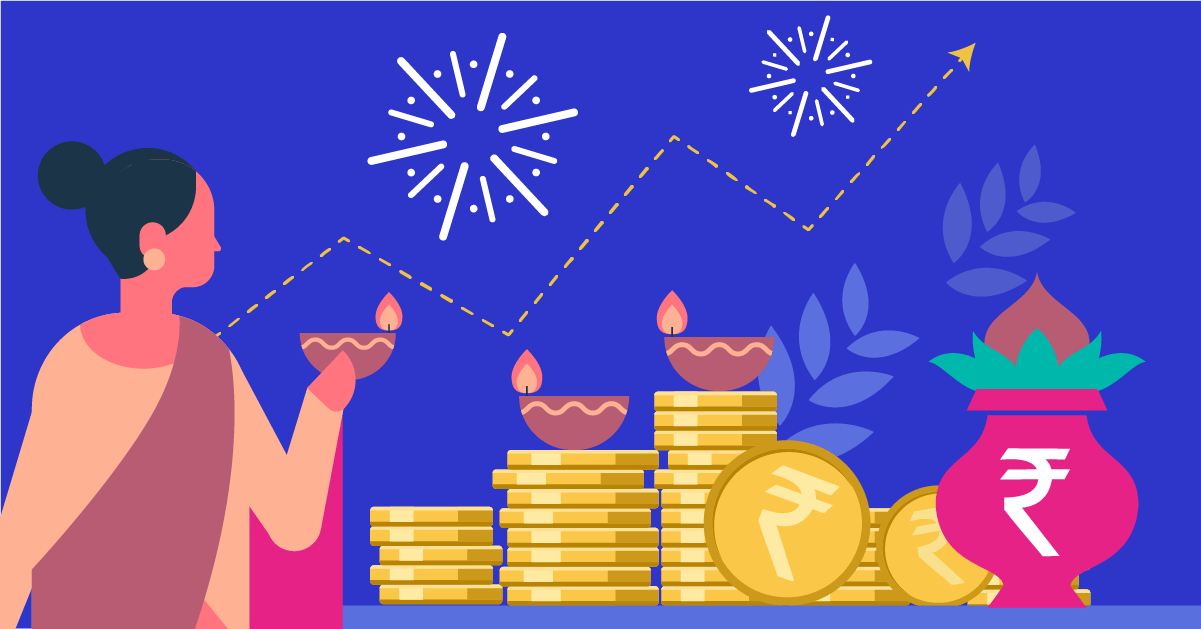 ⌛ The Start of the Muhurat Tradition
The tradition of Muhurat trading, now spanning almost 6 decades, originated at the Bombay Stock Exchange (BSE) in 1957, a time when the concept of online trading was yet to be imagined.
Picture this: traders, having offered their prayers to Goddess Lakshmi, gathering on the BSE floor during Diwali, adorned in festive attire, placing orders for stocks intended to be held for at least the next year. The National Stock Exchange (NSE) joined the Muhurat trading tradition in 1992, adding another layer to this time-honoured practice.
Did you know that India stands out with this unique tradition? Yep, we're one of the only countries where stock markets open during one special holiday – Diwali.
Investors, during these sessions, were believed to place token orders, acquiring stocks as long-term investments. The underlying belief is that engaging in trading during this auspicious hour amplifies the prospects of accumulating wealth and prosperity.
📈 Market Performance During Muhurat
Wondering how markets performed historically on Muhurat? Despite low trading volumes, reports say that in the last 15 years, 12 out of 15 sessions ended in the green, as per media reports. This suggests a prevailing bullish trend during Muhurat over the years. However, it's essential to note that, like any other day in the market, the trend during a Muhurat day can be uncertain and beyond prediction.
The last Muhurat
Last year's Muhurat on October 24 saw indices rise around 0.88% – the highest gain since 2008!
The Best Years
Speaking of which, the best Muhurat performance was in 2008, during the global financial crisis when indices jumped nearly 6%. That's some serious Diwali dazzle.
The Worst Years
However, it has not always been fireworks. In 2017, the index fell by 0.6%, and in 2016 it dipped by -0.04%.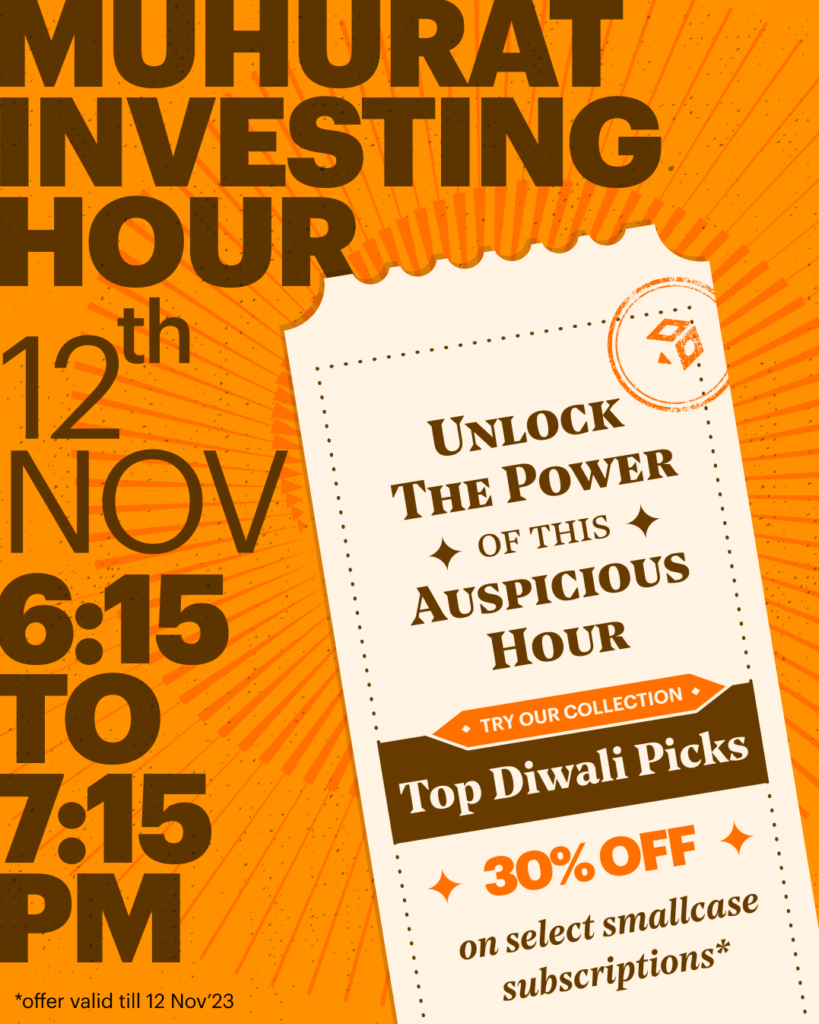 🚀 Play the Long Game
Back in the old days of Muhurat tradition, investors used to pick stocks they planned to stick with for a year or more. Kind of like choosing a long-term companion for their investment journey.
So, think of Muhurat as your chance to invest in ideas that are not just a one-day wonder but have the potential to go the distance. Do consult your financial advisor if you're uncertain about where to invest. Another great option is to check out smallcases created by experienced managers!
Happy investing, and may your Diwali be as bright as your portfolio!
---
Get 30% off on subscription of select smallcases during the festive season
Start Now