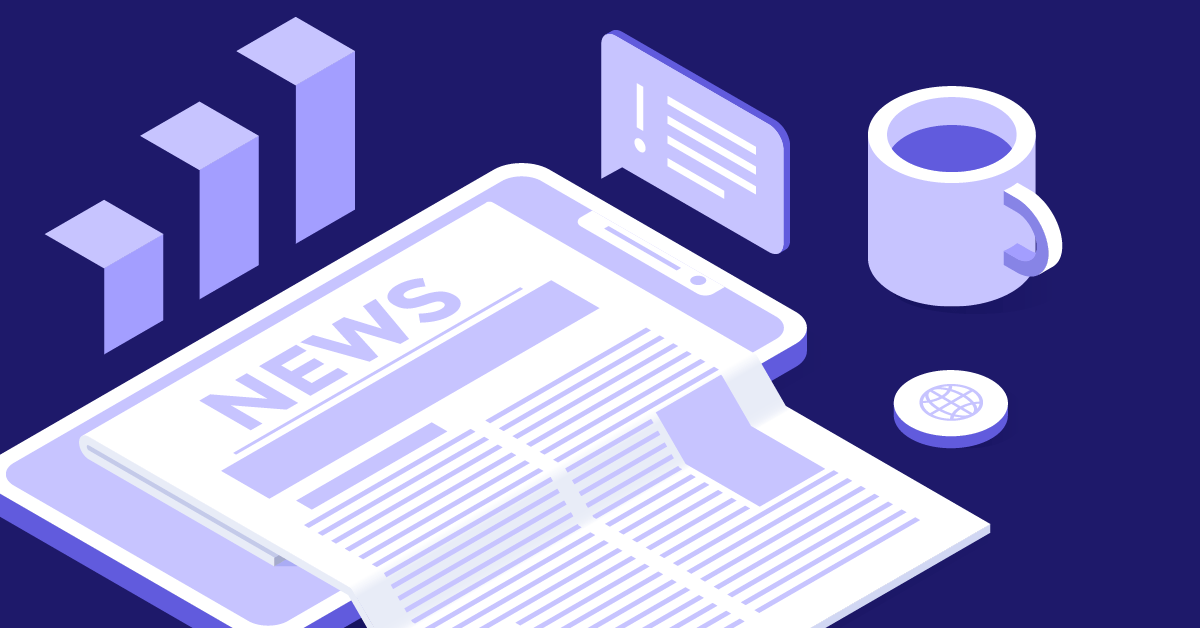 Reading Time: 4 minutes
Remember the good old days when we'd chat for hours on those trusty landline phones or get lost in our favourite radio/TV shows? The newspaper on the kitchen table was a daily ritual and doodling with colourful pens was our art form. 
Some of these cherished relics are nearly fading into history, thanks to the ever-advancing march of technology. But let's not forget that technology has its silver lining. While it disrupts traditional industries, it also paves the way for exciting new ones. 
This week, let's stroll down memory lane to witness the decline of some traditional sectors and the birth of new industries along the way.
📺 Media and Entertainment: From TV to OTT 
Picture this: a time when families would eagerly gather around the television at a set hour, eagerly waiting for their favourite shows. This was the reign of linear television, a term synonymous with traditional TVs. Yet, the traditional TV landscape is rapidly ceding ground to the over-the-top (OTT) services.
The shift was propelled by the COVID-19 pandemic, driving consumers to explore digital avenues for both shopping and entertainment. A 2023 EY-FICCI report underscores the persistent decline in subscription revenue from traditional TVs, marking the third consecutive year of a 4% degrowth. This decline can be attributed to the reduction of 5 million pay TV households and stagnant ARPUs (Average Revenue Per User). Concurrently, linear viewership has plummeted by 7% compared to its 2021 levels.
While forecasts predict a modest 3.9% growth in TV households until 2025, the growth hangs upon the adoption of connected TVs and smart TVs. On the flip side, the digital media landscape is poised for a healthy increase, with a robust 14.7% projected increase.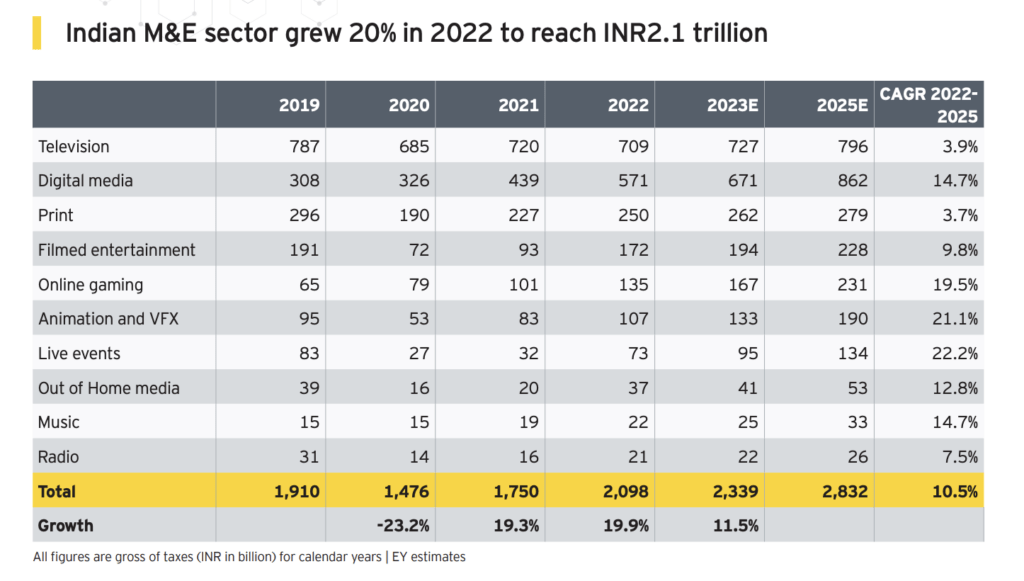 📚 Publishing: From Print to Pixels
Once upon a time, books, newspapers, and magazines reigned supreme as the primary sources of information and entertainment. However, in a tale as old as the internet, the print and publishing industry has been fundamentally disrupted by the digital era.
Over the past 5 years, global newspaper publishers have witnessed a decline at a CAGR of 4.6%. In 2023, their revenue is predicted to dip to $84.5 billion, marking an estimated 2.2% downturn. Meanwhile, the world of global magazine and periodical publishing has also seen a 4.1% decline in the last half-decade.
Millennials and Gen Z, in particular, have seamlessly transitioned to a digital world where social media is their go-to source for news. According to the 2023 Digital News Report, Indians have an increasing preference for search engines and mobile news aggregators (43%) as their primary sources of online news, diverting from traditional news websites. Direct sources like newspapers hold a mere 12% preference, while social media claims the attention of 28% for news consumption. In the digital age, watching and listening to news content is often favoured over traditional reading.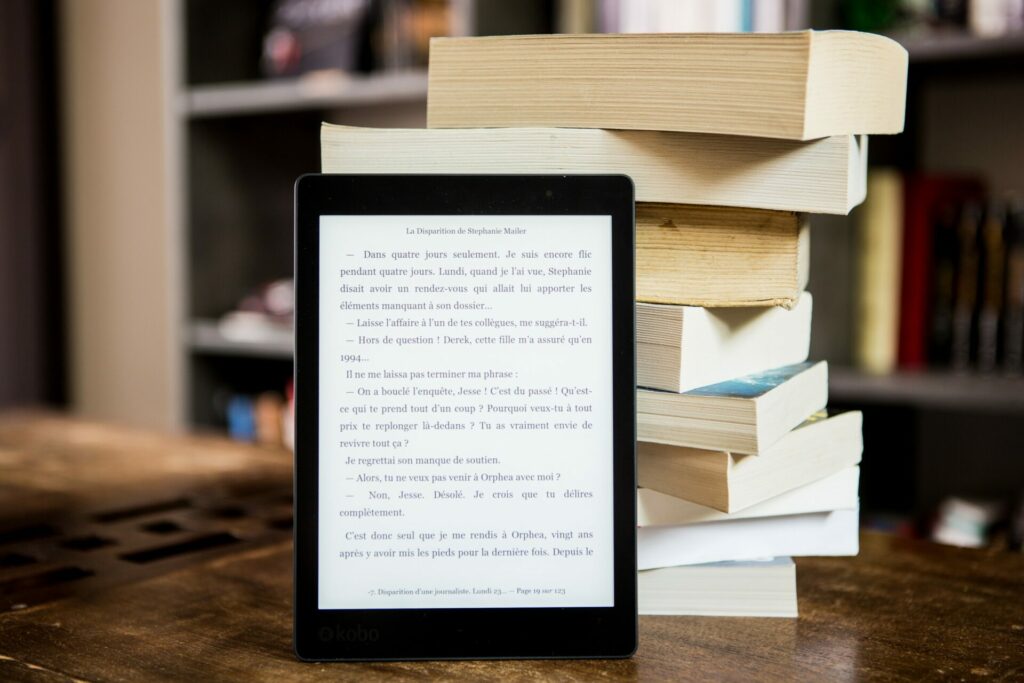 ✏️ Education: From Pencils to Tablets
Back in the day, students carried back-breaking textbooks but in the digital age knowledge is but a click away. This shift in the education space is attributed to several factors. First and foremost is the accessibility and affordability of digital devices and content. The surging popularity of online learning has reshaped how knowledge is acquired, making education more flexible and convenient than ever before. As the needs of the workforce evolve, employers increasingly seek out individuals equipped with strong digital skills. Skill development and online certification programs, delivered in video formats and complemented by visual and textual resources, emerge as critical instruments for a competitive workforce.
However, this digital evolution is not without its repercussions. For instance, the stationery business had taken a hit due to the rapid transition to digital learning and remote work during the COVID-19 pandemic. Additionally, the writing instrument industry faces the challenges of an increasingly digitalised world, coupled with changes in exam formats. Companies like Linc, a major player in the pen industry, are acknowledging that these shifts may not eliminate the need for writing instruments entirely but could certainly temper the demand.
Embracing digital innovation, Linc has smoothed its distribution process by becoming a "phygital" company, combining traditional feet-on-street distribution with a team of 100 tele-callers and a dedicated app. The key to the writing instruments industry's survival lies in its quick response to the evolving needs and preferences of students.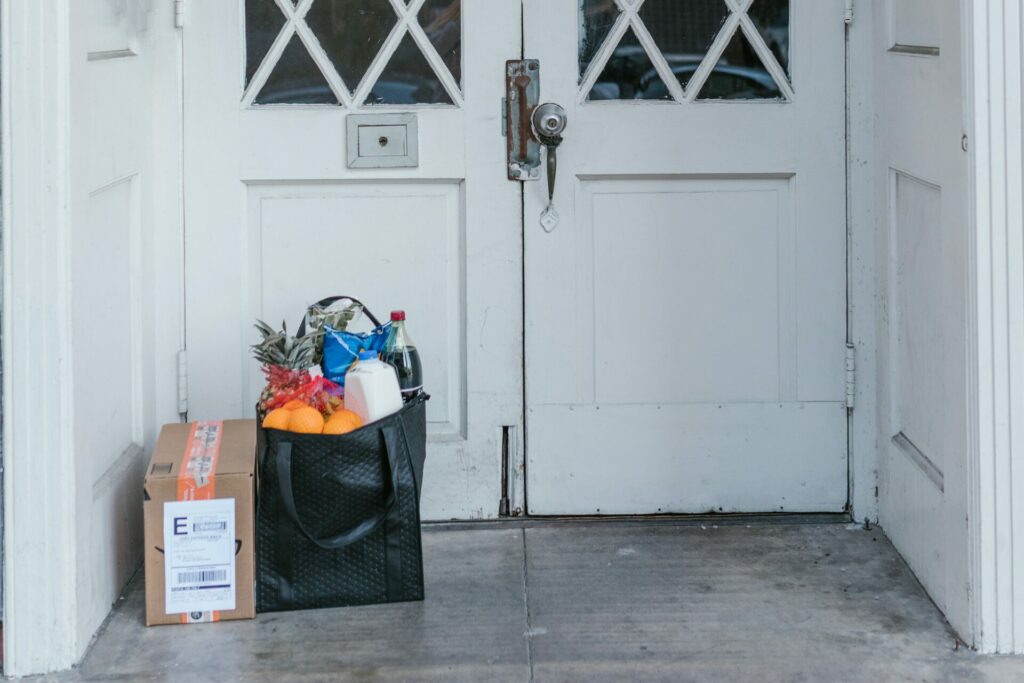 🛒Grocery: From Kirana Stores to Grocery Apps
When the corner Kirana store was the heartbeat of neighbourhood shopping, who could have foreseen the change brought about by the digital age? However, the shift has happened and it's here to stay. India's grocery market is gradually tilting toward modern trade players like Reliance Retail and DMart, as well as online grocers such as BigBasket and Blinkit.
According to McKinsey & Co., the share of traditional retail is anticipated to decline from the current 85% to 65-70% within the next 4-5 years, while e-commerce and modern trade retailers are poised to capture a significant 30% market share.
Until recently, the grocery sector was characterised by complexity and a vast unorganised structure, comprising millions of retail outlets, wholesalers, and distributors. However, the entry of cash-and-carry giants like Walmart and Metro Cash & Carry, the rise of e-commerce, and the emergence of innovative B2B providers have changed the fundamentals of this ecosystem.
⭐ In a nutshell
In the digital age, industries that have been fundamental to our way of life are finding themselves at a crossroads. While it's true that many of these industries are not extinct entirely, their growth story has been significantly challenged by the rise of digital counterparts. The "glory days" of these traditional sectors, marked by longstanding practices and familiar ways of doing things, have undeniably passed.
---
Eager to delve deeper into companies at the forefront of the digital disruption? Explore our exclusive collection on this theme. 🚀